Thessaloniki is the second largest city in Greece, and is the former co-capital of the Eastern Roman Empire. The city is full of ancient monuments, beautiful sea views, as well as vibrant culture.
However, just because you want to fit in Thessaloniki on your holidays to Greece, doesn't mean you have to break the bank. With our handy guide, you can travel to the heart of the old Mediterranean East, on less than $25 (or €18.50) a day.
Accommodation
The cost of accommodation is always one of the biggest outgoings for the traveller on a budget – but it is here that you can make the greatest savings. For a traveller to Thessaloniki, there are three options. The first of these is a budget hotel or hostel – the Hotel Kastoria costs around $13 a night. The second is to book a locally-owned B+B when you arrive – look out for the people waiting at the train or bus station, and haggle a great deal. The final option is to pack a tent. Thalatta Campsite is right on the waterfront, and costs $4 for a two person tent – so your accommodation could be as little as $2 per person each day!
Food
Supermarkets are always good options for a cheap and hearty lunch that will keep you going until dinner, or try local markets for the freshest fish and other local goods. However, there are plenty of good dining options that cost less than $8 around the Central Market, such as snack bar Kentrike Stoa or try fried minnow platters at Loutros, near the old Turkish Market, Bezesteni. If it's your last night, then you're more than justified in rewarding yourself with a delicious (but cheap) meal somewhere by the waterfront.
Sights to see
One of the best things about traveling to somewhere like Thessaloniki is that the attractions are mostly free. History is threaded throughout the city, from the landmark White Tower, remnant of the ancient city walls, to the more modern buildings of Aristotelous Square. And with the beach always representing a free day out, your daily activities don't have to break the bank, or even make a dent in it.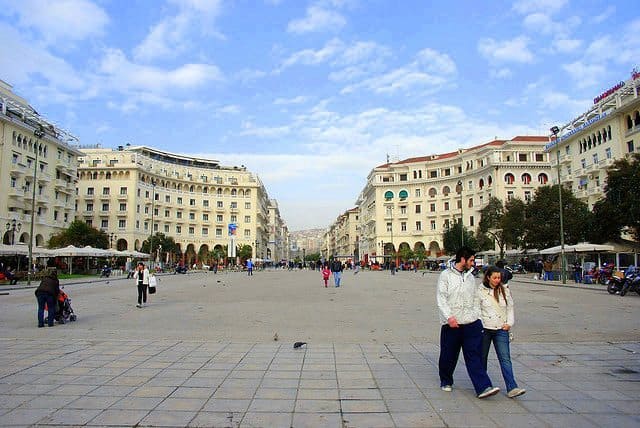 The Church of Agios Dimitrios is a beautiful example of Orthodox architecture in the city, and costs nothing to enter (although there is a suggested donation). For real history buffs, the Byzantine Museum an absolute must-see, and costs $5.5 dollars entry, with half price concessions. However, all public holidays and some selected out of season days are free, so it's worth checking in advance.
In the Byzantine days, Thessaloniki was a city of opulence and great wealth. Nowadays, however, it's more than possible to explore it on a budget. With some careful management, and some savvy choices, there's no reason your vacation here should cost you more than $25 per day.
Have you ever made it to Thessaloniki? Did you find this city a cheap travel destination?