This article will guide you on how to select the ideal beer or wine to go with Indian food. We have everything you need, whether you want a cold glass of beer or a sip of wine or whisky with Indian cuisine.
India is well known for its wide variety of cuisine, which is offered in many restaurants and resort hotels and is suggestive of unity in diversity. Wheat, pearl millet, rice, a variety of lentils and pulses are all considered staple foods in India, with Gram food being the most significant.
Generally speaking, South Indian and North Indian cuisine make up the majority of the cooking styles, which vary from place to region. The East and West Indian cuisines, again, have slightly different ingredients used while cooking.
You might be growing confused. The query now enters your thoughts that 'What to eat with Indian food'. Right? Do not be concerned.
The answer to this question of what to drink with Indian food is tricky to choose because the options are so vast. There has been a long presence of alcoholic beverages in India's social scene. Adding a drink or beverage that refreshes the palate between bites is the best way to enjoy Indian cuisine.
If you are a big fan of healthy tea, you should know the benefits of Kashmiri Kahwa tea and its recipe.
We have provided the guidelines here that should hopefully make the selection a little bit easier. To understand the alcohol-Indian food pairing guide, we've put up a detailed list of beer, wines, whiskey, cocktails and mocktails here to combine with it. Well, pick out your selection of the ideal beer and wine pairing for your favorite Indian cuisine.
Know Which Foods Are Best For Health & Taste While Drinking Alcohol
Eggs – Eggs are rich in protein. Food that contains a high quantity of protein slows alcohol absorption which keeps the appetite full for longer making one drink in control. Boiled 8 with chopped tomato and onion, egg white omelettes can go well with the alcohol.
Chicken – The Smokey flavor feels great after taking a sip of the beer, whiskey, or wine. The rich and creamy sauce masks the astringency of beer. Tandoori chicken/Chicken tikka pairs well with most alcoholic beverages giving you a flavorful experience.
Salad, Tofu – These items tend to lessen the impact of the hangover. They help the body process alcohol smoothly. The Salad adds a different freshness too. Sprout salad with finely chopped veggies, Fruit chaat, Cucumber salad with salt and pepper, Chana, Boiled potato salad, Vegetable salad with diced paneer or tofu and Boiled sweet corn topped with lemon juice and chaat masala could be some great options with alcohol.
Curd, Fruits, Popcorn, and Makhana – These will protect the body from the dehydration that alcohol causes. And prevent drying of the mouth and urges to drink more. Curd, Cherry, Pineapple, Popcorn without butter or salt and freshly roasted Makhana with little desi ghee are good options.
Simple Water – Water reduces the alcohol content by volume. It is the best way to remain hydrated and avoids a hangover.
Cheesy Veg Pizza – Pizza will soak up some of the alcohol which will prevent you from getting tipsy. Moreover, Cheesy pizza is a tasty dish and favorite of all. So, you can choose pizza with alcohol.
If you are a wine lover, visit some of the best and cheap wineries of Healdsburg in California and experience the best wine tasting.
Say A Big NO To This Food With Alcohol
Chips – Chips contain lots of oil and fats that when combined with alcohol can be extremely unhealthy for heart health. The salts in chips are notorious for drying the mouth and body out.
Nuts Like Cashew, Peanut, Pistachio, Pretzels – Alcohol can dehydrate the body. Eating these nuts with alcohol can increase the thirst which leads to excessive drinking. This is the reason restaurants and bars serve such salty munching items so you feel thirsty and order more alcohol to quench your thirst.
Direct Alcohol Without Solid Or Liquid – Alcohol can cause a burning sensation in the mouth and throat, especially if not mixed with anything else. Raw alcohol will damage the liver. So don't drink the raw alcohol directly.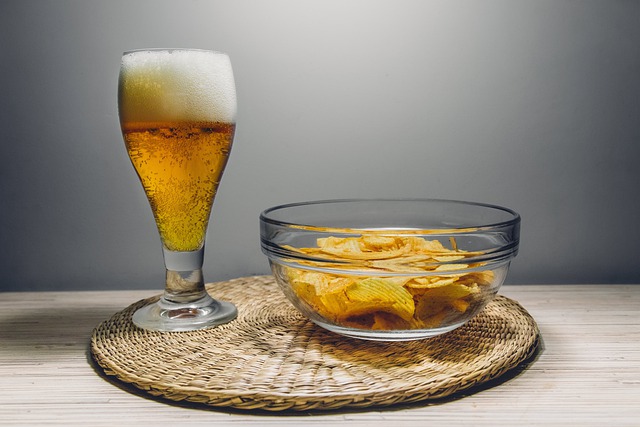 Indian Cuisines That Go Well With These Alcoholic Beverages
With some of the world's most intensely religious communities and cultures, India is one of the most ethnically and religiously diverse countries in the world. Religion and food play a central and definitive role in the life of many of its people.
Based on the regional diversity and local cuisines, we have divided the food areas of India into 4 parts. The different regions and famous local food items are given below. Also, we have paired the Indian local cuisines with alcoholic beverages. Read this entire section carefully to choose the perfect drink pairing when eating Indian food.
North Indian Food
Kashmir: I've tried out several Kashmiri foods and hands down they are moderate in taste and rich in flavor. Hot spices like cardamom, cloves, fennel, ginger, cinnamon, and saffron are majorly used.
Dishes like Wazwan, Nadur Monje, Modur Poalu, Khatta Meat, Seekh Kebab, Rogan Josh, and Goshtaba with red wine like Cabernet Sauvignon, Merlot and Malbec will go well with a variety of alcoholic beverages.
I have tried out this combination of Northern Rhône Syrahs with Kebab and fried Indian starter (Fish fry, fish finger, crispy fried chicken etc). Pinot Noir goes well with lamb Indian dishes, Rogan Josh, and Raan.
Uttarakhand: Food here is a delicious blend of piquant spices with their fine aromatic flavors. You will feel the burst of spices in each bite. Food items like Chainsoo, Garhwal Ka Fannah perfectly pair with Knob Creek, whiskey Jim Beam Bourbon or Lugdi.
Uttar Pradesh: I had the chance of trying Bharwan Chicken Pasanda, and Kakori Kebab with red wine (Zinfandel) and white wine (Pinot Gris) last year and I absolutely loved the combination. The food and wine are deliciously complemented by the rich texture and balancing flavors.
Madhya Pradesh: There is no better match for spicy gravy seasoned with whole spices like the Bhopali Gosht Korma with Pinot Gris, Gewürztraminer, Gamay, Garnacha or Valpolicella. I tried it out and loved it.
Delhi: The richness of butter infused with spices and heavy cream in dishes like Butter Chicken, Nalli Nihari and Paranthe tastes heavenly with Beer (Budweiser, Corona, Miller lite, Steel reserve). Rice and Curry go well with white wine like Fino or Manzanilla.
Chandigarh: There is no North Indian food that does not go well with beer. A hot plate of Chole Bhature, Rajma Chawal, Sarson Da Saag and Makki Di Roti with chilled beer is all you need when in India.
Haryana: I was lucky enough to try out Kachi Lassi and Hara Dhania Chole with beer when I ordered this at a restaurant a few years back. Loved it! Loved the meal.
Assam: The sour, salty and sweet taste of food items in this taste with Macroys, Grey Goose vodka, Old Monk, Bacardi, and even white rum. I tried it out with Polu, Duck Meat Curry, Leta,
Sikkim: I happen to have a colleague from Sikkim. I tried out Thenthuk, Momos, Wachipa, Bamboo Shoot Curry, Gundruk, Sinki, Phagshapa, Tchang and Sha Phaley at this place.
These dishes just lift up your spirits. Each time I visited her place, I had it with Fruit Brandy, Bertoux California Brandy. If you are in Sikkim, try out the local liquors like Shangri-La (local whiskey) and Rhododendron Wine (local wine).
South Indian Food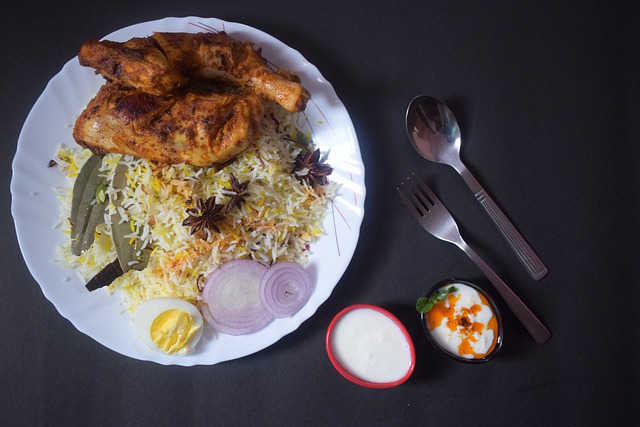 Tamil Nadu: The unique flavors, the tangy twist of spices, the sweet infusions, and the plethora of vegetables in dishes like Palkatti Chettinadu, Chicken 65 and Paneer 65 taste just so amazing with white wine (Pinot Grigio, Albarino).
Kerala: Dishes here are in abundance of Coconut, Rice, Tapioca and Spices like black pepper, cloves, cinnamon and ginger. Rum, Brandy and Beer go great with Chicken Ishtu, Beef Ularthiyathu, Konju Varutharaccha, Meen Pollichathu and any other dish from this region.
Karnataka: Try out the famous Coorg Pandhi Curry with Beer.
Andhra Pradesh: You can taste Andhra Chili Chicken, Gongura Maas, Nalli Mamsam with Glenlivet Scotch Whisky, Screwball Peanut Butter Whiskey and wine. The plethora of flavor outbursts will amaze you. These alcoholic beverages complement it so well.
Hyderabad: Hyderabadi Dum Biryani with wine (Clos Henri Petit) or with beer (Coors, Brewing) for WIN!
West Indian Food
Goa: Ask anyone who has tried this combination and they will give you a big thumbs up. I suggest trying Pork Vindaloo, Crab Xec Xec, Kingfish with Feni (Cazulo Premium Feni), Kokum and Toddy and beer (Ani Ek, Cabo and Woodburn's whisky), vodka (Rahasya) and wine (Vinho Fontainhas).
Maharashtra: Another awesome combination is Rassa with rum (Montanya or Crusoe).
East Indian Food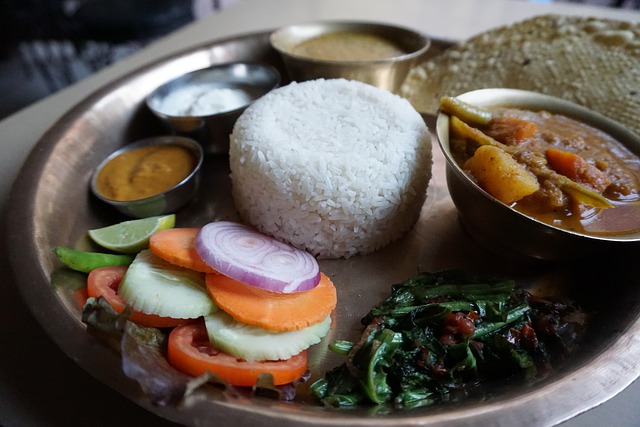 West Bengal: Believe me when I say this. You will become a fan of these Bengali dishes. They are rich in flavor and go well with Whiskey. Some options include Vetki Fish Fry, Fish Finger, Mutton Curry and Mutton Biryani with any type of Whiskey or Beer.
Meghalaya: Jadoh, Doh-Khlieh, Nakham Bitchi, Doh-Neiiong, Tungrymbai, Pudoh with a cold beer (Budweiser) is a great combo. Tastes better with a few ice cubes in it.
Tripura: Think no more, just go with Egjak, Wahan Mosedeng with beer (Corona).
Arunachal Pradesh: It's an awesome combo. Lukter with Kyat party drink. Kyat is a must-try local drink. You can also try out the fried chicken with it.
Manipur: Try out Chagem Pomb, Eromba and NGA Thongba with wine (Chardonnay).
Nagaland: Smokey spicy Pork Belly Fried best with Black Label, Imperial Blue, Jak Daniel.
Tips For Safe Drinking
Know how much you are consuming and how much you should have. Drinking beyond the daily dose is unhealthy. Make it a habit to set a limit and stick to it.
Eat something good before and during consuming alcohol. Drink plenty of water to reduce the effects and keep yourself hydrated.
Do not mix alcohol with sugary or energy drinks.
Refrain from munching on salty snacks as they have the tendency to make you thirsty and make you drink more.
Slow your intake timing. The body can only process 1 standard drink per hour. The faster the drink is consumed, the higher the blood and alcohol concentration gets.
Avoid taking up challenges, playing drinking games, or anything that may get you intoxicated quickly.
Do not drink and drive. You not only put yourself at risk but also others.
Say no to consuming alcohol if you are not physically well. Drinking alcohol can be more harmful at that time.
Drink water frequently. Do not eat nuts, chips, or snacks that might make you thirsty and make you drink more. Eat healthy foods like curd, salad, fruits, etc.
15 Famous Local Liquors Made In India
India's states each produce a large assortment of local alcoholic beverages. These are having a great flavor and are made with millets, rice, cashews, fruits, flowers and coconuts through the fermentation process. They are fantastic for the health of your stomach.
So, if you are planning a trip to India, make sure you taste all of these food items and the local regional liquors made in India. We do suggest trying these Indian drinks at least once, even though the majority of them are acquired tastes.
Feni, Kokum From Goa: Feni is a famous liquor of Goa made with cashew or coconut. Kokum is a refreshing beverage cooked that has kokum, sugar, cumin, cardamom and black pepper.
Famous Lugdi From Himachal Pradesh: Lugdi is a rice beer prepared from cooked cereal grains, like rice or barley in water and then fermented. We can see the mention of this Lugdi in Bollywood movies also.
Mahua From Chhattisgarh: Mahua is made from flowers of the Mahua tree that are fermented to produce an alcoholic drink.
Kesar Kasturi From Rajasthan: Kesar Kasturi is a beverage, made from saffron, dry fruits, herbs, nuts, seeds, roots and spices by blending them into Ghee milk and sugar and then distilling them into alcohol.
Sosyo From Gujarat: Sosyo is a delicious mixture of grape and apple cider to make an alcoholic beverage.
Handia From Madhya Pradesh, Orissa And Bihar: Handia is a rice beer made by first cooking rice in water in a 1:2 ratio. Cooked rice is sun-dried and later stored in an earthen pot.
Judima From Assam: Judima is a rice wine made from boiled/steamed rice.
Gudamba From Haryana: Gudamba is a local alcoholic beverage made of jaggery and raw mango.
Chaang From Kashmir, Nepal: Chaang is a local wine made from highland barley.
Toddy From Madhya Pradesh: Toddy is made of fermented sap of various chiefly Asian palms.
Zutho From Nagaland: This rice beer is made using sticky rice and a starter cake called Piazu.
Apong Drink From Arunachal Pradesh: This rice beer is made by fermenting a mixture of cooked rice, ash of partially burned paddy husk, and straw with locally prepared E'pob.
Xaj From Assam: This rice beer is made by steaming the rice and then fermenting it.
Kyat From Meghalaya: It is a unique flavored party drink and is made from fermented rice.
Yu From Manipur: Yu is made by fermenting cereal grains and locally available fruits.
Kinnaur Ghanti From Himachal Pradesh: This local drink is made from distilling apples, peaches, or apricots.
Rhododendron wine From Sikkim: This wine is made from Kamaru Hill Rhododendron flowers.
Chuwak Drink Tripura: This local drink is prepared by fermenting rice and millet.
10 Non-Alcoholic Drinks In India That You Fall For
You're not a drinker? There are plenty of alcohol-free Indian drink options. The extraordinary selection of local non-alcoholic beverages in India is as diverse and distinctive as its customs. The majorities of Indian drinks are full of spices and are believed to boost resistance and prevent indigestion. Most of these drinks are super refreshing. Try out the below options.
Tea: India is the world's second-largest tea producer, behind China. It is having famous Masala Chai, Assam Tea and Darjeeling Tea.
Filter Coffee: If you are in South India, don't miss the Filter coffee from Kerala.
Masala Chaas/Spiced Buttermilk: You will get it in the region of Gujarat, Rajasthan and Haryana, especially in West India. It is prepared with Yogurt, salt and main spices like cumin, coriander and chilli powder etc and many more.
Aam Panna: Aam Panna is made by roasting raw mango with several spices in the states of East India.
Mango Lassi: It is a flavorful blend of curd/yogurt with mango, sugar, and cardamom.
Paneer Soda: It is a refreshing homemade summer drink with sparkling water flavored with rose syrup.
Nimbu Pani/Shikanji: Shikanji is a lemon-based drink blended with coriander seeds, cumin seeds and whole black peppercorns served in the region of North India.
Kahwa: It is a green tea sort of drink with the strong flavor of Indian Spices like saffron, rose petals, almond dust etc.
Sweet Lassi: It is a flavorful blend of curd/yogurt with sugar and cardamom in Punjab.
Thandai: It is a mixture of almonds, fennel seeds, cardamom, saffron, watermelon kernels, rose petals, pepper, poppy seeds, milk and sugar in Uttar Pradesh. It is specially served at the time of the Indian festival ('Holi').
Standard Rule For Pairing Food With Food
Beer
When it comes to flavor, beer has a reputation that it's not exactly a good one. Particularly for non-drinkers, beer can be surprisingly bitter and unpalatable. So fried food items will be surprisingly a perfect pair with beer.
Curry Indian snack items like Samosas and Bhajis, French Fries, Fish Fry, Kebab and Boiled Sweet Corn with lemon and salt are best with beer like super cold Kingfisher. You can have a beer with every kind of food as the taste of beer will not ruin the taste of food.
Wine
Red wine is prepared from dark-colored grape varieties. So drinking red wine is classy and good for your health. So you have to choose your pairing food with red wine very wisely.
Red wine will go with Mutton Korma with Green Sauces and delicate dessert items, Dark chocolate, Vanilla flavored dessert, Waffles, Apple Pie and Pastries. It is also a good pair with Kashmiri food, Steak items, Seafood dishes, Fruit salad or Ice cream.
White wine is a transparent or light golden-colored alcoholic drink that is often produced or fermented without coming into skin touch contact. Generally, white wine goes well with the less-spicy creamy and buttery light dishes.
With less spicy creamy buttery curry dishes like Safed Murgh Korma, and Paneer Mughlai. Chardonnay and Sauvignon Blanc are good choices. You can try Rose with Chicken Tikka and Masala Chicken. Chocolate items and dessert are great options with white wine!
Champagne & Sparkling Wine
Champagne is one of the varieties of sparkling white and is produced maintaining some specific rules in the Champagne region of France. There is something special about the fizz, fresh flavor and mild sweetness that make the champagne, unlike any other liquor.
Riesling, Pinot Gris and Gewürztraminer these champagnes will go well with snacks or luxury pastry items, macarons, any pasta or risotto, fish and seafood items, cheesy popcorn or potato chips, steaks, chocolate, ice cream, or any dessert items, nuts like cashews, hazelnuts, pistachio etc.
NOTE: Champagne is not a good combination with curry, rich and spicy food items etc
Cider
Cider is an alcoholic drink that is fermented and prepared from raw apple juice. The average alcohol percentage of cider ranges from 3% and 8.5%, while some continental ciders have 12% alcohol content.
Cider will not go with spicy curry or gravy items. If you haven't tried yet, believe me. The food items like Apple pie, Squash soup, Cinnamon Doughnuts, Pancakes, Fruits, Blue cheese or any dish where blue cheese is used as the main ingredient, Turkey dishes, Gingerbread and Creamy Pasta dishes go well with cider.
Scotch and Whiskey
Whiskey has 40% alcohol content or more than that. So, it will affect the taste of food.
Whisky commands the attention of its own and does not require anything else to complement it.
Mutton Keema, Chicken Boti Kebab, Roasted Paneer, Chicken Lollipop or Wings, Soya Chaap, Tawa Chicken, Crust Pizza, Pudina Chips, Mushroom with salt, Seafood dishes would be a good choice with whiskey.
Smooth Whiskey – It goes well with creamy, white sauce or cheesy food items.
Smokey Whiskey – Tastes well with starters like chicken tikka, smokey dishes, and butter chicken.
Oak flavored Whisky – Great with vanilla ice cream or dark chocolate.
Rum
Rum is an alcoholic beverage created by fermenting and distilling sugarcane juice or molasses but it isn't inherently sweet.
As it comes with different variety of fruity flavors so, rum is a great combination with Beef Masala or Mutton Keema, Tandoori Items and Tikka.
Vodka
Clear distilled alcohol is known as vodka. Poland, Russia, and Sweden are where several types first appeared. Water and ethanol are the two major ingredients of vodka. So it is very strong in nature.
Vodka tastes good with Peanut Masala, Chips or light snacks, Seafood dishes, Smoked Hams or Pork, Steak, Dried Beef, Salad, French Fries, Sausage, Pizza and Smoked fish with cheesy toppings.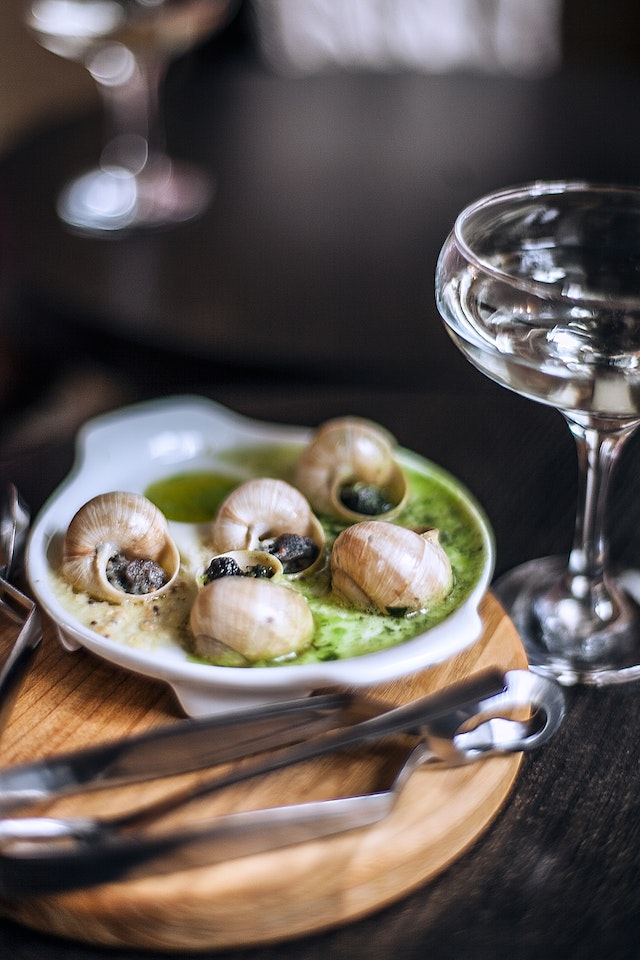 Gin
Gin is a distilled alcoholic drink using juniper berries as its main flavoring ingredient.
It pairs well with Fruits, Seafood, Berries, Snack items with cheese, Nuts, Chocolates, Smoked Salmon dishes, Nuts, Prawn dishes, Berries, Meat and cheese platters, Indian curries, Lamb Kofta or anything spicy dishes.
Note: Gin is a must-have ingredient in cocktail making.
Cocktails
Cocktails refer to various items like other ingredients, such as fruit juice or cream which is mixed with alcoholic drinks and often served chilled. These may include brandy, whiskey, vodka, or gin combined with fruit juices or other liquors.
Some famous cocktails are Cosmopolitan, LLIT (long island iced tea), Bloody Mary, a different flavor of Mojitos, Sangria, Margarita, Manhattan, Tequila Sunrise, Sex On the beach, Gin cocktails, Martini, Mumbai Mule. Enjoy an elevated drinking experience with any food.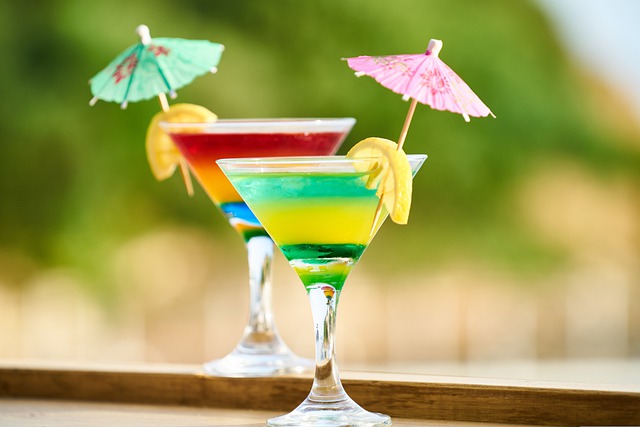 Common Questions
1.    How much alcohol is safe to drink daily in ml?
Beer: 12 fluid ounces (355 ml)
Wine: 5 fluid ounces (148 ml)
2.    How do food and drink interact?
Food slows down the time it takes for alcohol to empty from the stomach and decreases the quantity of alcohol that can circulate in the blood. This affects the amount of alcohol that enters the liver and duodenum.
3.    Why is it vital to combine food and drink?
Chefs and sommeliers can pair particular dishes with various alcoholic drinks using food and alcohol pairings in an effort to bring out the flavors of both the food and the beverage. It is a great way to impress the customers.
Final Thoughts
Cuisine in India is a pieced-together collection of zealously guarded culinary skills that have been passed down from region to region and community to community. Nevertheless, they are all distinct in flavor, ranging from sharp to subtle.
When complemented with alcoholic drinks, the taste can go several notches higher. It enhances the taste of the food. You will experience a flavorful harmony in your mouth. Now that you know 'What to drink with Indian food', may you have the best experience?
We will be happy to know your choices of Indian food. Let us know your opinion in the comment section.