As a traveler who freely admits that I choose my next destination in large part based on the demands of my stomach, it's little wonder I've spent over a year traveling around Asia. There is so much good eating to be done here, so many flavors to explore, so many new dishes to discover. The only thing that is potentially better than the meals themselves in this part of the world is how little meals that make your taste buds sing out in perfect harmony tend to cost—bowls of piping hot soup, sizzling stir fries, delectable dumplings, all for less than a dollar, maybe two if I'm splurging. Yes, one of the most delicious delights about Asia is how economical eating here is.
Unless, of course, you choose to head to Japan.
As the birthplace of sushi, tempura, and ramen, any traveler in search of his or her next great meal is going to want to spend some time eating through this incredible island. Unfortunately, Japan is one of the most expensive countries that you can visit in the entire world, never mind Asia, so many budget-minded travelers drop the country from their itinerary.
My husband and I took the opposite tack—Japan was one of our dream destinations, so when we kicked off our RTW trip, we did so by boarding a flight to Tokyo. In our 27 days traveling around the country, we turned the art of finding delicious but affordable meals into a science; while I can't promise you that these tips will get you through Japan on $25 a day, they will certainly allow you to eat well while minimizing the impact of your daily meals on your budget.
Sayonara Street Food?
One of the surefire ways to keep food costs minimal in Asia is electing to eat street food rather than heading to restaurants. Unfortunately, in most of Japan, this isn't an option—eating on the go or on the street simply isn't done. Even ice cream cones are often packaged up so that you can enjoy them in the privacy of your own home!
However, even in a country where rules are rarely bent, there are a few places where dining al fresco is still possible. Osaka is one of the country's top food destinations, with its infamous Dotonburi Alley the perfect venue to graze on the go. Although there are plenty of restaurants to entice you, you can also find stalls serving up things like gyoza (Japanese dumplings), yakitori (grilled meat on sticks), takoyaki (balls of dough filled with nuggets of octopus), and even fried chicken! You might also want to head to Fukuoka, which is known as the street food capital of Japan. Here you'll find food stalls (known as yatai) serving up everything from tempura, to hot pot, to the local delicacy that is Hakata ramen.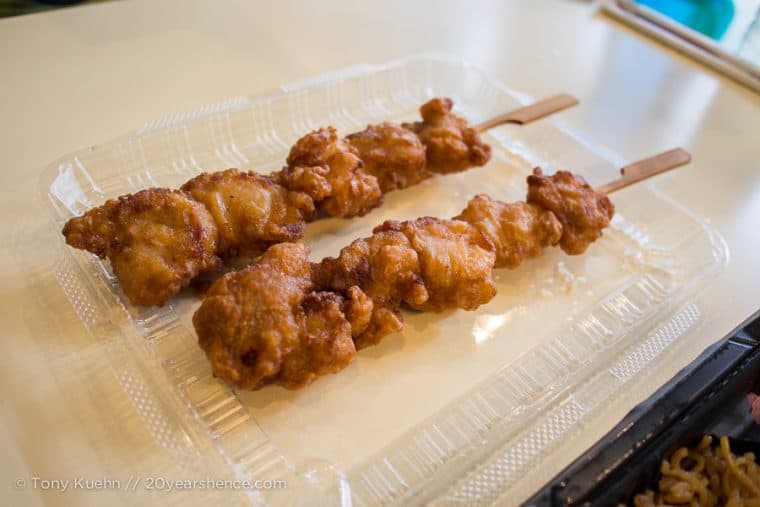 Convenience Is King
I know, I know, you didn't travel all the way to Japan to buy Cup Noodles from the 7 Eleven, but in this country, the local convenience stores often have far more to offer you than instant noodles. It may seem sketchy to chow down on convenience-store sushi, but I promise you, not only is it affordable, but it also tastes pretty good! If you're worried about getting sick (not really something you need to fret about in a place as hygiene obsessed as Japan), there are usually vegetarian options that feature egg and pickled vegetables that are less likely to give you tummy trouble. My favorite snack to pick up here was inarizushi, little pockets made of fried tofu skin that have been sweetened with a teriyaki-style sauce and then stuffed with sushi rice. Couldn't be simpler (or cheaper!), but I found them filling and really tasty. Other things to try are onigiri (rice balls, sometimes flavored with things like shiso or stuffed with other ingredients) or, if you're really hungry, a full bento box meal that will include an assortment of dishes.
Another similar place to check out with a distinctly Japanese flavor is the ubiquitous 100 Yen (or 99 Yen) shop. As the names imply, nearly everything inside is sold for just 100 Yen (+ 5% tax), so this is a great place to pick up snacks and drinks for incredibly low prices. Some stores even have a fresh food section, where you can get fruits (which are often crazy expensive elsewhere) and pre-prepared bento box meals.
Multitask: Shop & Eat!
If you think dining in a department store is the Japanese equivalent of a grotty western food court, think again! Most department stores will have an entire floor devoted solely to food (some even have two!); often this level is the bottom floor of the department store, but sometimes it will be right in the middle or on the very top floor. In some cases, the floor will be divided into sit-down restaurants exactly like the ones you would find out on the street, but at a fraction of the price. Many of the restaurants will be dedicated to one thing, whether it is hot pot (shabu shabu), tonkatsu (fried pork cutlets), or maybe even dessert! We ate at an incredible tempura restaurant while in a department store in Kyoto—each piece was fried to order before our eyes and was impossibly light and crispy.
In other instances, the food floor of a department store may be set up a bit more like a grocery store, with many little stalls selling various prepared foods. You can wander through and pick out whatever looks—or smells!—good to you, and if you're really lucky, you might even snag a few free samples. From big chunks of crispy pork belly to sweet taiyaki pastry stuffed with various fillings, practically any Japanese food you might possibly crave can be found at department stores and shopping malls. Even if you walk away otherwise empty-handed, that doesn't mean you have to leave on an empty stomach!
Underground Food Movement
To find the best food in any country, our quests often take us out onto the streets, but in Japan, we routinely found ourselves heading underneath the streets! As we raced about the country using the extensive rail network, we soon realized that most train stations featured a lower level that was packed with restaurants offering quick and cheap fuel for hungry passengers moving about the country.
In Sendai my husband & I actually made a special trip to the train station one evening for dinner so we could try the local specialty (gyutan—cow's tongue), as we had read that all the best restaurants were located in the station. (Note: Japanese train stations are relatively relaxed in terms of security so you don't need to show tickets to enter the building, only if getting on a train.)
If you find yourself in Kyoto, there is actually an entire underground mall called Porto right in front of the main train station where delectable restaurants line the corridors. We spent nearly a week in Kyoto and only tried a fraction of the restaurants on offer at Porto, but every one we tried was excellent. Nearly all of the shops feature the plastic food models out front for which Japan is famous, so it's easy to browse until you find something that catches your eye (and if you think it looks good when its made of plastic, wait until you see the edible version!).
Keep it Local
If you spend a lot of time in Japan, you might find yourself craving a taste of home or wish to broaden your culinary repertoire (variety is the spice of life, after all!). Unfortunately, eating anything other than Japanese food is one of the quickest ways to lighten your wallet.
International food tends to be quite limited, and on the rare occasions when you can find an alternative to the local cuisine, you will always pay for that privilege. In Osaka, we were both craving Mexican food, but when we discovered that a single taco was going for $7US at the one restaurant we found, those cravings quickly died. If you absolutely must have a break from sushi and soba, consider the popular Italian chain, Saizeriya: the food will be a weird hodgepodge of Japanese-Italian-random-Western-food fusion rather than authentic Italian, but it is pretty cheap.
Check out where to find the best place to eat in Tokyo
And if you find yourself gravitating towards the hypnotic golden arches of McDonald's, pop inside to check out the special dishes only available in Japan, and then head to a Mos Burger instead. It's the most popular burger chain in the country and is 100% Japanese, so you can sate your burger craving while also having a genuine local experience. Other fast food restaurants that aren't especially fancy, but will get the job done and are as cheap as can be are: Yoshinoya and Sukiya (which specialize in beef bowls), Co Co Curry (a chain specializing in Japanese curry plates), and Torikizoku (a yakitori chain where EVERYTHING on the menu, from food to drinks, is just 280 Yen (~$3US)).
A Few Other Morsels of Advice
If you do want to eat at fancier restaurants, consider visiting at lunch time—many restaurants offer excellent set lunch deals that are a fraction of the price of what a meal in the evening would cost.
Most people heading to Japan intend to eat their weight in sushi. If you are a raw fish aficionado, consider seeking out kaiten sushi restaurants, otherwise known as conveyer belt sushi! Not only are these places super Japanese, but you can often eat a lot more (excellent) sushi for far less than you would at a more traditional restaurant. Prices are either fixed for all dishes, or determined based on the color of the plate; to tally your tab, the waitress counts up your dishes, and voila! Many places have a menu where you can place specific orders in case the roll you really want doesn't happen to be making the rounds.
Don't rule out izakayas. Although these casual establishments tend to be all about the drinking, they often serve up good, if simple, food at reasonable prices. Sure beats a bowl of peanuts!
But try to lay off the alcohol while in Japan if you can. Beer in particular is really expensive and can easily double or triple the cost of your final bill. We stopped in at a beerfest while in the city of Matsumoto and 1L of beer was being sold at 2600Y (which, at the time was about $32US)! Save your drinking for somewhere like Cambodia where you can get a pitcher for about $2US instead.
Instead of beer, also avoid sodas (which are also pricey) when dining out and ask for tap water—it's safe to drink throughout the country and is free! To ask for it at restaurants, say "Oh-meezoo koo-duh-seye".
If you can't get through the day without some kind of flavored beverage, turn to one of the countries numerous vending machines for a cheaper alternative (our favorite was the drink "Clear Peach". Perfectly refreshing on a humid August day!).
Splurge at least once! Japanese cuisine is some of the most magnificent the world has to offer and is really like an elegant art form. Don't miss out on a truly unique dining experience because you're so worried about your daily budget.
By employing some of the strategies outlined here, you'll be able to enjoy local food during your time in Japan without digging to deep into your budget. May all of your food adventures in the land of the rising sun be supremely oishii!
Author Bio: Originally from Toronto, Canada, Steph moved to Nashville, TN where she (eventually) completed her PhD in Psychology and met here lifelong partner in crime, Tony. In August 2012, after years of saving, the two of them left on their RTW trip and spent the first month burning through their savings in Japan. Their travels were meant to last 12 months and take them through Asia and Europe before they returned home to their "real" lives. Instead, they have now been traveling for over 17 months and have no plans to leave Asia (or stop traveling) any time soon. As they slowly eat their way around the world, they blog about their adventures over at 20 Years Hence. For extra shenanigans, you can also follow Steph & Tony on Facebook or Twitter.
Are you surprised with the prices of Japanese food?