Lviv is affectionately called the cultural capital of Ukraine. Now don't get that confused with the actual capital, Kyiv. Lviv is about 5 hours by train to the west of Kyiv (Kiev), just a few hours drive from the Polish border. Because of its beautiful architecture, friendly people, and amazing food, Lviv is a popular weekend trip for tourists to Ukraine. Here's the Lviv travel guide to help you navigate this large city.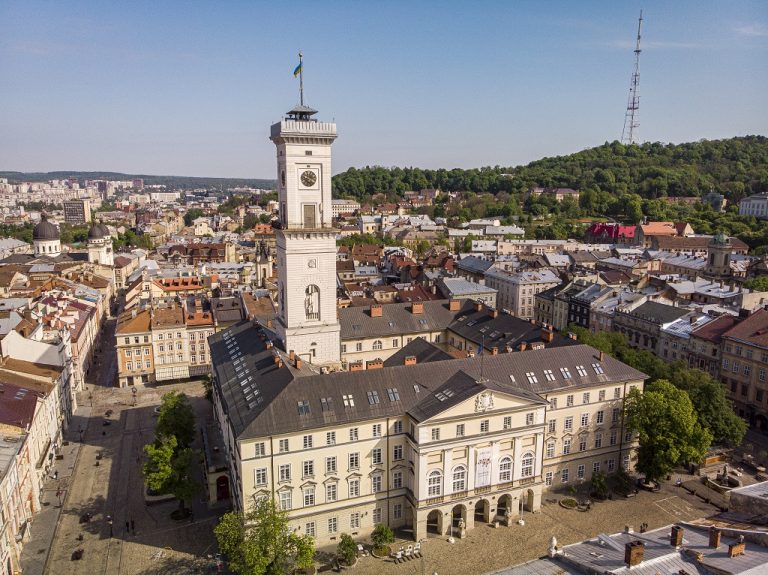 Lviv is also known as the youngest city in Ukraine. No, it has nothing to do with age. In fact, Lviv has been around since the 9th century! It was officially founded in 1250 by Daniel, King of Galicia and Rus (modern day Western Ukraine. The youngest city title is because over 30% of the city's population is under the age of 25. Lviv is a proper student city!
Aside from the storied history, being conquered by Poland, Austria, and the Soviet Union, Lviv is just generally a beautiful city primed for tourists.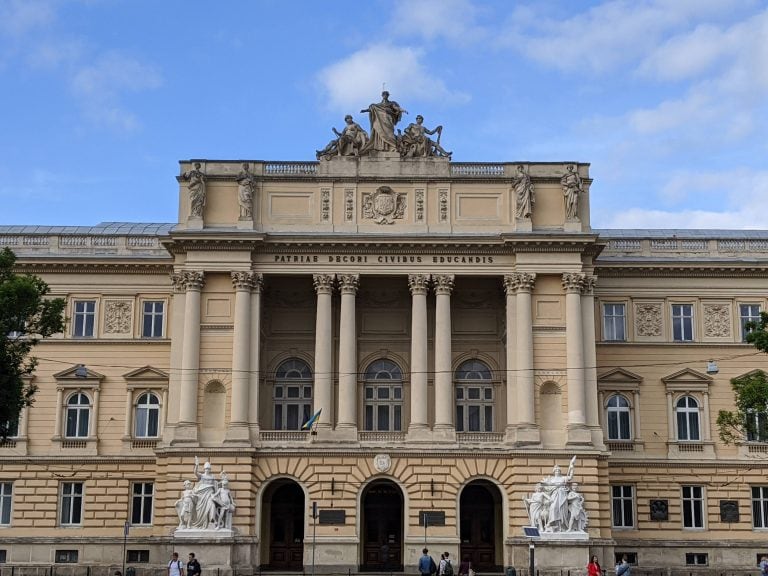 And the best thing about this guide to Lviv is that it's written by a local, so you know you're getting the best possible advice.
How To Plan A Weekend Trip To Lviv
Airports Near Lviv
Located just a 20 minute taxi ride from the city center, Lviv is serviced by King Danylo Halytsky International Airport. It's quite easy and cheap to fly into this airport from many major terminals all over Europe.
Train Stations Near Lviv
Lviv also has a major train terminal. It's especially easy to take one of the many daily trains from Kyiv, Odesa, or other cities in Ukraine. However there are also trains coming from Austria, Poland, Hungary, and Slovakia.
Transfer From The Airport/Train Station
There are plenty of cheap busses that go to the city center from both the airport and the train station. The busses cost 7UAH, about $0.30. However Lviv is a cheap city and a taxi from either place averages about $2. If you have luggage then this is the most convenient way to get to your accommodations. Uber works in Lviv so if you are worried about speaking to the driver, just plug your address into the app and away you go.
Where To Stay In Lviv
Lviv is a very, very walkable city. You can pretty much stay anywhere in the city proper and be no more than a 20 minute walk to the center. However for first time tourists I do recommend the historic center by Rynok Square. Called Market Square in English, this is the section of the city that is best for weekend city-breakers.
Whether you prefer a hotel, hostel or VRBO there are plenty of options available. Prices start as low as $4 a night for a room in a hostel, and go up to over $100 a night in a luxury hotel. If you aren't trying to save money I would recommend looking for places around $35-50 a night. 
Best Hostels and Hotels In Lviv
Hostels
Centrum Hostel – Located in between Polytechnic University and the city center, prices at this hostel are around $6.50 for a room in a shared dormitory. It also happens to be above Puzata Hata, a popular eatery for local Ukrainian food.
Pop Art Hostel – This hostel is located right in Rynok Square. Prices are cheap for a hostel in the city, at around $3 for a bed in a shared dormitory, but it is known for its lively atmosphere and friendly staff.
Lounge Capsule Hostel – Ok, it's not entirely like the capsule hotels you would find in Japan, but you do have a bit more privacy at this hostel than others in the city. Prices are around $5 a night for a capsule. Lounge Capsule Hostel is located a bit to the north of the square, in between Rynok and Park High Castle.
Hotels
Grand Hotel Lviv Luxury & Spa – This is often called the best hotel in the city, and at around $700 a night it's far out of the budget for most people. However staying here sure is a treat. The Grand Hotel is located right on Svobody Avenue, near the famous Opera House and it truly is a proper 5 star hotel.
Hotel Atlas Deluxe – A bit (ok, a lot) cheaper than the Grand, this 4 star hotel is about $55 a night on average. Located in a great location, many of the rooms have balconies overlooking the avenue and the monument to Adam Mickewiecz, a Polish hero.
Hotel 39 – Hotel 39 is a 3 star hotel coming in around $33 a night and located right in Rynok Square. The rooms here are well appointed and comfortable. This is actually where I put up friends when they come to visit!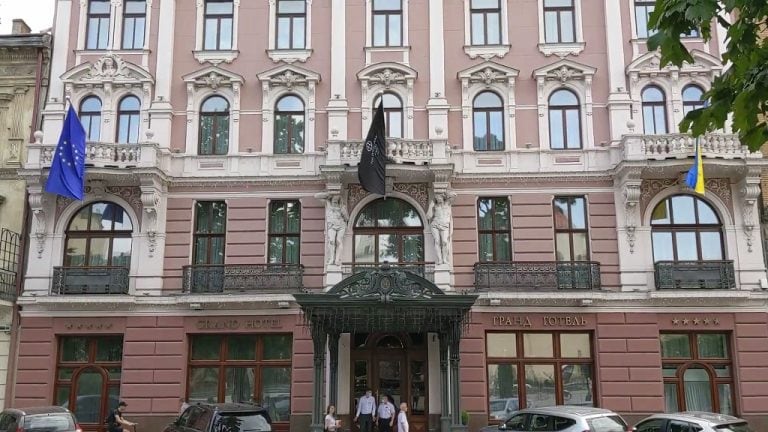 Best Ways To Get Around Lviv
Like I mentioned earlier, Lviv is a very walkable city. No matter where you stay, it's probable that you can walk to most of the popular sights. And, even if you don't feel like walking, a taxi anywhere in the city will be less than $2.
If you want to take the metro you easily can. Just hop on the train/tram/bus and pay 7 UAH ($0.30). The drivers usually change, but it's best to come prepared with small bills as they can refuse to break something too big.
There is a Lviv City Tourist Card, but to be honest you don't really need it. Many of the activities on it are not discounted, and I promise you that you won't take public transportation as much as you might think. Walking around Lviv just rambling from place to place is one of my favorite things to do in this city!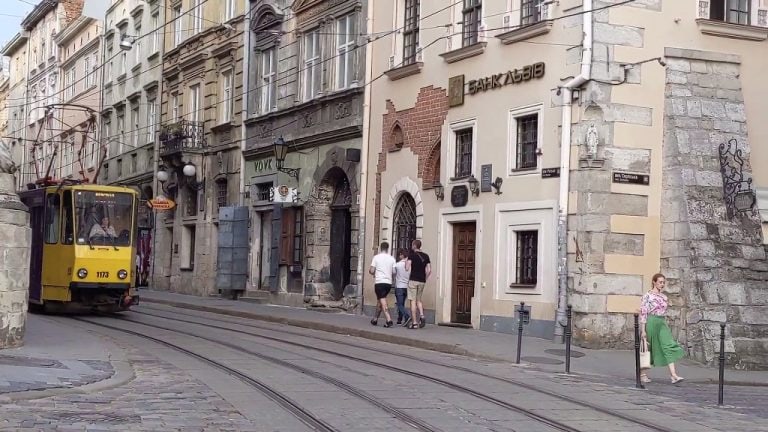 Best Places To Visit In Lviv Over a Weekend
Below is a list of some of the most popular attractions in Lviv, Ukraine. There is no need to pre-book anything as you can just pay on arrival.
Also, many of the attractions are completely free, which is great if you are a tourist on a tight budget. You can also opt for inexpensive guided tour of Lviv if you'd like to hear about the history from a local.
Rynok Square
The center of Lviv is actually a square promenade. It is completely free to visit as it's just the area around the town hall building and clock tower. Hang out at one of the many cafes around the square people watching and enjoying a famous Lviv coffee.
Ratusha Clock Tower
Offering the best view of the city center, climbing to the top of the Lviv Town Hall Clock Tower is the #1 tourist attraction in the city. To get to the top you have to pay 40 UAH ($1.30) and walk up over 100 steps. To visit, just walk to the fourth floor of the town hall building and follow the signs posted all over the place.
High Castle
Now, there's no castle left, but the hill next to the city center was once the home to a great fortress overlooking the city. These days it's a popular park with a view of the city. Getting here is just a 20 minute walk from the city center and entrance is completely free. At the top there is usually a vendor selling water or tea if you want to sit and enjoy your surroundings.
Lychaikiv Cemetary
Often called the Pere Chalaise of Ukraine, this cemetery is the final resting place of Bishops, Dukes, Celebrities, and even a King! The grounds are very well kept and the stonework around some of the more important mausoleums can be quite breathtaking. Entrance to the cemetery is about $2 and a great way to spend time for the more morbidly inclined.
Chapel of the Boim Family
This chapel is unlike any others in Europe. The facade is entirely black with gothic statues covering every square centimeter. The inside is gorgeous as well, but viewing the outside is completely free, and one of the most interesting places in the city.
Unusual Places To Visit In Lviv
Masoch Cafe
Did you know that Lviv was the birthplace of Masochism? In fact, the kinks namesake, Leopold von Sacher-Masoch grew up as a noble in Lviv. Masoch Cafe is a popular place with a bit of an infamous reputation. All for the price of a cocktail you too can experience some light whipping and bondage. Not For Children.
Shevchenkivsky Hai
This park is actually an outdoor museum located about a 30 minute walk from the city center. On the grounds you can see classical Ukrainian architecture that was brought from all over Western Ukraine. This is a less visited place by foreign tourists but all the more reason why you should go. Prices to enter are around $3 a person and you can really spend a whole afternoon exploring.
The Courtyard Of Lost Toys
This outdoor space is packed with stuffed animals, children's toys, and games. It has a bit of an eerie, sad feeling but it is definitely a place to stop by when visiting Lviv.
Where And What To Eat In Lviv
Lviv is a foodie paradise. Whether you want to try classical Ukrainian dishes, or some haute cuisine, you can find it here. And the best part, nothing is particularly expensive because Ukraine is such a poor country.
Kryivka
Called the most popular restaurant in Europe (by themselves), they apparently serve over 1 Million people a year. Kryivka is a theme restaurant in a bunker and the walls are plastered with memorabilia from the Pro-Ukraine Independence Army. The food here is classical home food, but make sure to try their delicious horseradish horilka.
Ribs Under Arsenal
This restaurant is located, as the name suggests, under the famous Lviv arsenal. This is the place to go if you want to fill up on delicious pork ribs. Inside the medieval structure you won't be served flatware so prepare to get your hands dirty. They do offer some artistically designed bibs for those who are worried about dirtying their clothes.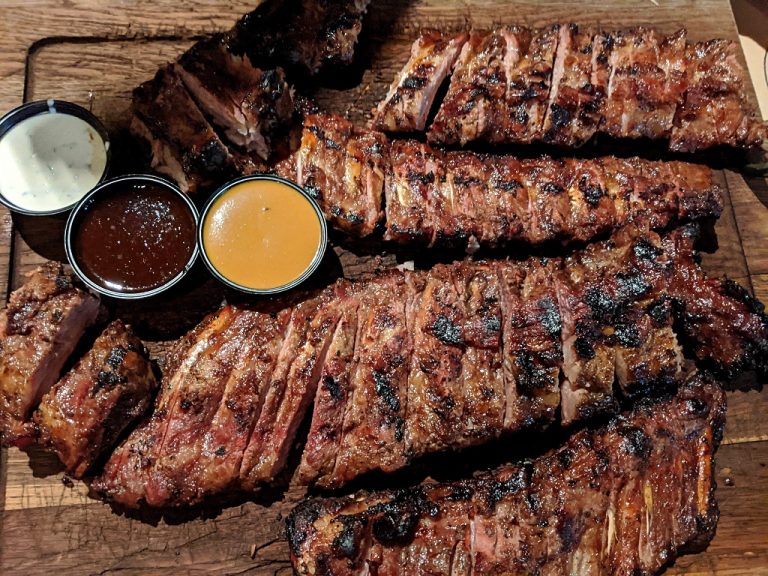 The Garage
Completely overlooked by most tourists, The Garage is one of my favorite brunch spots in the city. Serving a variety of European dishes, the prices here are fantastic for those on a budget, and the quality is top notch. I adore their classic quiche.
Mons Pius
Another of my favorite restaurants in the city, Mons Pius is located by the old Armenian Cathedral. In fact, the building is almost 500 years old, and their beer recipe is about the same. While renovating the building, they found an old monks recipe and have faithfully recreated it for customers. The food is amazing as well.
Where to Drink Best Coffee in Lviv
Black Honey
Perhaps the best espresso in the city, Black Honey is a small coffee shop located by the King Danylo statue just south of Rynok Square. There are only two tables inside, but for a proper Lviv cafe experience sit at one of the outside tables and enjoy people watching.
Lviv Coffee Manufacture
Did you know that while Austria is considered the birthplace of cafe society, Lviv was where they got their first taste of coffee? After the battle of Lviv, when the city was under Austrian control, the Ottoman invaders left plenty of coffee on retreat. Lviv Coffee Manufacture is one of the most popular cafes in the city, and make sure to head down into the dungeon to try the famous Lviv Flaming Coffee.
Best Places for Drinks in Lviv
Galician Alchemy
This little drinking spot specializes in infusions. Hard alcohol steeped with fruit, herbs, and spices. Every drink is served in a test tube, so get creative with your order. There are over 10 different infusions to choose from.
Drunken Cherry
A Lviv staple, now popular country-wide, Drunken cherry serves up traditional Ukrainian cherry liqueur. In the warmer months you can get it cold and enjoy sipping the liqueur while people watching. In the cold months they serve it hot, which is a great way to warm you up after dinner.
Libraria
Libraria is one of the top cocktail bars in the city. It isn't the easiest place to find, located on the second and third story of what is basically a residential apartment building. However upon crossing the threshold you feel like you've been transported to a 1920s speak-easy. The walls are lined with books, and the leather chairs bring out such a warm feeling.
Weekend Lviv Itinerary
Lviv is a small city and you can see most things in just one day. However I highly recommend people spend at least 2 days minimum so they can really get a feel of the city. Even if you don't care about sight-seeing, the food alone is worth the extra days.
Nothing in Lviv is expensive, including the flights, so why not make the most of your city break and spend a full weekend.
Below I've outlined everything to do from Friday to Sunday for a perfect weekend in Lviv.
Friday
Assuming you arrive around noon the first thing you'll need to do is check-in to your accommodations. From there you can follow my schedule exactly, or change it up to suit your preferences!
Walk around Rynok Square and climb the Ratusha Clock Tower. Spend your early afternoon just admiring the city from all angles.
If you are a beer drinker, head to Pravda Beer Theater for a locally made craft beer. Lviv has a huge craft beer scene and Pravda is the most popular place. They have dozens of award winning beers in bottles and on tap, but I highly recommend Red Eyes.
Take a short walk to Svobody Avenue and visit the Lviv Opera House. You can go inside for 20 UAH ($0.80) and admire the architecture and art that fill the place. If you want you can ask a docent for a guided tour, but it's entirely possible to see everything on your own as well.
Head to Kryivka in the center for dinner. You need a password to enter (Slava Ukraini) and then you'll be allowed inside. I suggest trying as many different foods as you can, especially if you want a real taste of old fashioned Ukrainian cuisine.
After dinner you can wander around or just head back to your accommodations to rest. You've had a long travel day, no need to cram too much stuff in one day.
Saturday
Wake up early and grab a coffee and pastry at one of the many Lviv cafes. I quite like Cafe Centaur or Bar Atlas for breakfast if you are hungry, or just a bakery if you don't normally eat big breakfasts.
Begin the walk to Park High Castle. You can just pop the location into Google Maps and they will give you an accurate walking route. Along the way you can pass by the War Memorial which has a nice viewing platform over the old town.
After High Castle head back to the city center and visit the Apteka Museum. This is one of the oldest pharmacies in Ukraine and you can see many archaic tools used to make medicine from back in the day. Make sure to check out the dungeon and courtyard as well.
Time for lunch! If you had a big breakfast you might want to skip lunch, but if you've only had a pastry then I suggest trying Gasova Lampa. Head to the top floor and try a variety of Ukrainian dishes. This place also makes my favorite salo (marinated pork fat) in the city, so make sure to give that a try.
Gasova Lampa is right above Galician Alchemy so if you are a drinker why not have a tipple. I'm partial to the lemon infused and the currant infused liqueurs.
After lunch take a short walk to the Museum of Ethnography located on Svobody Avenue. This is a beautiful museum where you can learn all about Western Ukrainian culture and life in Lviv.
Not too far from this museum is Ivano Franko Park, a popular hangout for locals. Admire the beautiful university on the way and just plop down on a bench with a beer or kvass and relax.
For dinner, assuming you still have some room in you, go to Ribs Under Arsenal. If you are not quite hungry then check out the Arsenal Museum right above to build up your appetite. Here you'll see plenty of weapons from all over Europe and Asia recovered from battles that took place in Ukraine.
Next to the restaurant is one of the three central locations of Drunken Cherry. Have a glass if you have room after all the ribs, and make sure they put the liquor soaked cherries into your glass (sometimes they forget).
If you really want to make a night of it go to Masoch Cafe and order off their special menu. That's all I have to say about that.
Sunday
After breakfast on Sunday take a walk to Schevchenkivskyi Hai. It's about a half hour walk from the city center. Spend your time doing something many tourists miss out on, and admire what life was like in Western Ukraine over 400 years ago. If you're lucky they will be having a festival that you can partake in!
On the walk back pass by or go into Lychaikiv Cemetary and see some of the graves of famous Ukrainians.
If you still have time before your departing flight or train you can get one final lunch in Lviv. There are plenty of great restaurants to choose from but I'd recommend Mons Pius because you're sure to have a great meal. In fact, I go to Mons Pius probably once a week during the summer months. It's so satisfying.
When it's time to go to the airport or train station just grab your stuff, call a taxi, and head out. I hope you enjoyed your time in Lviv, and I especially hope you plan on coming back. Lviv may be a great place to spend a city break, but it's also a great place for a long term stay. I've met plenty of foreigners who came for a weekend and just decided to call Lviv "home".