If you asked me what you should put on your Tokyo bucket list, although I would not recommend visiting Tokyo Skytree Tower, I would definitely encourage you to go see Sumo Tournament in Tokyo. Believe me or not, but this is one of my best travel experiences so far and the highlight of Etramping's trip to Japan!
What is sumo?
I bet most people would say that sumo are two fat Japanese wearing nothing but a loincloth and keep pushing each other. Well, although this is not far from the truth, sumo is considered as a traditional heavyweight wrestling that has a long history and plays an important role in Japanese culture.
These two "fat fighters" wear mawashi, face each other in a dohyo and push, grapple and try to throw each other in order to entertain the crowd.
How would that be entertaining? Long story short, you can read more about sumo here, sumo has been taken a lot more seriously nowadays because it's not staged and wrestlers enter training organizations to work their way up to the top while the whole country is watching them do that. This is exciting for Japanese!
To give you more insight into the world of sumo, all wrestlers are classified in a ranking hierarchy called banzuke.
It gets updated after each tournament based on the wrestlers' performance. Those who have more wins than losses move up the hierarchy, while those who lost get demoted. The top division is called "Makuuchi" and the second division is called "Juryo". At the pinnacle of the sumo hierarchy stands the yokozuna (grand champion).
What do sumo wrestlers eat?
That's the question I was asking everyone around as I was very curious about sumo wrestlers' diet. It turned out they all eat Chankonabe that is considered to be the signature food of sumo wrestlers. Chankonabe is simply a stew-like soup that contains vegetables, meat or fish, mushrooms and some tofu. It is eaten everyday as a very healthy, well-balanced food. Well, I still don't understand how they can grow so big eating such a healthy soup! Truth is, they eat a lot of it!
When is a sumo tournament held?
Six tournaments are held every year. There are 3 in Tokyo in January, May and September, 1 in Osaka in March, 1 in Nagoya in July and 1 in Fukuoka in November. It is good to check sumo's official calendar before you decide to attend it. Each tournament lasts for 15 days so you have plenty of opportunities to go see sumo wrestlers fight.
Additionally, if you happen to be in Japan when there are no tournaments, for Sumo-related activities, one of the most well-received activities is to Watch Sumo Wrestlers during their Morning Practice. This is an all-year round activity, so we believe it would be great to visit in the off-season period.
How to see a sumo tournament?
The best way to see sumo is to attend a sumo tournament, of course! Day sumo tickets are sold for each day of the 15-day tournaments and you can purchase them in advance through:
box office

Ryogoku Kokugikan Box Office

| TEL: 03-3622-1100(Information in Japanese only) | Business hours: 10:00am – 4:00pm (9:00am – on the first day of the tournament)
Ticket Pia
TEL: 0570-02-9310(for Sumo booking only)
Convenience Stores LAWSON, FamilyMart, Seven-Eleven, Circle K Sunkus
Some

travel agents

such as JTB are handling tickets.
What types of seats are available?
There are 3 types of seats available to regular visitors:
Ringside seats – located closest to the ring, ringside seats are most expensive and most difficult to get.

Box seats

– the rest of the stadium's first floor consists of Japanese style box seats. Box seats are further classified into A, B and C boxes according to distance to the ring.
Balcony seats – on the second floor balcony, there are several rows of Western-style seats. Balcony seats, too, are further classified into A, B and C seats depending on the distance to the ring.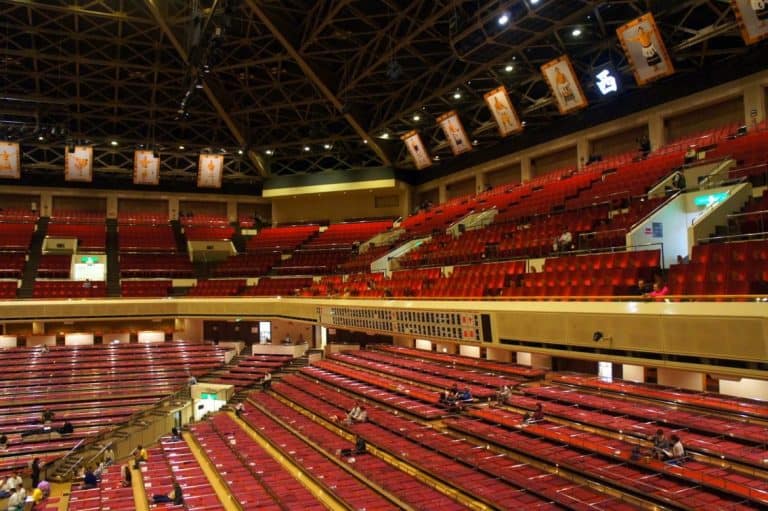 Note: the stadium often sells out, especially on weekends and national holidays and sumo tickets go on sale roughly one month before the start of each tournament.
How much do sumo tickets cost?
Reserved Seats:
Chair Seats:
Chair A (¥8,200), Chair B ( ¥4,900), Chair C (¥3,600)
Box Seats (for 4 people):
Box A ¥45,200 (¥11,300×4)
Box B ¥41,200 (¥10,300×4)
Box C ¥36,800 (¥9,200×4)
Unreserved Seats:
¥2,100 and they are sold only on the day at the Ryogoku Kokugikan starting at 8:00am 350 tickets (rear seats on the second floor) are available for each day.
Tickets for the Tokyo Sumo Tournament are sold at the office of the Nihon Sumo Kyokai at Kokugikan Sumo Hall in Ryogoku as well as at Ticket Bureaus in downtown Tokyo.
What was my tournament day like?
When coming to Tokyo, I had no idea I would see the sumo fight live. I was not even aware of the tournament taking place on the days of my stay in this busy city. Although I used to watch sumo tournaments on TV as a little girl and one of my dreams was to watch it live, I totally forgot about it when I was in Japan!
After arriving at Anne Hostel where me and Cez were staying, I saw all of these sumo posters scattered across the walls. Then I had another look at the sumo schedule and I noticed there was one fight the next day with unreserved tickets available. At that moment I knew I would go to see it!
At night I didn't sleep much, perhaps 2 hours. I wanted to get up early in the morning (4am ish) to get in line for the tickets. It was a heavy rain that day, I remember. Luckily for me, the ticket office at Kokugikan Sumo Hall in Ryogoku was located 5 minutes from Anne Hostel.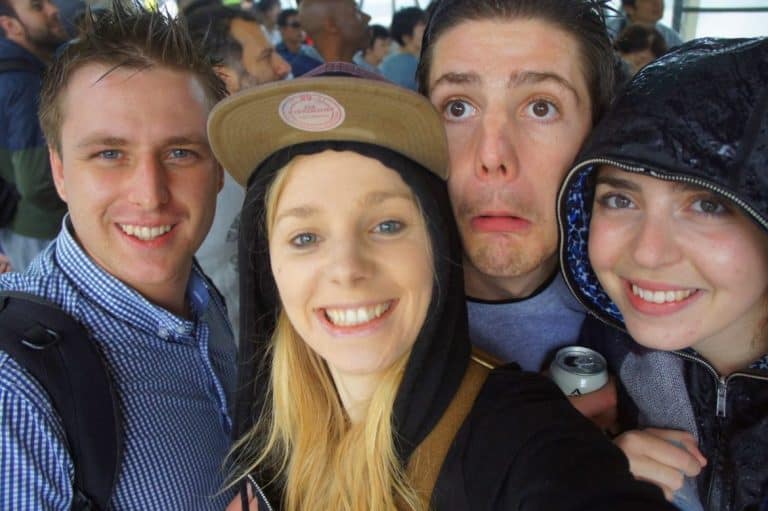 After getting my ticket, I started exploring the stadium with a bunch of travelers I met in the hostel. We got some snacks, walked around, took some pictures with sumo wrestlers and explored training rooms. Unfortunately none of the wrestlers wanted to talk to us. They were all shy (perhaps they could not speak English well enough), quiet and busy.
At around 8:30 am lower division matches started so we could see young sumo wrestlers performing. The top division (Makuuchi) matches took place from 4 pm onward. What I liked the most were definitely ring entering ceremonies between divisions. They were exciting and full of excitement. The stadium atmosphere improved with the arrival of more spectators when the most spectacular matches happened.
The climax took place when the two highest-ranked wrestlers faced off in the concluding match (right around 6:00 pm). People were cheering constantly!
I kept crawling from the bottom to the top of the ring to take the best shots and make some short movies during different performances. Tired, but extremely happy and excited I couldn't shut up about it for the next hours after I got back to the hostel. Unfortunately, Cez couldn't attend it due to his sickness.
Extra sumo tips
TIP 1: Unless you would like to spend the whole day watching sumo, I recommend arriving in the early to mid-afternoon. This is when the atmosphere begins to electrify, as the venue fills up and the most skilled wrestlers begin their matches.
TIP 2: Buy your drinks and snacks at local store, the prices there are extremely high and the food is not that tasty!
TIP 3: You don't have to get up that early. Being there 10 minutes before the box office is open is definitely enough.
Have you ever watched sumo fight live? Is Tokyo's sumo tournament on your bucket list?