Walking and standing for long hours on concrete can have long-term effects on your feet, knees, and back. These effects can include chronic foot conditions such as plantar fasciitis caused by lots of physical activity on hard surfaces without proper shoes to protect the feet from impact. While it might not be possible to avoid working on your feet for long hours, it is possible to ensure that your feet are supported to reduce pressure on them and have less fatigue at the end of the day with the right shoes. In this article, I review some of the best shoes for walking on concrete, whether for exercise or work, to help you choose the ideal footwear.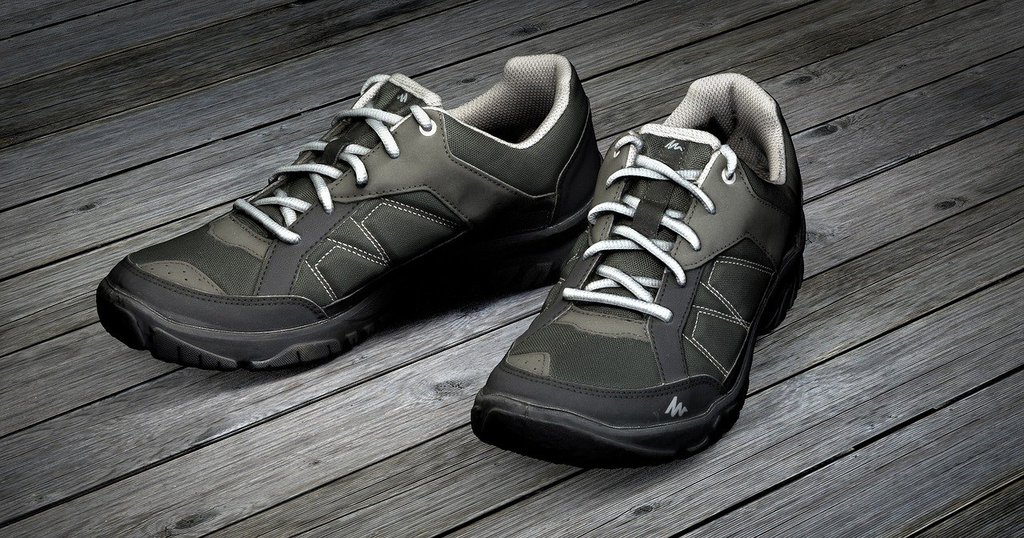 What are the Best Shoes for Walking on Concrete?
We have compiled for you the top 6 Best Shoes for Walking on Concrete in 2023. In this article we go through the products that we have used ourselves, checked what other users thought about them and we ranked them accordingly.
With years of experience with footwear for walking on concrete and having used several shoes for walking on concrete you can trust our review.
Moreover, you can scroll to the end of this review to see our mini buying guide as well as the answers to some of the frequently asked questions about shoes for walking on concrete.
Under Armour is a successful brand that produces performance apparel and shoes. The Charged Assert 8 model makes it to the top of my favorites list, and it is a high-quality running shoe that features comfortable construction for walking all day on hard surfaces. It is a well-padded shoe with excellent impact protection on the one hand, while on the other hand, it also features a high heel-to-toe drop which can give you knee fatigue and toe blisters while walking. The outsole features solid rubber and contact foam construction with excellent traction for walking on the road. It features flexible grooves between the midfoot and toes sections that make the outsole flexible for a natural gait while walking. The midsole features the Charged Cushioning Technology, which is a compression-molded foam, and a removable EVA sock liner. The midsole cushioning is comfortable but firm, which may give you good stability for walking.
The mesh upper is overlaid with leather, which helps to provide a more secure fit. However, some users have reported that the upper fabrics began wearing off after a few uses and induced blisters on others. Overall, the Charged Assert 8 is an excellent shoe for athletic and casual occasions and is suitable for walking and running on concrete.
Pros
Comfortable wear with thick cushioning,
Lightweight construction for extended wearing,
Flexible outsole for natural gait,
Breathable mesh upper with a wide toe box,
The outsole offers excellent traction for concrete
Cons
Low quality mesh upper,
High heel-to-toe drop for walking
Specs
Price: 💲💲💲 (fewer 💲 = cheaper)
Weight: 0.76 pounds (0.34 kg)
Material: Textile, Mesh and Synthetic
Ryka is a performance shoe brand exclusively designed for women and is one of the top brands that make shoes for water sports. The Ryka Women's Hydro Sport trainer is exceptional because its design allows for other activities. The shoes feature a lightweight breathable mesh upper that is resistant to chlorinated water and is quick drying. The upper also features synthetic overlays to reinforce the heel and toe box. The webbed lacing system gives the midfoot snug-fitting and allows you to adjust the laces to fit your foot profile, while the fabric bracing provides lateral and medial support. The Hydro Sport comes with a rubber outsole with excellent traction on wet surfaces. It features drainage ports that funnel excess water from the midsole, which helps dry the shoes quickly. The midsole comes in compression-molded EVA foam that provides excellent cushioning for impact absorption and is also firm for walking activities. They also come with a Nitracel sock liner that adds comfort and prevents debris from getting inside the shoes through the drainage ports.
Pros
Outsole has excellent traction for wet surfaces,
Provides medial and lateral support for walking, Features a quick-drying mesh upper,
Midsole cushioning for hard surfaces,
High quality and durable construction
Cons
High heel-to-toe drop for walking
The Skechers Calculous slip-on loafers are comfortable men's walking shoes with rubber outsoles with excellent traction and flexibility for walking pavements. The shoes have an attractive, casual design that is versatile for everyday wear. However, unlike the products above, these are not athletic shoes. Also, they are the premium option on my list. The shoes feature a dual goring panel to slip on easily and a roomy interior for a comfortable fit. They come with a smooth oiled leather upper with stitching and overlay details that give them an attractive aesthetic. The shoes have a low heel-to-toe drop which makes them almost flat and ideal for walking on concrete. However, leather is not 100% genuine and it does not provide as much ventilation as mesh. But, the loafers feature a breathable inner lining and moisture-wicking insole that reduce stuffiness. The Gel Infused Memory Foam insole contours to your foot which helps to reduce foot fatigue while walking. However, memory foam wears down quickly and reduces the cushioning and support, making the shoes uncomfortable.
Pros
Roomy interior offers a comfortable fit,
Low heel-to-toe drop reduces fatigue,
Cushioned midsole protects against impact,
Attractive and stylish design for daily wear,
Flexible outsole for a natural gait
Cons
Expensive,
Leather upper scruffs easily,
Memory foam insoles compress quickly
The Squad SR women's sneakers are ideal for wearing at the workplace if you stand and walk for long hours. The shoes feature a heavy-duty rubber outsole marked as slip-resistant for wet and oily surfaces. However, many users who bought them for working in slippery environments have noted that the outsole offers little traction and is unsafe. On the upside, they are flexible with a low heel-to-toe drop which makes them comfortable. Like the men's loafers above, these Skechers sneakers also feature a memory foam insole that cushions the feet to reduce pressure and fatigue. However, the foam is thin, and it wears down quickly, which is an inconvenience. Several users appreciate the stylish design of the shoes, the roomy interior, and lightweight construction. The sneakers also feature a breathable mesh upper with synthetic fabric overlays at the toe and heel section. On the downside, the shoes smell when you wear them for long.
Pros
Lightweight and durable construction,
Flexible outsole with electrical hazard protection,
Memory foam cushioning,
Low heel-to-toe drop,
Attractive and stylish design
Cons
Outsole has bad traction,
Shoes smell when worn for long
Like the Squad SR sneaker, the Fila Memory Workshift shoe design is ideal for the workplace. However, it features more solid construction with durable, synthetic material upper to protect your feet from occupational hazards and a solid rubber outsole with decent traction for wet surfaces. One of the misgivings of these shoes is durability. Many users dislike the synthetic material, which is a step down from leather which the earlier models had. Also, the outsole comes off after a few weeks of hard use on concrete and other hard surfaces. The memory foam midsole also wears down quickly, leaving you with a stiff footbed and little or no support for your feet. The shoes are affordable, and they are comfortable while the foam lasts. The synthetic is also a little easier to clean than mesh, though it is less breathable. However, the design features perforations on the sides to aid in ventilation, and sneakers come in various widths to accommodate different sizes.
Pros
Perforated design for ventilation,
Cushioned midsole and sock liner for comfort,
Slip-resistant outsole for wet surfaces,
Affordable
I wind up this review with the Hawkwell Nursing Shoes, and they are the most affordable option on the list. The shoes are ideal for active professionals, such as nurses, who are on their feet all day. The sneakers feature a soft synthetic leather upper that is water-resistant and easy to clean. However, the design is stylish and versatile for wearing on other occasions.
The outsole has a low heel-to-toe drop which helps to distribute the weight evenly along the foot. It also has arch support to reduce pressure on your knees and back. The midsole cushioning delivers all-day foot support and also comes with a removable padded insole for comfort that reduces fatigue on the feet. Most users noted that the shoes run big and are wide, which makes them a bit loose. However, the sizes are comfortable for most people with wide feet.
Pros
Good quality and affordable,
Comes in a variety of styles,
Easy to clean stain-resistant construction,
Comfortable cushioning and arch support,
Flexible outsole with superior slip-resistance
Verdict
To summarize, we have gone through dozens of shoes for walking on concrete and decided that 6 are worth your consideration. Out of these, the absolute Best Shoes for Walking on Concrete is Under Armour Men's Charged Assert 8 Running Shoe which we highly recommend as our overall best.
If money is not an issue, you can consider Skechers Men's Glides Calculous Slip-On Loafer as this is our Premium Pick.
Otherwise, there's no shame in spending prudently, Skechers Women's Squad SR Food Service Shoe is the Budget Option.
Our other reviews you may find useful in your research:
What You Should Know Before Buying shoes for walking on concrete
Material and Breathability
The uppermost part of a walking shoe is typically made of either leather, suede, synthetic fabrics, or mesh fabric. Suede and mesh fabrics are better with breathability and lighter than leather. They are also cheaper and are less prone to odors when worn for long periods. However, they are not ideal for wearing at the workplace because your feet are less protected and are harder to clean. They are also not waterproof. On the other hand, leather and synthetic leather walking shoes are more durable and easier to clean. They also offer better protection for your feet, especially from spills in the workplace. However, as you can imagine, they are not very breathable, and they often cost more.
Cushioning and Shock Absorbency
Cushioning is one of the most critical aspects to consider when choosing your walking shoes because it can protect you from developing chronic foot ailments such as plantar fasciitis. Cushioning provides a comfortable base for your feet and also helps to absorb the impact on your feet. The midsole is the cushioned part of the shoe, and there are various types of cushioning materials available. Generally, I would recommend getting a shoe that provides a firm midsole instead of a plush one. Compared to running, walking has less impact on the foot, so the shoes would have a more rigid cushion that provides stability for a slow pace. However, the padding should also offer comfort against the hard concrete while also providing arch support to reduce pressure on the joints.
Outsole
The outsole is the bottom part of the shoe, and it protects your foot from the ground you walk on. Outsoles are made from various materials such as rubber, polyurethane, and other synthetic materials such as EVA. Concrete can feature a smooth or abrasive finish, and traction is a key feature for walking shoes, especially if they are service shoes for medical, restaurant, or warehouse workers. Other considerations include foot support through design features such as heel counters to keep the foot inside the shoe and prevent overpronation and plantar fasciitis. Walking shoes should give you adequate arch support to reduce pressure on your ankle and redistribute the weight evenly. Unlike running shoes that require flexible outsoles to help you move faster, walking shoes tend to be stiffer to provide stability.
Quality Midsole
Walking shoes use various types of foam for midsole cushioning. EVA (ethyl vinyl acetate) foam is one of the more typical materials used for midsoles due to its lightweight and affordability. It molds to the shape of your feet, making the shoes comfortable for walking all day. EVA midsoles can either be compression molded (CMEVA), which produces a firmer and more durable midsole, or injection molded (IMEVA), which is lighter and more bouncy. The drawback of EVA material is that it compresses quickly and makes the cushioning thinner and less supportive. Polyurethane (PU) is another material commonly used for midsoles and outsoles due to its resilience and flexibility. It retains its bounce and cushioning longer than other materials and is heavier and more expensive than EVA. Memory Foam falls into this category, although it has a slow bounce back rate which can be uncomfortable.
The insole is the removable part of the sole, and it provides extra cushioning and comfort. The benefit of removable insoles is that they are easy to clean, and you can replace them with orthotic inserts for better arch support and reduced pressure on the foot. Walking shoes typically have firm insoles to provide the stability needed for walking.
Support
The heel-to-toe drop is the difference in the amount of outsole material at the heel and the toe area of the shoe. Most walking shoes have a low drop which means that the sole is more or less even. It puts your foot in a more natural position and gives you more stability as you walk. Another consideration is pronation, which is the natural movement of your foot as it lands while walking. There are three types of pronation, and it determines how your feet absorb impact and the kind of support you need. Natural or neutral pronators are less prone to injuries because the foot and ankle are aligned when walking. Overpronators roll their feet excessively inward or downward, which puts pressure on the big toe and can lead to instability and shin splints. It is common with people with flat feet and can be controlled with motion control insoles and orthotics. Under pronators roll their feet outwards, which puts pressure on the outer toes and can cause ankle sprains, Plantar Fasciitis, and Achilles tendonitis. It affects people with high arches and can be maintained by cushioned insoles and shoes with flexible outsoles.
Questions and Answers About shoes for walking on concrete
Are running shoes good for walking on concrete?
There are differences between running and walking shoes, and although most of us probably have one pair for both, I recommend getting shoes for the specific activity. Running shoes have a thick cushioned midsole with a flexible outsole which helps to absorb the heavy impact to the foot caused by running. However, walking shoes have a firm midsole because walking has less impact on the feet. They are also slightly heavier than running shoes to help you maintain stability when walking.
Is walking on concrete floors bad for your feet?
Although walking has many benefits to your overall health, walking on concrete for long hours every day may have negative side effects on your feet, knees, and back. Some of the common health issues include Plantar Fasciitis, Achilles Tendinitis, Neuroma, and Shin Splints. However, you can remedy these conditions by wearing cushioned walking shoes with arch support to reduce pressure and fatigue on your feet.
How often should you replace your walking shoes?
In most cases, your shoes will begin to wear out within 3 – 6 months. However, other factors such as the quality of materials and build and how often you wear them also determine how quickly you replace the shoes. Signs that indicate your walking shoes need replacing include worn-out outsoles where the treads are even, or the heel is more worn out on one side than the other. Wrinkles on the sides or bottom of the sole are indications that the midsole cushioning is worn out and is not providing support.