It is no secret that road trips offer the freedom and flexibility that no other way of travel can.
It's just you, the great open road, and an endless sea of adventures waiting for you… and maybe even a stack of books to read while you wait for your engine to cool down.
If you're dreaming of a road trip, but you're not quite able to get out there and start adventuring just yet, don't worry because you can still embark on an adventure.
An adventure of the imagination, fueled by some of the best road trip books that inspire wanderlust. So get yourself cozy, find your reading nook, and settle in for some of the best literary road trip books of all time.
Best Road Trip Books
Not Tonight Josephine By George Mahood
George Mahood is an adventurous British traveler who wanted to see the small towns of America, the towns that no one had ever heard about.
With his best friend, Mark, they flew to New York, where they bought a battered station wagon they named Josephine, which had a mysterious bullet hole in the back window.
They then set off to explore America's finest backroads. What they found was not just the rural charm of the country but rapidly decreasing finances, run-ins with the cops, incredibly dangerous hiking trails, and countless breakdowns.
This is a true and hilarious travel book highlighting the joyous and sorrowful adventures one can have on a road trip across America.
Travels With Charley: In Search Of America By John Steinbeck
Another book about an epic road trip across America is the iconic Travels with Charley by John Steinbeck.
In this travelog, the best-selling American author adventures across the states with his dog, Charley, in a specially made camper he named Rocinante.
The purpose of the trip was to see and learn more about his home country on a deeper level. What he found was so much more.
"I was born lost and take no pleasure in being found," says John Steinbeck as he describes his feeling of freedom while road tripping.
This novel is expertly written, portraying a perfect portrait of America through words. It's also insightful and educational, and sometimes even a little poetic.
Traveling nearly 10,000 miles from Long Island, New York, and making a circular loop across the country, ticking off iconic destinations such as Maine, the Pacific Northwest, Salinas Valley, and the Deep South, before returning home.
Zen And The Art Of Motorcycle Maintenance By Robert Pirsig
Although this is a hard read, it's one of the most iconic road trip books of all time. Robert Pirsig is a philosopher who redefined philosophy with his novel Zen And The Art of Motorcycle Maintenance.
In this novel, he travels across America with his son and two friends on motorbikes. Along the way, he described not only the sites but his thoughts, feelings, and deep philosophical viewpoints.
It's not a book that can be devoured in a day. It's like fine wine; it should be savored and drunk slowly.
Motorcycle Diaries By Che Guevara
Many people know of Ernesto "Che" Guevara for his political influences in Cuba, but what many don't know about him is that he was once a young medical student with a desire to see the world.
In 1939, he left his home in Argentina with his friend, Alberto Granado, on a 500cc motorcycle named 'La Poderosa,' which translates to 'The Mighty One' in English.
The pair only wanted to see parts of the world they had only read about in books, but what they saw was completely unexpected.
They saw social injustice, exploited works, tattered descendants of the great Inca civilization, and an ostracized leper society in the Amazon.
It is thought this journey inspired Che to take up politics and become an influential figure in Marxist Socialism. This is one book about travel and self-discovery that will be inspiring road trippers for generations.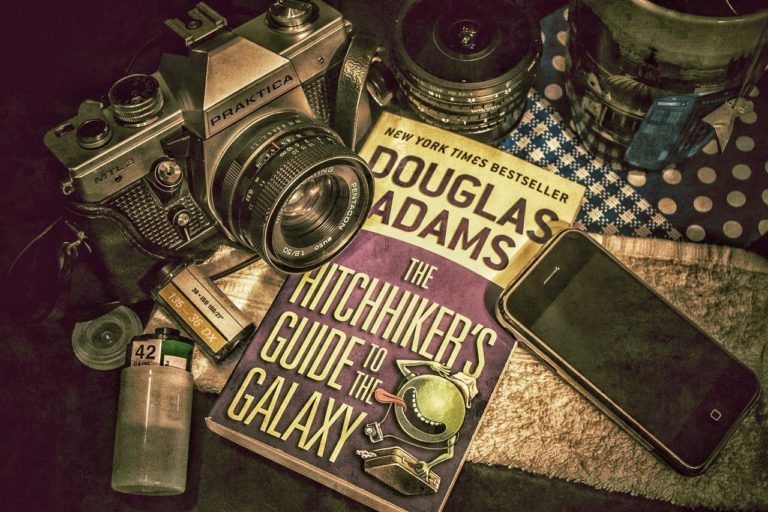 The Hitchhiker's Guide To The Galaxy By Douglas Adams
Although not road trip books per se, the Hitchhiker Guide to the Galaxy series is six novels that tell one of the greatest stories of adventure travel of all time.
It follows the story of Arthur Dent, who is inadvertently taken on a hitchhiking ride through space by his friend, Ford Prefect.
After Earth is destroyed, he has no choice but to ride the rails of space travel with a band of misfit aliens, discovering new civilizations, remote planets, and even a restaurant at the end of the Universe.
Nevada By Imogen Binnie
Maria Griffiths is a transgender bookstore clerk working in New York City. She realizes she's not so much in love with her girlfriend, Steph, as she is with the idea of travel and the freedom her motorbike gives her.
When Maria and Steph break up, she decides it's time to take that cross-country road trip she's always dreamed of – in her ex-girlfriend's car.
When her journey takes her to Star City, Nevada, she meets James, a younger trans in need of a role model.
Nevada is considered to be not only one of the most beloved tales in trans literature but a great road trip book that is inspiring and thought-provoking.
This is the great American road trip novel that will inspire the new generation.
The Travelling Cat Chronicles By Hiro Arikawa
Have you ever wondered what it would be like to embark on a road trip with your pets? Then perhaps The Travelling Cat Chronicles will give you a good idea of what that's like.
Nana and his loving owner Satoru embark on a road trip in a silver van across Japan. Sitting side by side, the pair experience changing seasons, old towns, and urban metropolis.
Along the way, they catch up with old friends and meet many new ones, such as an unsentimental farmer, a warm-hearted couple, and a mournful husband.
This sweet and heartwarming road trip book is perfect for anyone looking to learn more about Japanese culture.
On The Road By Jack Kerouac
On the Road is a road trip book that was first published in 1957 and quickly became one of the most influential novels in the postwar Beat Generation.
It follows the journey of Dean Moriarty and a writer named Sal Paradise, who are two characters based on Jack Kerouac and his friends.
It tells of the two friends' adventures as they journey back and forth to visit one another across the U.S.
It was inspired by a 10,000-word letter from his friend, which was written in the form of improvised jazz.
If you're looking for inspiring road trip books that are written in elegant prose, then this is one to add to your reading list.
The Alchemist By Paulo Coelho
Perhaps one of the most inspiring travel books of all time, The Alchemist follows the journey of a young boy as he seeks to find his treasure in the Egyptian desert.
Along the way, he meets a kind merchant, a young woman whom he falls in love with, and an Alchemist, who teaches him to understand the elements of the Earth.
Although not a road trip book in the traditional sense, it's a book about a long journey of self-discovery and resilience. It's the story of sacrifice, learning to recognize fate, and never giving up on your dreams.
It's one book that every traveler should read in their lifetime, whether they are road tripping, backpacking, or flying on private jets. It teaches travelers to be humble and wise and to never lose sight of their dreams.
Blue Highways By William Least Heat-Moon
Blue Highways is possibly the most influential piece of American travel writing in the 20th century. It follows the unforgettable journey of William Least Heat-Moon as he explores the United State's backroads.
As he aims to find small towns and put their names on the map, he writes about his adventures and discoveries, as well as detailed accounts of the extraordinary people he met along the way.
This book is a pretty good representation for anyone looking for road trip books that give an authentic view of the All-American road trip.
Final Word on Road Trip Books
So there you have it, 10 of the best road trip books to inspire wanderlust.
Whether you're embarking on a solo adventure, traveling with friends, or even with your pet, these classic road trip stories will surely inspire wanderlust in any book lover.
Do you have a favorite from this list? Or perhaps you know some other books that deserve a mention? If so, let us know in the comments.