Micro drones are smaller versions of the typical quadcopter. As drone technology advances, it also increases the need for drones to improve our everyday experiences. Thus, the best micro quadcopters are useful as learning tools to give you a piloting skill that will enable you to handle larger and more technical drones.
Micro drones have a simple mechanical design that makes them easier to control than regular quadcopters. They are also cheaper, which makes them attractive for newbies to learn with them.
On the other hand, they have fewer features to make them useful for everyday applications such as aerial photography, and they are mostly for playing with them. It also constricts you to flying indoors, so you may not get the experience needed for outdoor flying. However, you can get the best drone for under $200 to practice outdoor flying affordably.
As a beginner quadcopter pilot, there is no better way to learn flying than with a micro drone. They have a quick learning curve, and with a less expensive construction, you can afford to crash it a few times and graduate to flying the regular drones in no time.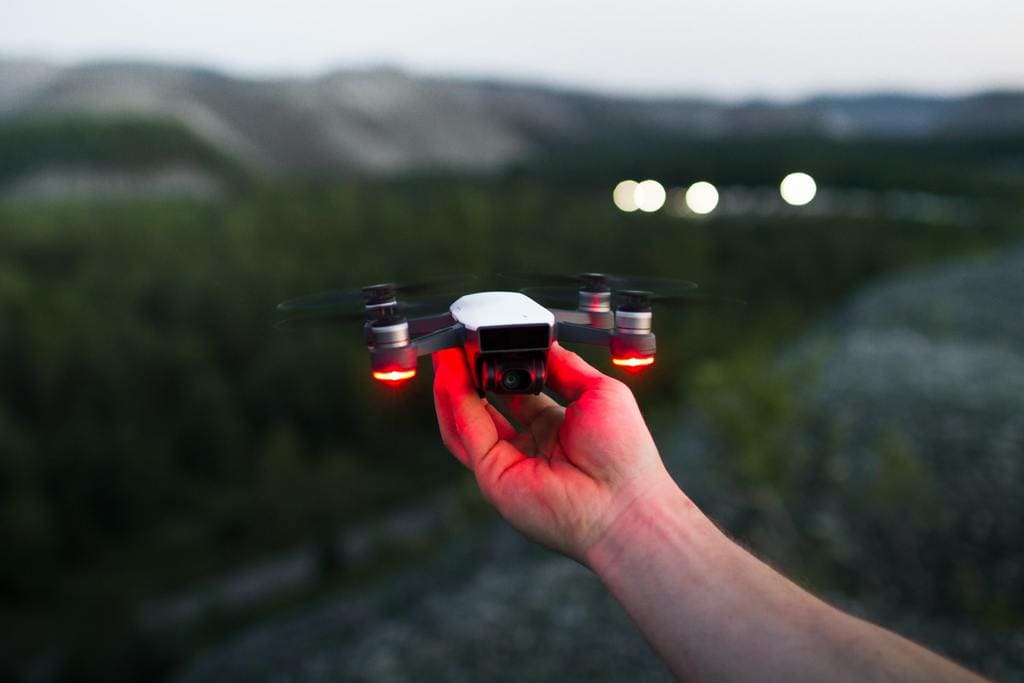 What is the Best Micro Drone?
We have compiled for you the top 10 Best Micro Drone in 2023. In this article we go through the products that we have used ourselves, checked what other users thought about them and we ranked them accordingly.
With years of experience with mini drones and having used several micro drones you can trust our review.
Moreover, you can scroll to the end of this review to see our mini buying guide as well as the answers to some of the frequently asked questions about micro drones.
Specs
Price: 💲💲💲 (fewer 💲 = cheaper)
Weight: 0.33 pounds (0.15 kg)
Max Flight Time: 20 Minutes
Control Range: 328 ft (100 m)
Gimbal/ Stabilization: No
SD Card Slot: Yes
Holy Stone HS110G is the best cheap drone with a camera. If you cannot spare over a hundred dollars and still want to see where you're flying in real time, then this model is for you.
While it doesn't have stabilization, it may actually record a better quality footage than the quadcopters that do but lack SD Card Slot. Recording to SD Card ensures the videos aren't spotty and make for a much better watching.
A lot of people sing praises of the remote controller and the App for this drone so if you're new to flying quadcopters, you should have an easy time learning with this one.
One of the biggest advantages are the batteries that hold for long time and are cheap to get, so that you get more air time. However, to charge them, you won't be able to fly, which is the biggest disadvantage.
Pros
Great value for money,
Very good footage quality for a beginned quadcopter,
Batteries last as long as advertised and are cheap to buy extra,
Great and easy-to-use remote controller,
You can record your videos to SD card or directly to your phone,
Well-developed and beginner-friendly App
Cons
Doesn't hold position outdoors and may get tossed around in the wind,
Batteries can only be charged while in the drone, so can't fly while charging
Specs
Price: 💲💲💲💲💲 (fewer 💲 = cheaper)
Weight: 0.55 pounds (0.25 kg)
Max Flight Time: 34 Minutes
Control Range: 18 Km
Gimbal/ Stabilization: 3-axis
SD Card Slot: Micro SD
Charging Time: 1 Hours
Mini 3 Pro brings the wow factor to DJI's palm-sized drones. It marks the territory of professional content creators. Understandably, its price is a leap from Mini 2. The size of the sensor makes a true difference in quality. Pro has been upgraded with a 1/1.3″ CMOS, stabilized from both ends. It enables 48MP photography. The camera also rotates at a 90⁰ angle to support stills in both landscape and portrait. These verticals go on to adorn the feeds of your Instagram and TikTok followers.
The single charge lasts for 34 minutes. You can buy an Intelligent Flight Battery to expand it. In that case, the drone would weigh over 250g.
Pros
Hurdle sensing,
Staggering low-light performance,
60fps recording at 4K, Portable and powerful
Cons
Pricier than the predecessor,
A slight increase in runtime
Specs
Price: 💲 (fewer 💲 = cheaper)
Weight: 0.54 pounds (0.24 kg)
Max Flight Time: 5 Minutes
Control Range: 60 meters
SD Card Slot: N/A
Charging Time: 0.67 Hours
PA-1008 is a toy for tech-savvy kids. With a futuristic look, it incorporates headless and auto-hover modes. Air pressure sensors help it stay locked in a position. A built-in gyroscope makes the flight stable for brisk outdoor trips. Fly it within an unobstructed 50-meter radius. Bumps tend to disconnect aircrews from the transmitter.
Unlike toggling between two speeds in typical drones, this one has three stages. It takes a non-standard alkaline cell. Juice it up from a computer. Don't force the cord down the port. And remove it once the red light starts flashing. It'll fly for about five minutes per charge.
Pros
Altitude hold,
6-axis gyro chip,
One key start/land,
Three-speed settings
Cons
Controller gets out of sync,
Short flight time
Specs
Price: 💲 (fewer 💲 = cheaper)
Weight: 0.06 pounds (0.03 kg)
Size: 3.7 x 3.5 x 0.8 inches (9.4 x 8.9 x 2 cm)
Max Flight Time: 7 Minutes
SD Card Slot: 1.5
Although Neheme is not a well-known brand, they have made a fantastic effort in producing affordable quadcopters for children and entry-level drone pilots. The NH320 is a scaled-down model compared to the more popular Neheme NH525, and it is also the budget choice drone on my list. It features a protective cage around the propellers that serves two functions. It protects your children from getting injured by the rotating propellers, and it also protects the propellers from getting damaged on impact. Although this is a fantastic design feature, it also makes it harder to clean out the dust bunnies collected in the propellers. The NH320 also comes with some fun features that are attractive to kids, such as the 360-degree tumbling action that users have noted is exciting. Another feature is the 3-speed mode that allows you to change speed according to your skill level and LED lights that make it fun to fly in the dark. On the upside, the remote controller is highly responsive and makes it a nice educational drone for newbies. It allows a one-key lift-off and landing sequence and altitude hold, both of which make it easy to fly. The drone comes with three batteries that may give you up to 21 minutes with a charging time of 90 minutes each. However, the battery compartment is a little tight and makes removing and replacing the batteries a tedious process for some people.
Pros
Easy to fly with one-key takeoff/ landing,
Highly responsive 360-degree tumbling action,
Child-safe construction with full propeller guards,
3-Speed mode for different skill levels,
Great value for your money
Cons
Tedious battery removal and installation process
Specs
Price: 💲💲 (fewer 💲 = cheaper)
Weight: 0.65 pounds (0.29 kg)
Max Flight Time: 8 Minutes
Control Range: 30 meters
SD Card Slot: N/A
Charging Time: 0.5 Hours
HT02, the golden nano drone, comes with three batteries and two charging cables. (Other colors are available.) Everything – except guards – fits inside a 2.4GHz controller for ease of storage and transit.
It has all the fundamental options, such as stunning 3D flips in the air. Three-speed modes allow newbie pilots to progress gradually. Headless orientation and hovering abilities make it easier. The emergency key enables instant take-off; pressing it again lands the aircraft.
This lightweight model is perfect for kids. Spare batteries beef up the runtime. However, it should be used in a 100ft enclosed area with propeller guards.
Pros
Compact and convenient,
Three modular batteries,
360⁰ aerial stunts,
User-friendly headless mode
Cons
Short transmission range,
It's unstable in small gusts
Specs
Price: 💲💲💲💲 (fewer 💲 = cheaper)
Weight: 0.93 pounds (0.42 kg)
Size: 4.3 x 3.7 x 1.5 inches (10.9 x 9.4 x 3.8 cm)
Max Flight Time: 4 Minutes
The EMAX Tinyhawk RTF micro drone is the premium choice on my list. It is an excellent choice for entry-level quadcopter pilots, and it comes ready to fly out of the box. The drone comes with an FPV kit that includes FPV goggles, the remote controller, and a small carry case. Although the drone is slightly larger than some of the other drones on the list, it is considerably lightweight at 42g.
The drone features a durable polypropylene frame with impact protection guards for the propellers. It also includes an FPV camera which transmits high-quality FPV video to the goggles or an external monitor. Another thoughtful feature is the motor beeper function that helps you find the micro drone if it lands in a busy place.
Tinyhawk is a racing drone, and it has the fastest speed of all the drones on this list at 35 miles per hour. The quadcopter's controller comes with Level, Horizon, and Full Acrobatic FPV flight modes. On the downside, its battery performance is the shortest on my list of the best micro-drones at four minutes.
Pros
Ready to fly out of the box,
Can achieve 35mph racing speed,
Comes with a camera and FPV goggles,
Sturdy and durable construction
Cons
Short flight time of four minutes
Specs
Price: 💲💲💲💲 (fewer 💲 = cheaper)
Weight: 0.55 pounds (0.25 kg)
Max Flight Time: 30 Minutes
Control Range: 1312 ft (400 m)
Gimbal/ Stabilization: Yes
SD Card Slot: Yes
I used this quadcopter for a month in Scotland and, I have to say, this is the reason why I decided to buy one. Flying DJI Mavic Mini is a bliss – easy, intuitive and satisfying. It's also a lightweight and perfect for outdoors because its battery lasts up to 30 minutes so you have plenty of time to find the best shot, making it the best hiking drone out there. Footage also positively surprised me with good quality, especially when it comes to photos. The 3-axis gimbal stabilizes the camera so that the videos are very smooth and look professional, even in strong wind.
DJI Mavic Mini also excels in control range of around 1300 feet. Then, with the built-in SD card, even when your smartphone loses contact with the drone, the footage continues to be recorded in the highest quality, which you'll be able to download to your computer later.
If you have even bigger budget, you can go for the newest version, DJI Mini 2, which is a Premium Choice here.
Pros
3-axis gimbal ensures superior camera stability and ultra-smooth footage,
Very long flight time (up to 30 minutes),
lightweight and not requiring FAA registration,
Crisp video footage in all weather conditions,
Extremely easy to use even for those who never flew a drone before,
Very reliable with a long control range,
Fly More Combo is a great value add
Cons
Price is a limiting factor for most users,
No smart controller support
Specs
Price: 💲 (fewer 💲 = cheaper)
Weight: 0.4 pounds (0.18 kg)
Max Flight Time: 5 Minutes
Control Range: 50 meters
SD Card Slot: N/A
Charging Time: 0.83 Hours
X20 is the most famous kid drone, and rightly so! Cheerwing currently puts up the lowest price tag on Amazon. However, several companies have rebranded it. Browse for the best deal.
It spans over 4". It's only a pastime toy as there is no camera. Still, it allows you to do multiple indoor and outdoor tasks. The controller moves it in all directions, allowing 360⁰ stunts and hovering. 6-axis gyro strengthens stability and wind resistance.
Four separately-sold AAA batteries are required. Gently plug the charging cord. And the only regret will be that it ends too quickly – the fastest five minutes spent!
Pros
Compact size,
3D flips and movements,
Altitude hold mode,
One of the cheapest drone
Cons
Batteries are not included,
Fragile charging port
Specs
Price: 💲💲 (fewer 💲 = cheaper)
Weight: 0.42 pounds (0.19 kg)
Size: 3.5 x 3.1 x 1.3 inches (8.9 x 7.9 x 3.2 cm)
Max Flight Time: 6 Minutes
SD Card Slot: 0.5
The A20 mini drone is another budget-friendly option in the same price range as the NH320 and H823H mini-quadcopters reviewed here. What makes the A20 slightly different is that it is made as a kid's toy, although it is also an excellent beginner drone for adults. It also does not feature the 3D flip. The A20 remote controller is one of its most outstanding features. It is smaller than most for kids to hold and control easily. The controller features 2.4Ghz, which delivers a stable transmission speed and makes the drone highly responsive. It features a 3-Speed Mode to use in different environments, the headless mode, and altitude hold that make it easy for newbie pilots to fly. Many users have noted that the A20 delivers smooth flying. However, it also requires calibration every time you power it up, which was a nuisance. On the upside, the transmission performance of the controller makes the pairing an easy process. The landing process is equally simple, and interestingly, the drone features a soft landing material to protect it from heavy impact.
Another outstanding feature is the Emergency Stop that allows the quadcopter to land itself if you lose control. Although the drone features a headless mode that allows you to fly it in any orientation, it also comes with an LED headlight and a red tail light for the more experienced users.
Pros
Short battery charging time of 30 minutes,
Affordable and high-quality construction,
Small-sized remote controller for kids hands,
Lightweight and durable construction for indoor flying,
Features a headlight and taillight for orientation
Cons
It needs calibration every time you power it on,
Difficult to remove and replace the batteries
Specs
Price: 💲💲💲 (fewer 💲 = cheaper)
Weight: 0.15 pounds (0.07 kg)
Max Flight Time: 10 Minutes
Control Range: 40 meters
SD Card Slot: N/A
Charging Time: 1.33 Hours
DEERC produces versatile RC toys for kids, and now they've added a drone! Anyone can buy it to get started, give a gift, or have simple fun. Integrating a 720p HD Wi-Fi camera at this low price point deserves a lot of credit. It channels a live video feed as well. However, the 40-meter space is too small. All snapshots will be saved in your smartphone gallery. It accepts voice inputs and certain gestures (V and palm) to click images or change direction. Its battery dies in about ten minutes, and there are two of them! Safety features are plenty: four propeller guards, low-battery signal, and emergency collision stop.
Pros
Waypoints fly,
Emergency stop,
Two 5000mAh batteries,
A cheap camera drone
Cons
No SD card slot,
Too short transmission distance
Verdict
To summarize, we have gone through dozens of micro drones and decided that 10 are worth your consideration. Out of these, the absolute Best Micro Drone is Holy Stone HS110G FPV Drone which we highly recommend as our overall best.
If money is not an issue, you can consider DJI Mini 3 Pro as this is our Premium Pick.
Otherwise, there's no shame in spending prudently, Voyage Aeronautics PA-1008 Micro Drone is the Budget Option.
Our other reviews you may find useful in your research:
What You Should Know Before Buying micro drones
Size & portability
When it comes to flying any drone at home you should be sure to keep in mind how large it is so that it doesn't crash into anything when flying around the house (or worse). Many models have foldable designs that allow them to be easily stored away but its best to measure the drone itself and take note of its size before making any purchases.
Carrying bag
A drone is a sensitive gadget. You should store it in a protective case. Some quads come with one. They're alright for undisturbed stays in your garage but not to carry around. There you need the separately-sold drone backpack. Ask two questions before stuffing your shopping cart. • What distance you're going to travel? If you're driving to the site, a lightweight and semi-rigid case will do fine. A shock-absorbing and waterproof backpack will make your little masterpiece safer during rigorous traveling.
• And what type of drone do you possess?
Collapsible drones need smaller carrying bags. Medium-to-large-sized drones (i.e., Phantom or Inspire) will settle in wheeled, pre-molded carriers. Have room for add-ons like repair tools, antennas, FPV goggles, etc.
App control
Most of the professional drones have their proprietary apps. Having a user-friendly UI boosts the product's long-term value. DJI Fly, Holystone's Ophelia Go, and Parrot's FreeFlight are a few examples. They have minimum software requirements for Wi-Fi bands and Android/iOS versions.
Open the app on your smartphone and slide it into the controller's retractable phone clamp. From training to feature logs and camera settings to its angles, it'll bring all possible inputs at the distance of one touch.
These apps also indicate no-fly zones, passing crewed aircraft, and weather forecasts. Some may also track the GPS position. You can customize flight routes and add soundtracks to live video as it takes place. There are shortcuts to sharing your pictures on social media.
Speed
This largely depends on your needs and whether or not you have a need for long distance drone flying. The faster the drone, the more expensive it is. However, if your only need is to fly for 10 minutes at a time then speed won't matter.
Range
Range greatly depends on how much you want to spend. The cheapest drones are usually only able to fly up to 15 meters away but the most expensive drones can fly up to 50 kilometers away.
Controller
This is the remote control that you will use to fly your drone and it comes in various shapes, sizes, and designs. Most of them come with adjustable controls so that you can customize it for a better flying experience but they all serve the same purpose of controlling the flight modes as well as taking pictures or videos from the air. Many of them also include optional add-ons such as extra battery packs for added flight time or attached cameras so that you can record everything while up in the air.
Connectivity
Most drones will have WiFi connectivity built-in but not all of them do. Some cheaper drones may run off of a controller while others come with their own dedicated app for controlling the drone.
Questions and Answers About micro drones
Do I need a Licence to fly a drone?
Drones are UAVs. They can interfere with other flying objects. Therefore, all countries set some rules to govern these recreational flights.
In the United States, you'll have to register your above-250g drone. The license costs $5 and remains valid for three years. Regardless of the weight, all flyers must take a safety test and abide by the FAA regulations. Commercial expeditions come under Part 107 statuary laws.
How many miles can a drone fly?
A drone's total flight range might be limited by the length of its battery charge, the payload it can carry, and other factors.It is important to keep in mind that as a rule of thumb, a typical quadcopter on a standard 2200mAh battery will fly for 6-8 minutes per charge. The maximum length of drone flight range that a person can expect will vary depending on factors such as:Drone weight (drones made from lightweight materials will potentially fly farther). Battery capacity (larger batteries will typically allow for longer flight).Propeller size (props that have larger diameters require more energy to spin, so a drone can fly farther with smaller props).Drone motors (some types of motors draw more current than others and will drain the battery faster).How much weight is being carried by the drone (the heavier the payload, the shorter your flight range will be). The weather conditions. Strong headwinds or storms can significantly shorten your flight range.
What is the best price of drones with GPS?
Your basic beginner drone does not have GPS (global positioning system). This means that it will not automatically return home safely when the battery starts running low. A beginner drone typically has 4 channel or 6 channel options which allows users to move forward/backward, left/right, up/down or rotate clockwise/counterclockwise. The benefit of these drones is that they are cheaper to buy and easier to use, however if the drone is out of sight you will have to use your hand to steer it back.
Newer drones are better, bigger and faster than older ones – but they're also more expensive. There are some very good drones available in the market at cheap prices that still perform well and have advanced features such as GPS, FPV camera, and app-based flight experience.
The best price of drones with GPS fall into the $200 to $500 category. These drones can return home safely when the battery is running low. These drones with GPS typically come with better quality parts and components, meaning that they will fly more stably and for longer, while also being able to take better aerial photos and videos.
Do you need a wi-fi connection to fly an indoor drone?
It might depend on the particular model of your drone but in most cases the answer is no. Without a wi-fi signal outdoors, your drone will be without navigation and may land in your neighbor's backyard. But indoors, the RF frequencies are more tightly controlled to ensure they stay within the house or building you're in. If you run out of power inside there is no way for the drone to return home automatically like on a GPS-controlled outdoor flight where it may fail to realize that you entered an indoor space if not connected to wifi with GPS enabled.