Danner is known for their excellent quality hunting boots promoted for their durability and comfort. Hunters looking for boots that will last them a long time may be interested in investing in a pair of Danner hunting boots to protect their feet and provide comfort during long walks in the woods. We took a look at Danner's inventory and found some of their best hunting boots and listed them below. See what we've got below and find a pair that's right for you.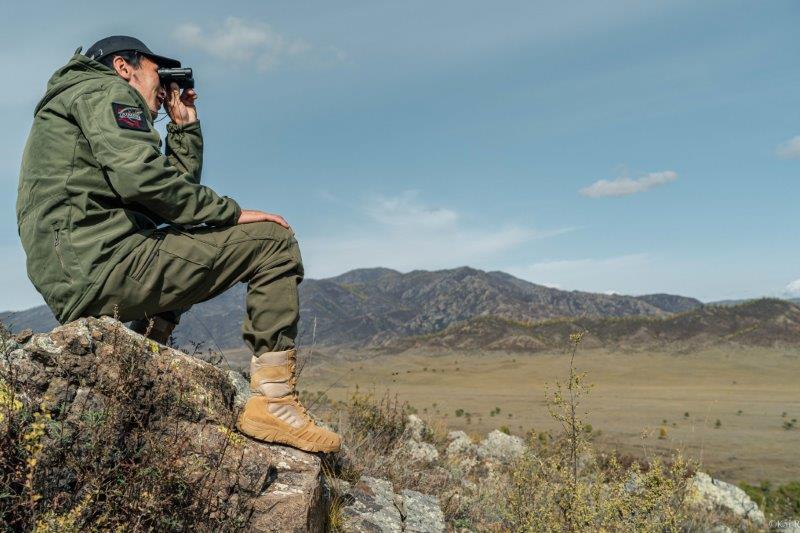 What are the Best Danner Hunting Boots?
We have compiled for you the top 7 Best Danner Hunting Boots in 2023. In this article we go through the products that we have used ourselves, checked what other users thought about them and we ranked them accordingly.
With years of experience with danner boots for hunting and having used several danner hunting boots you can trust our review.
Moreover, you can scroll to the end of this review to see our mini buying guide as well as the answers to some of the frequently asked questions about danner hunting boots.
Specs
Price: 💲 (fewer 💲 = cheaper)
Weight: 1.44 pounds (0.65 kg)
Waterproof: Yes
Material: Rubber sole
Insulation: Yes
Snake Protection: No
Danner Men's Vital Insulated 400g Hunting Shoes come with a lock and load lacing system that provides a secure grip while making it easy to wear and take them off. To reduce fatigue during long journeys, these shoes have a lightweight construction. The Thinsulate insulation traps and efficiently retains the body heat to keep the shoes 'temperature comfortable. Added to this, a mesh liner over the tongue lets air flow through, so the shoes do not get too hot during dry summer days. Danner's 400g hunting shoes, however, do have sizing problems so finding the right may be a hassle. Moreover, the waterproofing is not very efficient meaning that the feet may get wet.
Pros
Lock and load lacing system provides a secure grip,
Mesh liner over tongue helps regulate temperature,
Thinsulate insultation retains body heat during cold weather,
Lightweight construction to help against fatigue
Cons
Inefficiant waterproofing means the feet get wet,
Irregular sizing makes it a hassle to find the right fit
Specs
Price: 💲💲💲💲 (fewer 💲 = cheaper)
Weight: 4.75 pounds (2.15 kg)
Support Height: 8 inches
Waterproof: Yes
Material: Full grain leather, nylon,
Insulation: Yes
Snake Protection: No
The Danner Men's Pronghorn 8″ 1200G Gore-Tek Hunting Shoe features an 8 inch shaft of durable and waterproof full grain leather and nylon material. They have a Terra ForeNext sole made for comfort and stability to support you during long days of hunting. The rugged outsole is made for maximum traction for all terrains. They are lined with the Gore-Tek waterproof liner that will keep your feet dry and also allow them to breathe. These boots can be stiff before you have a chance to break them in and they might feel a bit bulky but these are the heaviest weight insulation in this design.
Pros
Warm thinsulate material for insualtion,
Fits true to size,
Lace up for adjustable fit and good ankle support,
Made to last with rugged and durable materials
Cons
Stiff before breaking in,
Feels bulky on with thick socks
Specs
Price: 💲💲💲 (fewer 💲 = cheaper)
Weight: 2.06 pounds (0.93 kg)
Waterproof: Yes
Material: Leather and Textile
Insulation: Yes
Snake Protection: No
Danner Men's Alsea 8″ Gore-Tex 400G Hunting Boots come with a speedhook lacing system that makes wearing and taking them off a breeze while providing a secure fit. The shoes come with Primaloft insulation that traps body heat to keep the internal temperature comfortable in cold conditions. The fiberglass shank coupled with the outsole provides good traction in slippery and treacherous terrains. The use of an Open-cell Ortholite footbed ensures comfort for day-to-day use. But Gore-Tex shoes have durability issues and may start to wear off within a few weeks' use. Moreover, the sole may be a bit on the stiff side, causing pain and fatigue.
Pros
Speedhook lacing system for a convenient and secure fit,
Primaloft insulation retains body heat to keep feet warm,
Fiberglass shank coupled with the outsole provides good traction in treacherous conditions,
Open-cell Ortholite footbed for a comfortable use
Cons
Wear and tear may start within weeks of use,
Stiff insole may cause pain and fatigue
Specs
Price: 💲 (fewer 💲 = cheaper)
Weight: 3.81 pounds (1.73 kg)
Waterproof: Yes
Material: Leather
Insulation: Yes
Snake Protection: No
Danner Men's Element 8″ 400G Waterproof Hunting Boots come with full-grain leather and nylon upper that adds minimal weight while providing for an attractive and versatile look. A breathable waterproof membrane keeps the feet dry and comfortable. Thinsulate Ultra insulation protects against the cold while adding little weight to the shoes. The fiberglass shank coupled with the outsole adds to stability and grip. All this comes with a rugged build for a secure fit and durability. Polyurethane footbed provides ample cushioning and reduces fatigue. However, Element shoes may not be the most durable option available with wear and tear starting early on.
Pros
Waterproof full-grain leather upper protects feet in wet conditions,
Lightweight denier nylon in the upper reduces weight,
Thinsulate Ultra insulation keeps feet warm while adding minimal weight,
Fiberglass shank adds to stability and support,
PU footbed provides cushioning and reduces fatigue,
Rugged construction for durability and secure fit
Cons
Durability issues mean that shoes wear off quickly,
Laces pick up dirt that may act as abrasive
Specs
Price: 💲💲 (fewer 💲 = cheaper)
Weight: 4 pounds (1.81 kg)
Waterproof: Yes
Material: Leather and Textile
Insulation: Yes
Snake Protection: No
Danner Men's Vital Insulated 800g Hunting Shoes come with Danner Dry waterproofing, for optimum performance in wet conditions. The use of Thinsulate insulation means that the feet stay warm in cold temperatures. The shoes come with an abrasion-resistant upper made using leather and textile that provides durability and maintains the shoes in a decent shape for a long time. For added comfort, Danner uses multi-density foam that eliminates pinch points and distributes the weight evenly.
However, Danner has some sizing problems that make it difficult to find the right fit. Moreover, the shoes may start wearing off earlier with rough use.
Pros
Abrasion resistant upper made using leather and textile,
Danner Dry waterproofing for use in wet conditions,
Thinsulate insulation for comfort in cold conditions,
Use of multi-density foam to eliminate pinch points
Cons
Substandard manufacturing leads to leaks in waterproofing,
Not durable enough for rough use
Specs
Price: 💲💲 (fewer 💲 = cheaper)
Weight: 1.76 pounds (0.8 kg)
Support Height: 8 inches
Waterproof: Yes
Material: Nylon, plyolite
Insulation: Yes
Snake Protection: No
The Danner Men's Vital 8″ 800 g hiking boot has a nylon shank with adjustable laces for a secure fit. It comes with a mesh liner to help keep your feet dry and warm. The 8 inch shaft provides ankle support and they also have a TPU heel clip to give more support and stability when hiking and climbing outdoors. The tread on the outsole prevents slipping and falling when walking on various terrains. It comes in Realtree Xtra and Realtree Edge camouflage patterns and provides a lightweight and easy to wear boot. The sizing is a bit narrow, so follow the size chart.
Pros
Lightweight,
Adjustable lace up design,
Waterproof nylon keeps feet dry,
Good traction for rugged terrain
Specs
Price: 💲💲💲💲 (fewer 💲 = cheaper)
Weight: 4.2 pounds (1.91 kg)
Support Height: 8 inches
Waterproof: Yes
Material: Full grain leather, nylon
Insulation: Yes
Snake Protection: No
The Danner Men's Pronghorn 8″ 400G Gore-Tex Hunting Shoe features a waterproof and comfortable full-grain leather and nylon material. These boots provide solid ankle support with an 8 inch shaft of support and an adjustable lace up design with rugged hardware. The Terra ForceNext outsole offers traction for all outdoor terrains to prevent slips and falls during hikes. The Gore-Tex waterproof liner allows the feet to stay dry in the wettest environments while also providing breathability. The 400G insulation keeps the feet warm in milder climates without overheating your feet. Check the size chart and consider sizing up for a perfect fit as they tend to fit a bit more narrow.
Pros
Comfortable and quick to break in,
Sole provide traction on various rugged terrains,
Waterproof to keep feet dry,
Durable nylon and full grain leather
Cons
Runs more narrow than previous versions,
Heavy
Verdict
To summarize, we have gone through dozens of danner hunting boots and decided that 7 are worth your consideration. Out of these, the absolute Best Danner Hunting Boots is Danner Men's Vital Insulated 400g Hunting Shoes which we highly recommend as our overall best.
If money is not an issue, you can consider Danner Men's Pronghorn 8 Inches 1200G Gore-Tex Hunting Shoe as this is our Premium Pick.
Otherwise, there's no shame in spending prudently, Danner Men's Alsea 8″ Gore-Tex 400G Hunting Boot is the Budget Option.
Our other reviews you may find useful in your research:
What You Should Know Before Buying danner hunting boots
Boot price range
You can find boots at just about any price range. The cost comes down to the material, build, and purpose of the boot. You can probably find a pair of boots that suit your needs for less than 100 dollars. But, they won't last long and be as comfortable either. Boots in the 100-200 dollar range will be more durable and comfortable. The better the boot material and manufacturing, the higher the price.
Additionally, the more features the boot has, the more it will cost. Features like waterproofness, breathablity and level of padding can all affect the pricing.
The best thing you can do is outline the kind of boot you want and for what purpose, then set a budget and search your preference within your defined range.
Support
If you don't want your joints and ligaments to suffer, buying boots with good ankle support is fundamental. Boots that offer good support are those that fit snugly around your ankle without digging into your skin. Additionally, the level of support your feet need also depends on the activity you want to perform. If you plan on buying work boots, look for something lightweight. But, if you plan to go hiking or hunting, heavy boots will provide your feet support and comfort on the rough terrain. Although, we don't recommend wearing heavy boots daily as doing so will stretch your ligaments.
Insulation
Insulation is what keeps your feet warm. While there are many insulating materials in the market, the most common are shearling and thinsulate. If you are going to be walking through snow, then insulated boots containing these materials are the way to go. You can find out if a boot will keep you warm in the cold by looking at the grams of insulation. The thicker the insulation on the boot, the higher the gram value. You can find insulation ranging from 200 to 2000 grams based on your seasonal needs. Boots with 200 grams of insulation are best suited for the mild cold, whereas 2000 grams is for extremely cold weather conditions. Keep in mind the more insulated the boot is, the heavier it will be and the more difficult it will be for you to walk.
Boot size
Finding the right size is essential when shopping for footwear. If you buy a size too small or too large, you will be too uncomfortable to enjoy your new boots. When buying shoes, pay special attention to the toe region. There should be some space left between your longest finger and the tip of the shoe. Some people recommend that this gap should be as broad as your thumb. If you are buying knee-high boots, go half a size up as it will be easier to slip your feet into the boot. Some people have one foot larger than the other. In this case, buy the size that fits the larger feet. If ever you find yourself between sizes, always buy half a size larger shoes but never a smaller size. With a larger size, you can always fit insoles. But a smaller size will be too tight for you to be comfortable.
Boot weight
You might be surprised to find how the weight of boots can affect your walking experience. Boots can weigh from 1.75 pounds to 3 pounds. Some boots are as heavy as 6 pounds! Both lightweight and heavyweight boots have their benefits. Most people decide the weight of their boots based on their intended use. Heavy boots are necessary for a steady foothold and better support for people who hunt and hike. Heavier boots are also more insulated, shock-absorbing, and protective. Conversely, lightweight shoes are a good option if you plan on covering long distances at a faster pace.
Questions and Answers About danner hunting boots
How do I take care of my Danner boots?
After investing in a pair of Danner boots, you will want to utilize them for as long as humanly possible. All you need to do is clean and condition them from time to time. But, make sure the products don't contain any harsh chemicals. Use water-based or silicone-based products so that the leather material remains intact. Lastly, don't dry your boots under direct sunlight, with a hairdryer, or next to a fire.
How long should hunting boots last?
High-quality hunting boots, albeit expensive, can last a lifetime. Even if the hunting boots aren't exactly top tier, a good pair can last a decade. In the end, it depends on the quality, maintenance, and frequency of usage. However, proper care and storage is required to keep the hunting boots in good condition. You might have to replace the sole from time to time.
Why do my feet get cold when hunting?
When one starts experiencing cold toes and feet while hunting, it might be due to your hunting boots or socks being too tight. In this case, your blood supply might get restricted, keeping your feet from getting warm. To avoid this, make sure your shoes and socks are a comfortable fit – neither too tight nor too loose. Lace shoes can help you regulate the tightness better too. Also, make sure to keep your hunting boots and socks dry, especially so in winter time.
Can I wear hunting boots in the snow?
Not all hunting boots are durable in the snow or even in the rain. For hunting in the snow, you will need boots with some key features. The first one being, they need to be completely waterproof. The last thing you want is snow seeping into your shoes and giving you frostbite. A snowboot with a gaiter will add to the waterproof feature by keeping snow and water out. Also, if it is snowing, the terrain is going to be slippery. So, look for hunting boots with good traction and support.