Krabi, one of Thailand's most relaxing, adventurous, and scenic places is a budget backpacker's paradise! Having the perfect blend of vibrant nightlife and island tranquility, it's no wonder that thousands of backpackers flock to these shores each month. And with nearly 200 islands running down Krabi's coastline, there is endless natural beauty to savor.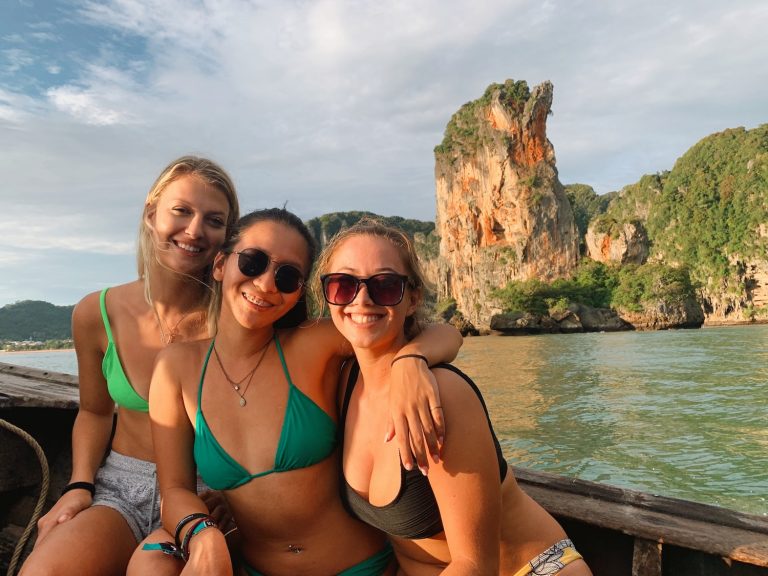 If you're a first time budget traveler in Thailand, this Krabi itinerary was MADE FOR YOU! In just four days, you'll fall in love with all Ao Nang, Krabi has to offer.
---
Where to Stay in Ao Nang, Krabi
For backpackers, hostels are the way to go! Ao Nang's streets are filled with hostels, but if there's anything I've learned, it's that each has its own vibe. Are you looking for someplace quiet? Or wanting to experience the party scene? What about something close to the beach?
Sleeper Hostel, Slumber Party Hostels, and Tan CafexHostel are consistently a crowd favorite. Their ideal locations, amenities, and cleanliness are what make them stand out amongst their neighbors.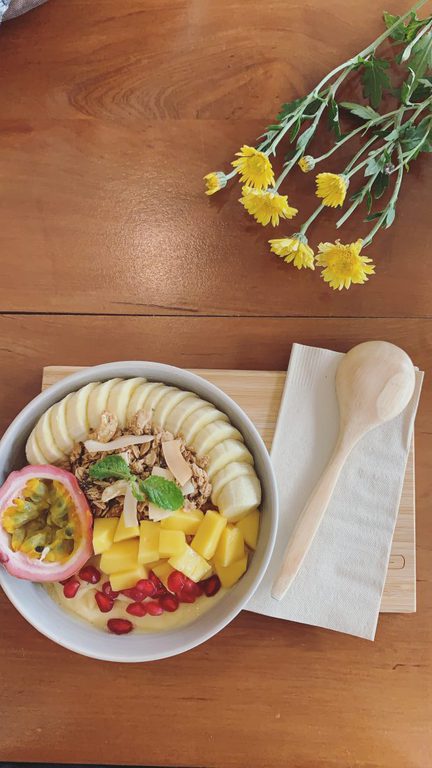 I've stayed at Sleeper Hostel three times and each was a great experience! I wanted a place that was near the beach, wasn't too far from the nightlife or main attractions, and didn't attract too many big party-goers.
Slumber Party Hostel (as the name suggests) is the most popular party hostel chain around Thailand hosting wild bar crawls multiple times a week. With this in mind, I opted not to stay there, but instead head over for their bar crawls and party scene. Taking each hostel's personality into consideration will definitely influence your trip, so choose accordingly to whichever would best fit your needs!
Note – Slumber Party has two locations in Ao Nang (Ao Nang Beach and Krabi). For a larger room size, I recommend staying at Slumber Party Hostel Krabi. But if you want the convenience of being close to the main strip of Ao Nang, Slumber Party Hostel Ao Nang Beach is the better option.
Editor's note: For other types of accommodation you can check out the map below.
---
Arriving in Ao Nang (when's the best time to visit?)
As someone that's been to Krabi during rainy season, I strongly advise against it. While it's likely you'll catch a few sunny days, the odds are stacked against you – and honestly, with the rain, there really isn't too much to do in Krabi. After all, it's a beach town full of outdoor adventure. Your ideal travel window is between October and February.
Upon arrival at Krabi Airport, the easiest and most affordable way to get to Ao Nang is by shuttle bus. As you exit the airport, you'll see drivers selling shuttle bus tickets for 150 baht (trust me – you won't find anything cheaper than that).
The first time I flew down to Krabi, I didn't know about these shuttle busses and ended up paying well over 600 baht for a Grab (Southeast Asia's equivalent to Uber). Unless you want a quicker, private ride to your destination, the shuttle bus is the best, most affordable option for budget backpackers.
Keep in mind, drivers wait until the bus is full, so you may find yourself waiting anywhere from 5 minutes to an hour. Once you're off, it's a 30-minute ride to Ao Nang.
Lastly, upon arrival be aware of your surroundings and keep your belongings locked securely. For all of you first time travelers, be sure to avoid these 15 rookie mistakes in Thailand. Although common, knowing what to look out for makes them easily avoidable.
---
KRABI DAY 1
SPEND THE DAY AT RAILAY BEACH
Wake up early and head over to Railay on your first ever longtail boat ride! To purchase tickets, head down the main road towards the beach where you'll find the ticket booth at the corner next to the Phra Nang Inn. Tickets range between 100 to 150 baht ($3 USD) one way depending on the season, and depart the beach when full between 8:00 AM and 6:00 PM.
When riding a long tail boat, don't take any valuable items. Even though it's unlikely, there is definitely a chance the boat can flip (which I've come close to on multiple occasions). Plus, depending on the speed and where you sit on the boat, you may be sprayed with water.
Boats will drop you off either at Railay West, or Phra Nang Beach depending on the tide. Be prepared to get wet from the get go! There are no piers, so you'll have to walk ashore.
GO ROCK CLIMBING
Rock climbing the limestone cliffs is one of the most popular activities to do on Railay beach! You can choose between a half day and a full day, as well as your level of difficulty. All you need to bring are socks; everything else is provided (helmet, shoes, chalk, harness). After checking in with your instructor, you will be led down to Phra Nang Beach where you can spend hours testing out the different courses. Rock climbing next to other travelers is hilarious! Everyone is SO nervous, but full of lighthearted laughter and determination to make it to the top.
Don't forget to take a GoPro with you! The view is absolutely incredible and a moment you'll want to capture.
Editor's note: Cez (co-founder of this blog) did his first a multi-pitch at Ao Nang and here's a little video from them that also shows the area from above.
PHRA NANG CAVE BEACH
After rock climbing and returning your gear, stay at Phra Nang Beach for a refreshing dip in the glassy water. Of course, that's just part of the main attraction – head to the very end and check out the cave's shrine! You'll be in for quite a … surprise. But before you get too caught up in giggles and taking Instagram pics, learn about the shrine's stories!
Phra Nang Cave Beach is home to two legends. One claims that Phra Nang was an Indian princess who was killed in a shipwreck. The other states Phra Nang was the wife of a fisherman who was lost at sea. According to that legend, she spent the rest of her life waiting on the beach for his return. Today, Phra Nang Cave is said to bless sailors with a safe journey overseas.
With these in mind, it's important to approach the shrine with more respect than innocent humor. Although it's famously known for those phallic shaped offerings, please be respectful there. For more information on the legends of Phra Nang Cave, check out this article!
PHRA NANG NAI CAVE
On your way back to the longtail boat pickup, take a quick stop at Phra Nang Nai Cave. This cave is only 100 baht ($3 USD) to enter, and is a quick loop inside to admire some incredible limestone rock formations. If you're quiet, you can even hear the bats who've made this cave their home!
A little forewarning – be cautious of monkeys as you make your way over. Monkeys in Thailand are wild, yet intelligent animals who will stop at nothing to snatch any loose items. Hold on tightly to your belongings, put away any and all food, avoid eye contact, and maintain a safe distance.
HEAD BACK TO AO NANG
These three activities on Railay beach will definitely leave you feeling a bit tired. So start your journey back to Ao Nang to freshen up before heading out again. Side note – the waves tend to pick up in the afternoon, so it's likely the ride back won't be as smooth.
The longtail boat will drop you off either at Ao Nang Beach or further down at Klong Heng Pier depending on the tide. Unfortunately, if you're dropped off at the pier, you'll have to find a tuktuk or songthaew to take you back into Ao Nang (which isn't covered by your ticket). This can often be frustrating for budget backpackers as it adds another expense to the trip, however, paying for the ride is well worth not having to walk back (it's MUCH farther than you think – you're looking at an hour walk!).
GET A MASSAGE
After showering, treat yourself to a massage – your muscles will thank you after all that rock climbing! Thailand is famous for their massages, and Krabi is no exception. Hands down my FAVORITE is Ruen Sukhothai Massage. For a 90-minute oil massage, I paid no more than 400 baht ($13 USD). You cannot beat a price like that – it was BEYOND worth it! You leave feeling completed rejuvenated.
Since you had an eventful day, take the night easy before the next day's adventure. End the evening with some souvenir shopping, treat yourself to a nice Thai dinner (Thailandia is my favorite!), and rest up!
---
KRABI DAY 2
PAI PLONG BEACH
Start the morning with a quick, scenic walk to Pai Plong Beach. Head to the very end of Ao Nang Beach (after The Last Fisherman Bar) and there, you'll find a wooden walkway that leads you over cliffs and into a little bay. This infamous 10-minute walkway is called Monkey Trail, and as the name suggests, be cautious of monkeys you might encounter along the way.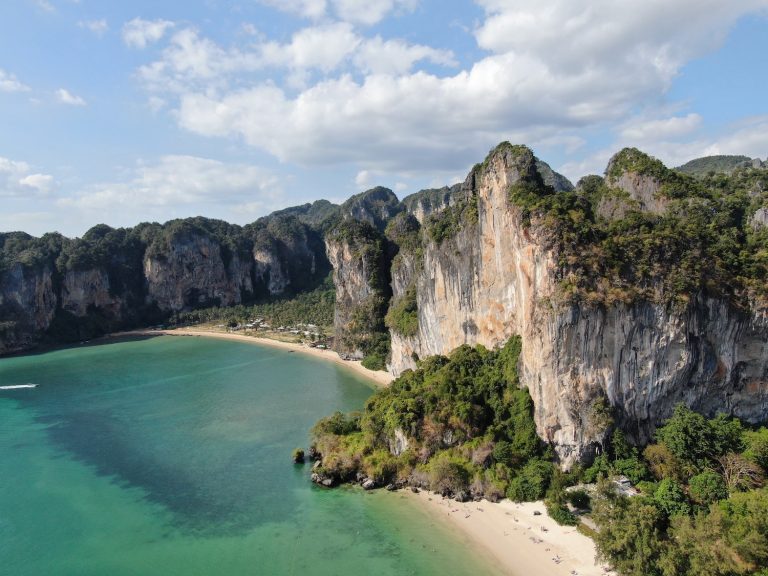 Once you make it to the beach, you'll be in awe of how tranquil this inlet is. A remote resort is the only thing on that beach, so it's far less crowded than Railay and Ao Nang beaches. What better way to kick off the morning than with a quick, lovely walk to one of Ao Nang's secluded beaches!
ISLAND HOPPING TOUR
With over 80 islands just outside of Ao Nang, it's no wonder that island hopping is listed on nearly every itinerary! While there are endless options of tours to choose from, the classic 4-island sunset tour is by far the most popular (Koh Tup, Koh Mor, Chicken Island, and Poda Island). Your afternoon will be full of snorkeling, paddle boarding, sharing a few drinks, and admiring the vibrant sky at sunset.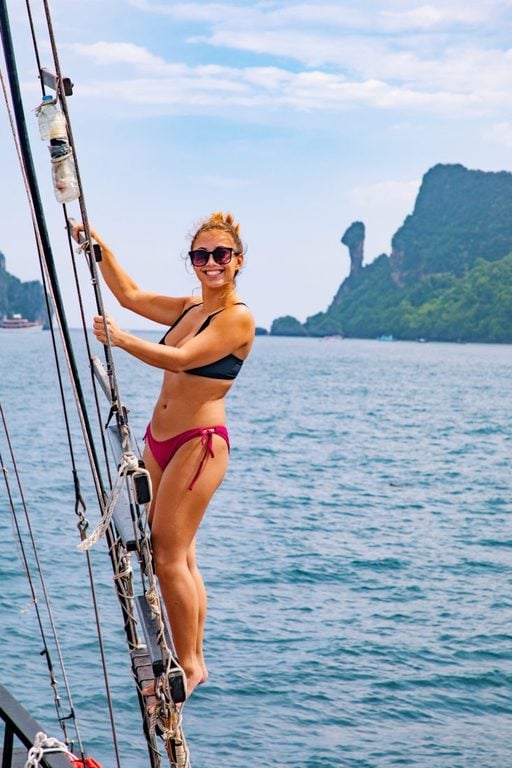 I went with this island hopping tour and it was epic! After sunset, we were taken to swim with bioluminescent plankton and enjoy a Thai buffet dinner.
Island hopping tours will be roughly 6-hours long and cost anywhere between $50 to $90 USD.
---
KRABI DAY 3
HONG ISLAND TOUR
Hong Island is another popular place to visit (and for obvious reasons)! It boasts of beautiful aqua beaches along powdery sand and towering limestone cliffs. On this tour of Hong Island, you'll have over 6 hours to relax, embrace the scenery, snorkel, and learn some insightful facts about its significance to Thailand. This spot truly captures what every traveler envisions when they dream of visiting Thailand.
Because Hong Island is part of a National Park, you are required to pay the entrance fee of 300 baht ($10 USD) upon arrival.
GO SHOPPING
After another full morning (or afternoon) island hopping, rest, shower, and then venture out towards the main strip to do some shopping. Ao Nang is FILLED with souvenir shops of all sorts, from bargain apparel and art, to mugs and candles. Take your time exploring the ins and outs of these shops to score some unique finds.
BLUEDRAGON CABARET
Later that evening, head down to the main center of bars and enjoy a show at the Bluedragon Cabaret! Although a little on the pricier side to enter ($15 USD), you might as well go out for a night of lighthearted fun! For just around an hour, you'll be entertained to some fabulous performances of lip-synching and dancing. Photography isn't allowed, so if you want pictures with the performers (they'll push for photos) it will cost you.
---
KRABI DAY 4
TIGER CAVE TEMPLE AND EMERALD POOL TOUR
Go out with a bang and end your trip to Ao Nang on a high note by touring Thailand's famous Tiger Cave Temple and Emerald Pool! You'll be picked up from your hostel and taken just out of Ao Nang to explore Krabi's jungle for the entire day.
What better way to start your last day than with a challenge of climbing those 1,260 stairs! Once you reach the top of Tiger Cave Temple, you'll agree that the stunning view overlooking all of Krabi is all worth it. After, you'll be treated to a refreshing dip in Krabi's Emerald pools. This turquoise spring water will feel SO refreshing after Tiger Cave's intense stairs!
Depending on your tour, you'll also be taken to hot springs, and Pitta village.
BAR CRAWL
Last but not least, if it's a Monday, Wednesday, Friday, or Sunday, spend your final night in Ao Nag going on a bar crawl with Slumber Party Hostels! I've gone on this bar crawl over 5 times and it's always a night to remember! For 499 baht ($16 USD), they provide you with dinner, a shirt, and songthaew ride from bar to bar. Starting at 6 PM (until the early morning), you'll be greeted by the most extravagant travelers looking to have a fun night out.
---
Ready to take on Krabi?! Honestly, writing this itinerary has got me really missing my favorite place in Thailand. I promise you, follow this guide, and you'll truly have an unforgettable trip and lifetime memories of Ao Nang.