Greece is a destination of incalculable beauty, with paradisaical beaches, good weather and archaeological remains that preserve memories of a fascinating past.
It's a destination where tourism is the greatest source of income, because every traveler wants to know at least once in their life this beautiful paradise.
Do you have the tickets to fly to Greece and after the rush of joy you are nervous because you do not know where to begin organizing your trip or what the best places to visit in Greece are?
Do not worry.
Today we are going to give you a few tips about traveling to Greece for the first time. With the world opening up after a 2 years battle in the harshest of the pandemic, let's hope things get better. Travelers are flocking in again and here's a sharing of a 1-week itinerary to get the best of Greece.
Preparation
To begin, it is important to know what documentation is necessary to visit Greece, this heavenly destination. Well, it is quite simple, since Greece belongs to the European Union, it is only necessary to carry your ID or Passport if you come from the EU.
The official language of this country is Greek, but English is widespread throughout the country, thanks to tourism. So do not worry, with basic English you will end up understanding them.
The currency used is the euro. In addition, most establishments accept payment via credit card.
To go to the farthest beaches it is necessary to make use of small boats, in addition it also has a good network of public bus transports.
Start discovering Greece!
When to travel to Greece
The best time to travel to Greece is in the spring months. The tourist season begins at the end of April and lasts throughout the summer because the good weather allows you to enjoy its beautiful beaches.
The beginning of the spring is the best to avoid the large masses of tourists who visit Greece and thus have a quieter and more relaxed experience.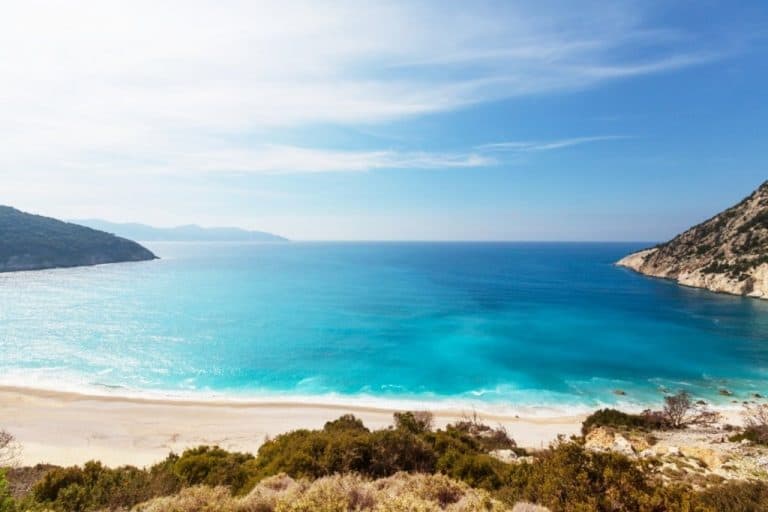 How to get to Greece
The best airports to get to Greece are those in Athens and the one in Thessaloniki. This is due to the fact that they are the largest and most touristic cities and therefore, many low-cost companies operate in them.
On this 7 day trip through Greece, you will discover paradisaical beaches, unique landscapes in the world and places loaded with an amazing history.
What are you waiting for?
7 Days Greece itinerary
In this itinerary you will discover which destinations are the most recommended to know on your trip through Greece, the most spectacular cities and corners of the whole country.
Day 1: Athens
An essential on any route through Greece, is the visit to the capital. The first day begins by visiting the most fascinating archaeological sites in the country.
You can buy a combined ticket that allows you to access the best known attractions for a lower price than buying them separately; the price of the joint ticket is around €30. Visit the most essential parts, because if you do not, you'll spend too much time in the city. We recommend getting an Acropolis Athens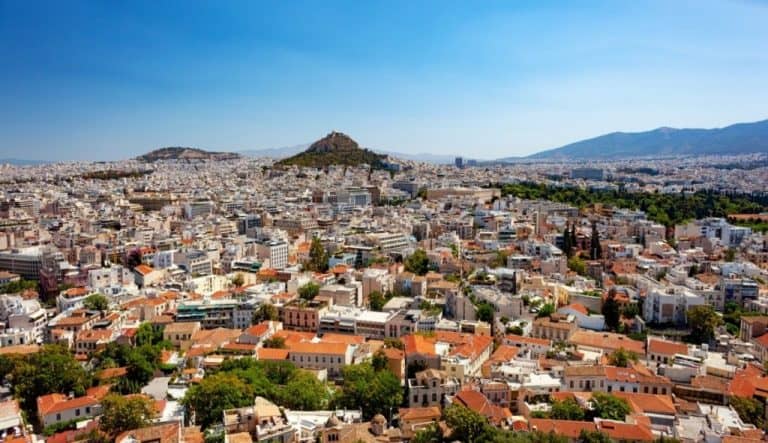 It is impossible to cover all of the attractions in Athens in a single day.
Additionally, if you want to explore the part of the Continental Greece, it is best to rent a car. Transports in Greece are not the best in Europe and with your own vehicle you will have full freedom of movement.
This will also come in handy as you're exploring Athens. Keep in mind when organizing your budget that a roadtrip through Greece is an amazing idea.
On the first day, visit the Acropolis, the Dionysus Theater, the Ancient Agora, the Hadrian's Library and the Roman Agora. Finally, visit the Acropolis Museum to learn more about the history of the city. A journey through the past that you will never forget!
You can book your accommodation in Greece in advance.
The most common thing is that you arrive in Athens at the international flight.
The first thing you will have to do is understand how to get to the center of Athens from the airport. You have 3 options: metro, bus and taxi:
Metro: You only have to buy a subway ticket and get on the blue line until the Plaza Syntagma stop (it takes about 30-40 minutes). Once there you can change the line (with the same ticket) to the stop you want. Although it is not super cheap, it costs € 10 and is a ticket that lasts 90 minutes. The regular metro ticket is € 1.40.
Bus: It's cheaper (it costs €6) but once you get to Plaza Syntagma, unless you live there, you must buy a metro ticket to get to your accommodation. At rush hour it has a very big disadvantage: you might end up stuck in the traffic.
Taxi: The most comfortable but of course, the most expensive option. The ride from the airport to the center costs €38. If you are 3 or 4 people, it may be reasonable. If money is not an issue, you can opt for the option of private transfer, which will be waiting for you at the airport and will take you to the hotel you want.
Day 2: Athens
On the second day, visit the rest of the city and some of the most symbolic monuments of Athens that you didn't see yet. You cannot miss the Temple of Olympian Zeus, one of the most important archaeological remains left in the city.
Also visit the Syntagma Square, where there is a change of guard in the Greek Parliament every certain hours.
Take the opportunity to explore the city calmly and enjoy the beauty of the city.
For that, you need a cozy accommodation to make sure you're situated in the right area of Athens. Check out the map below where the search bar will bring you to any location in the city and the icon on the bottom right will show you a heat map of areas with sightseeing spots, shopping and the best nightlife.
Go to Mykonos for the night and get up early the next day.
Day 3: Delphi and Meteora
One of the most spectacular parts of the guide is to visit Meteora, where you will find the spectacular Meteora monasteries that stand out for integrating completely with the natural landscape.
The monasteries above the hills will leave you breathless.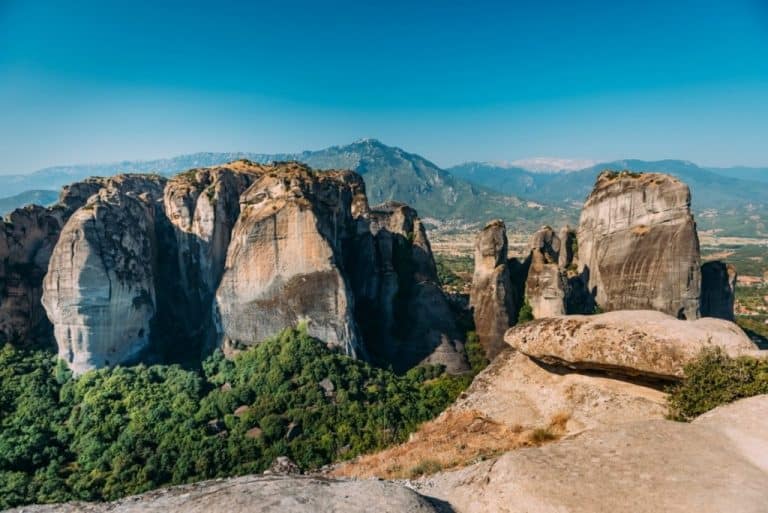 Between Athens and Meteora we can make a stop in Delphi to see the fantastic Oracle of Delphi, a symbol of Greek mythology.
Day 4: Mykonos
Visiting the island of Mykonos in one day is something you can do easily, as long as you know which places are worth spending time on. It is one of the most visited destinations annually.
Start looking for accommodation thanks to which you will find yourself in a convenient district where you will be close to the main attractions. Have a look at the map below, it can help you out with that.
Once your accommodation is sorted out, start looking for the peculiar pelican, called Petro that is very dear to both its inhabitants and tourists. Go through its old town to discover its typical buildings, white and blue is one of the most memorable color combinations of all postcards. It has a special charm!
To end the day visit one of its mills, the popular Boni mill, is one of the most historic. From here you can enjoy beautiful panoramic views of Mykonos, the sunset creates a mixture of beautiful colors.
You will not see anything as beautiful as this! Have a drink or dinner at the famous Little Venice, a most peculiar port. Then go out partying a enjoy the nightlife Mykonos is so famous for!
Day 5: Mykonos Beaches
You cannot come to the beautiful island of Mykonos without enjoying some of its paradisaical beaches. I am going to leave you several options so that you can decide between them for today.
The Psarou beach is one of the most popular daily. If you want to have several services such as sun loungers, bars nearby and other amenities this is the perfect beach.
Lia beach, despite being a little further from the capital of Mykonos is another great option. In it you can enjoy crystal clear waters, without as many tourists as the previous one and a much more relaxing and lonely atmosphere. If you prefer a much more natural setting, Agrari beach is your ideal beach.
Day 6: Santorini
Going sightseeing in Greece and not stopping in Santorini is impossible, one of the most beautiful destinations in this country.
Start by visiting the Metropolitan Orthodox Cathedral, a real gem! Later go and discover the Catholic Cathedral of San Juan Bautista, both in the capital Fira.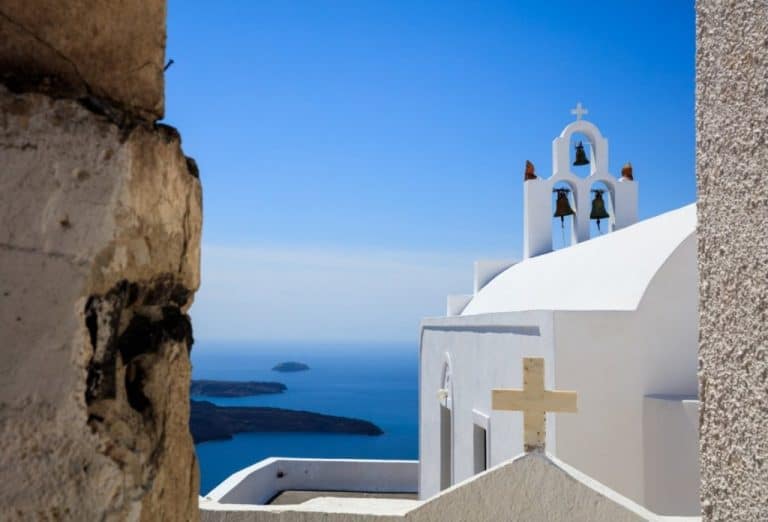 To end the day, make the popular 9-kilometer route that connects the cities of Fira and Oia, perfectly defines the island, passing through some villages of unique beauty.
Where to Stay in Santorini
Depending on what your needs are, you can either stay in the towns or at the beach. The towns will welcome you with a stunning view of cliffs and volcano while the beach will provide you with a vivid nightlife and some calming vibes during the day.
Check out this map with different accommodation options to find the right fit for yourself.
Day 7: Red Beach Santorini
One of the most popular beaches in Greece features a landscape reminiscent of the planet Mars. It stands out for its peculiar red color of rocks and green water, one of the natural wonders that were caused by the eruption of the volcano.
Amazing because of the panoramic views that you can get in it, it is a bit uncomfortable to bathe since it is composed of rocks and many people.
Top Recommended activities in Greece
In addition, I recommend some very interesting tours to better familiarize yourself with the fascinating past of the country and enjoy the most beautiful landscapes.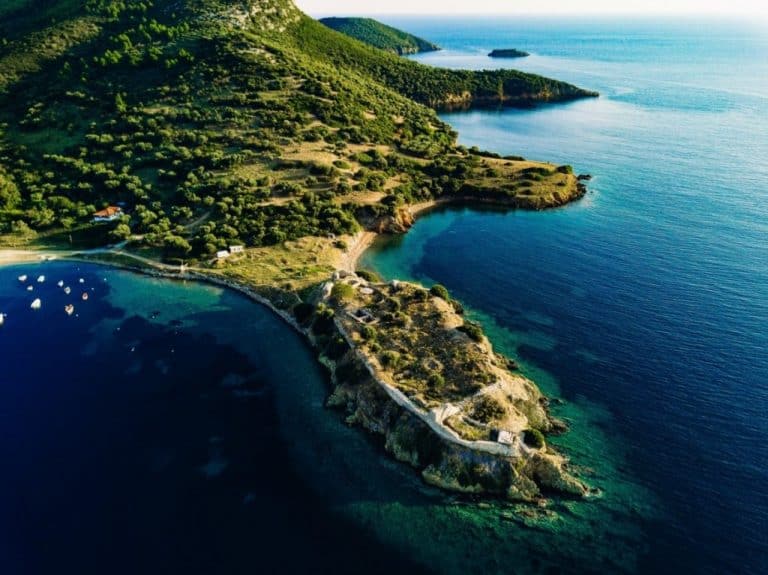 In Athens, for example you can make this guided visit to the Acropolis, a guided tour that is included in this archaeological site and through the Acropolis Museum, both tickets are included. The tour is great, it is one of the most complete you can find in the city, it is also great to know in depth one of the most important places not only in the city, but also in Greece.
In Mykanos you can also enjoy a fascinating excursion to Delos, where you will visit the archaeological site of Delos. This excursion includes admission, transportation and most importantly, an accompanying guide throughout the trip.
Another fun option is a Jeep Safari through Mykonos, where you will explore the landscapes of the island and you can drive your own off-road jeep. A true adventure!
Approximate cost of the trip to Greece
Here I am going to show you what approximate budget necessary to make a trip of this nature through the special Greece.
Price of the plane ticket to Athens: €100 per person approximately if you're traveling from a major city of Europe, with checked bag included. Thanks to low cost companies, flying to Greece is cheap. Thus the ticket prices are reasonable.
Hotel night: Double room with an average price of €70 per night. Athens boasts a wide variety of accommodation, multi-star hotels for an affordable price, plus there are numerous offers of VRBO with incredible quality as well.
Eating in Greece: €20 per person, lunch and dinner, per day.
Car rental: Around €24 per day. A fairly economical option because there is a great variety of car rental companies. This option can give you great freedom.
In this price the expenses in food, drink and purchases are not included, since they oscillate up or down depending on each person. With all this you will see that Greece is a relatively economical country to visit, so it is listed as a medium price destination. Therefore, traveling to Greece has a normal cost.
Alternative Itineraries in Greece
Apart from all the options and destinations named in the previous 7 days by Greece, here are some alternatives making it easier for you to choose different destinations, according to your tastes or preferences. After all, this country has a great variety of ideal places to visit!
10 Day Greece Itinerary
Another good alternative 10-day itinerary for those traveling to Greece for the first time could be as follows:
Athens (2 days)
Excursion to Delphi and Meteora (2 days)
Santorini (2 days)
Paros (1 day)
Mykonos (2 days)
Return to Athens (1 day).
15 Day Greece Itinerary
If you can add 5 days and make a nice trip of 2 whole weeks, we advise the following:
Add an excursion to Corinth and Epidaurus (2 days)
A day to the island of Santorini
Another day to Paros
Also visit Naxos (1 day)
Alternative ways to move around Greece
The idea of ​​getting around Greece by car is very romantic and independent, but in all honesty it has to be said that it is sometimes better to travel by plane.
Ryanair in Greece is a great option, especially in the off season. There are also trips that can only be done by ferry. There is also the option of island-hopping: it is a chance that allows you to see several islands in a short period of time at a great price.
Gastronomy
At Trip and Travel Blog we value cuisine and one of the things that you will enjoy most during your trip to Greece is its gastronomy. Typical dishes that you cannot miss in Greece include but as not limited to moussaka, pastichio, souvlakia, dolmades, tomatokeftedes and gemista. Most of the Greek dishes are part of the Mediterranean diet, which means they include a lot of olives and olive oil plus feta cheese.
Corfu
Instead of traveling to Santorini, you can visit Corfu, the second most populated island in Greece, with 217 kilometers of beaches! It is undoubtedly one of the most visited by cruise ships and a mandatory stop for many of them. Visit its New Fortress to admire the panorama of continental Greece and Albania! On the last day, enjoy some of its paradisaical beaches. It has large sandy beaches and crystal clear waters that invite you to spend long hours in them.
Delos and Rhenia
Start by visiting Delos Island, popular for its museum and its impressive archaeological site. This place has a great historical heritage of the great Classical Greece, especially its terrace of the lions of Delos, one of the most important sets of the Cyclades. Enjoy the rest of the afternoon on the next island of Rhenia, you can take advantage to do some water sports and take a good dip in its turquoise waters.
Conclusion
As mentioned earlier, the best time to travel to Greece is in spring and autumn. In summer, as you can imagine, it is very hectic with a high number of tourists.
Yes, Greece has so many islands but even so in the peak of summer all of them are bustling with life. In high season it is best to book the buses in advance, especially if they are in tourist sections such as Athens-Delphi.
If you do decide to follow this itinerary keep in mind that your #1 priority is to make it easy on you and your companions and to enjoy it to the fullest. As such you're advised to alter it in any way you find suitable. Don't follow it blindly but instead keep its best parts and add your own preferences on top.
Do you have more tips for traveling to Greece?
We would love to continue adding tips of help for future travelers so do not be shy and leave a comment.