Although my visit in Antwerp lasted only 3 days, I really felt like it was enough to experience Belgian powerful magnet for mode moguls, club queens, art lovers and diamond dealers. After arriving in the city, there were few things I was surprised and impressed by I would like to share with you:
1) It's the city of Pieter Paul Rubens
You can experience Rubens' artwork everywhere as in the 16th century it was a home to this baroque superstar artist. Therefore, visiting the Rubens House is a must.
2) Antwerp's streets are dirty
Surprisingly, Antwerp seemed to be a very dirty city. There were bin bags on the streets, open trash in the middle of the neighbour and dusted houses. It looked like it has not been cleaned there for ages.
3) Huge Central Station and the vintage feel of the city
The Antwerp train station is an unexpected delight. It is a combination of old and new and the whole architecture is just astonishing. As it is a very big station, make sure you take some time extra.
4) Boring Chinatown
Different types of neighborhoods pop up for you to discover like Chinatown, the Jewish Quarter, BoHo or the historical centre, but for some reason Antwerp's Chinatown seemed so boring. There was nothing to do there, just a few Chinese stores and one big supermarket. I felt like it was a waste of time to go there.
5) All the different colors of the city
Antwerp is extremely colorful. Not just the people but also the different buildings gave me this impression. It is full of green, yellow and blue.
6) Antwerp is heart-warming and simple
Antwerp as a city seems to be very simple, but it is also friendly and heart-warming. I felt so welcomed here.
7) Astonishing architecture
It is surely a city to live in blessed with eye-catching architecture, chic shops, impressive monuments, jazzy clubs and inspired art works. Me and my boyfriend visited a few churches and one monastery, very spiritual and mysterious.
8) Cafes everywhere
Antwerp is surrounded by cafes where the beer flows freely and restaurants where you can taste some of the finest Belgian and multicultural cuisine.
9) Museums, museums, museums
Antwerp is a proud filled with outstanding museums, picturesque galleries, sculpted streets and architectural gems.
10) It looks stunning at night
Antwerp at night looks absolutely beautiful. If you ever make it there, make sure you go for a romantic walk at night through the main square!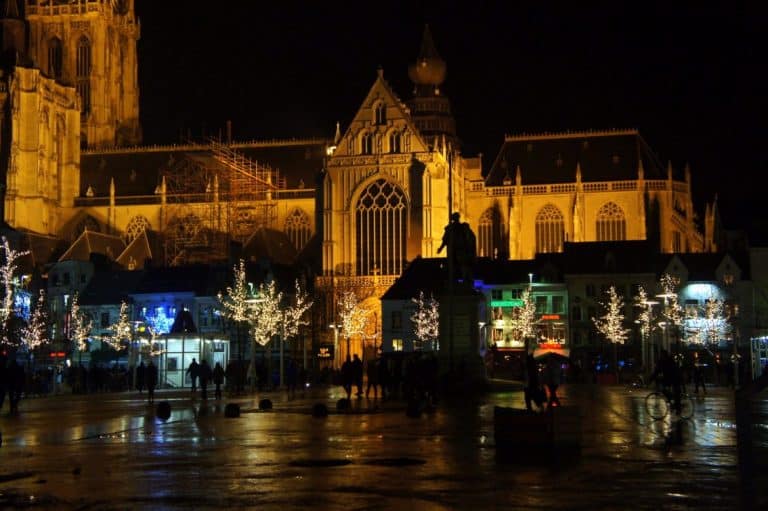 Would you like to visit Antwerp one day?