Crisp white sands, spectacular mountain views and sumptuous warm water – this was my first impression of the beautiful islands of Ko Phi Phi. Located on the South-West coast of Thailand, caressed by the marine-rich Andaman Sea, this compact and truly unique mass of land won me over before I even had a chance to take a sip of my beer.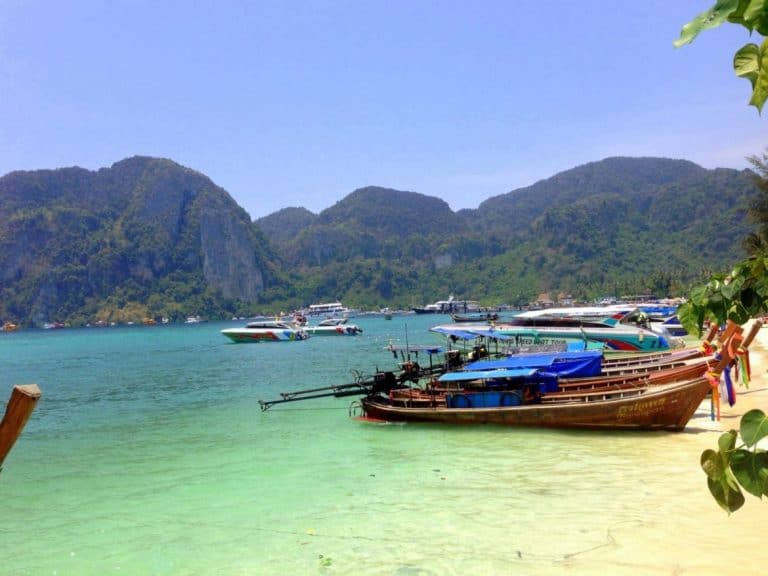 Living on a Shoestring in Ko Phi Phi
When it comes to things to do on Ko Phi Phi, there are endless options. Ko Phi Phi Leh, the small island next to the main island, is where they famously filmed 'The Beach' and is uninhabited. If there is one place that you absolutely must visit then it's here. You can pay for a half-day (5 hour) boat trip that will take you out snorkelling on many of the different bays around the island and then finish the trip to watch the sun set into the horizon on the famous Maya Bay. All of this will set you back only 300 Baht ($10) and includes your lunch and water throughout the trip. You can also stop by Monkey Island to hand feed fruit to the wild monkeys that dwell within the trees. That experience is one that I will never ever forget so I can categorically say that it is well worth the money.There are no automobiles on Phi Phi at all and you can easily walk from one side of the island (Ko Phi Phi Don) to the other within 15 minutes. This instantly saves you loads of money in transport due to the fact that you will walk everywhere. When it comes to accommodation, Phi Phi is much cheaper than many of the other islands in the South of Thailand but it will still be your largest expense. The condition of the hostels within the island is generally good and you can stay in a shared dorm (fan room) at Blanco Beach Bar for around 400 Baht ($13) which is located right on the beach front. If you're looking for somewhere that is a little cheaper then take a trip to the other side of the island and stay at Harmony House which is ridiculously cheap and is a great place to stay. If there is three of you then you can get a room for 170 Baht each ($5.50), so I would recommend at least taking a look there.
When it comes to food and drink on the island you need to be quite careful with your money. Prices vary greatly across Phi Phi so if you're trying to save money then you should try to avoid eating on the beach front. One of the best value-for-money places that we ate was at 'Garlic' restaurant (opposite Jong's Guesthouse), where you can get a curry with rice for 120 Baht ($4). Alternatively you can go to one of the street vendors on the strip down towards the main beach and pick up a really good pizza for around 80 Baht ($2.50). You'll probably find yourself sampling the street vendor food after a few drinks anyway!
It's really easy to get a bit carried away with the atmosphere on Phi Phi because the nightlife is pretty relentless. Like Koh Tao and Koh Phangan, Phi Phi has a huge number of Western tourists that spend a lot of their time there partying. If you're looking for a more chilled out atmosphere then you might be better off traveling east over to Koh Chang or up North to Chiang Mai. Having said that, you are easily able to get a bit of downtime on the island at places like High Bar (nicknamed 'the highest bar on the island' for a reason!). My advice would be to buy any alcohol that you want from the 7/11 stores and take them down to the beach with you; you would only end up spending four times the amount if you buy if from the beach bars themselves.
If you're really struggling for cash then you can pick up work pretty easily. Go pay Dojo Bar a visit and you can get some work doing leafleting there. You will get paid around 250 Baht ($8) a night and you get free drinks all night. It sounds like you're getting ripped off but the work is really easy and you can literally have as much as you like to drink for free. Alternatively, go see the guys at the Phi Phi Party Crew who do booze cruises around the islands. They sell tickets for around 2,500 Baht each and you can get around 10% commission on any sales you make – not bad at all really.
About the Author
Matthew Barby runs the Melted Stories Travel Blog that gives backpacking advice, stories and sometimes utter nonsense. Matt loves to talk about his experiences from traveling around East Asia and likewise he loves to hear the stories of other travelers. You can find out more on the Melted Stories Twitter.