Music festivals are fun but long. Plus, it can be hard to find water and the prices of bottled water are normally hiked pretty high. That's why you may want to consider a Camelbak for your next music festival. These packs carry more water than a single bottle and can be refilled at any water filling station. They can also be worn comfortably on your back, and you can continue dancing instead of waiting in line for more water! If you're interested in a Camelbak for your next music festival, take a look at our compiled list below of some of the best options available online.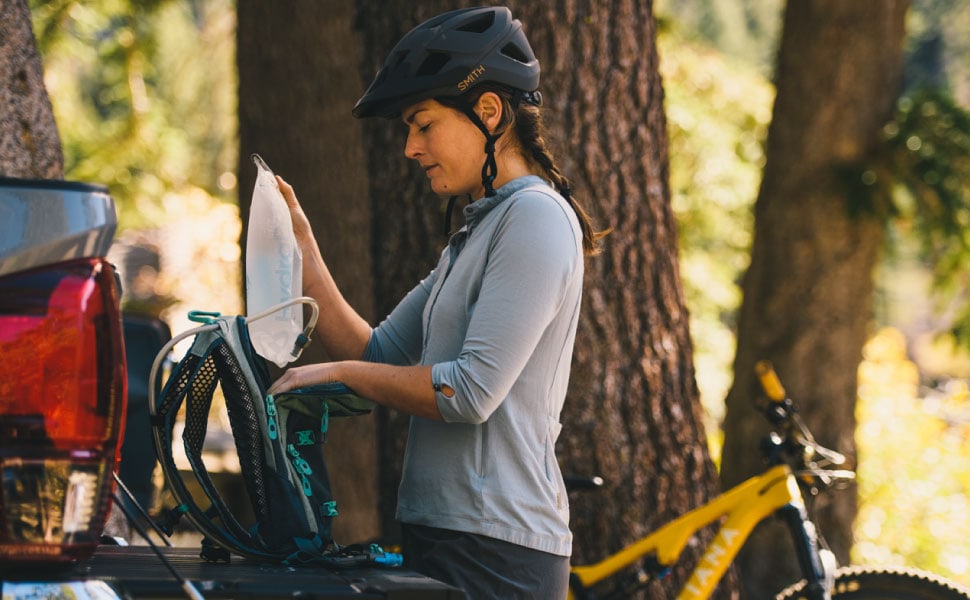 What is the Best Camelbak For Music Festival?
We have compiled for you the top 6 Best Camelbak For Music Festival in 2023. In this article we go through the products that we have used ourselves, checked what other users thought about them and we ranked them accordingly.
With years of experience with hydration packs for festivals and having used several camelbaks for music festival you can trust our review.
Moreover, you can scroll to the end of this review to see our mini buying guide as well as the answers to some of the frequently asked questions about camelbaks for music festival.
Specs
Price: 💲 (fewer 💲 = cheaper)
Capacity: 2.5 liters
Size: 15.2 x 8.7 x 4.5 inches (38.5 x 22 x 11.5 cm)
Backpack included: Yes
Materials: Polyethylene with TPU exterior for bladder
The CamelBak Classic Hydration Pack, 85oz features a 2.5 liter water reservoir with a small zippered pocket for storing personal items. This pack has breathable mesh shoulder straps and a mesh back panel to help keep the user as cool as possible. This is a lightweight design, and while not made with much storage space, it is made with a durable design that has a lifetime warranty through the manufacturer. The drinking tube is equipped with an on and off lever to help prevent leaks. The water reservoir has a large central opening making it easy to clean, fill, and add ice. This pack is also covered under the lifetime CamelBak warranty.
Pros
Comfortable,
Lightweight,
Durable,
Lifetime warranty
Cons
Leaks if not sealed properly,
Very little extra storage space
Specs
Price: 💲💲 (fewer 💲 = cheaper)
Capacity: 2.5 liters
Size: 15.8 x 0.5 x 6.5 inches (40 x 1.2 x 16.5 cm)
Backpack included: Yes
Materials: Polyethylene with TPU exterior for bladder
The CamelBak Aurora Hydration Pack, 85oz features compact and lightweight design with a 2.5 liter water reservoir and a 2.5 liter storage capacity. The breathable mesh back panel and shoulder straps keep this light and comfortable for the user. The sternum and chest straps are both adjustable for a secure fit. The storage space for personal items includes a stretchy outer pocket that allows for flexibility in the size of items you can pack. The drinking tube comes with a lever that can switch from on to off to help prevent leaks. It also has a magnetic clip to help secure it to the shoulder strap. There is also a hook for your helmet and reflective details for safety. This pack is also covered by the lifetime CamelBak warranty.
Pros
Lightweight and compact,
Designed for women specifically,
No drip switch on mouth tube,
Lifetime warranty
Cons
Hard to clean,
Drinking tube is not removable
Specs
Price: 💲 (fewer 💲 = cheaper)
Capacity: 2 liters
Weight: 0.66 pounds (0.3 kg)
Backpack included: Yes
Materials: Nylon
This KBNI Hydration Backpack with 2L Water Bladder features a 2 liter water bladder and two separate storage pockets. The material is a lightweight and durable nylon material. The sternum, shoulder and waist straps are all very adjustable to allow this pack to fit a wide variety of sizes including kids. The water bladder has a large opening so it can be filled and cleaned easily. The water in the bladder gets hot quickly due to a lack of insulation. If you add ice to the water, the water will stay cold for a few hours. The 35 inch soft drinking tube has a bite cover to prevent dirt from getting into the mouthpiece and an on and off lever to keep it from leaking. The tube can get easily kinked.
Pros
Lightweight,
Very adjustable for wide variety of sizes,
Easy to clean water bladder,
Extra storage space
Cons
Not well insulated,
Drinking tube can get kinked
Specs
Price: 💲💲 (fewer 💲 = cheaper)
Weight: 0.44 pounds (0.2 kg)
Size: 12.4 x 8.7 x 4.9 inches (31.5 x 22 x 12.5 cm)
Backpack included: Yes
Materials: Nylon
The CamelBak Octane Dart Hydration Pack, 50oz, is an embodiment of balance between comfort, weight, and functionality. Sporting an impressive 1.5-liter hydration capacity, it integrates a dependable reservoir that ensures you stay healthily hydrated during your music festivals or outdoor adventures. Crafted with ultralight nylon materials, this pack maintains a minimal weight profile, gracefully handling the demands of your journey without weighing you down.
While compact, the Octane Dart doesn't neglect the need for storage. A modest compartment provides adequate room for your essentials. Not to forget, its enduring design, strengthened by the robust material, guarantees a long-lasting companion for your escapades.
In terms of comfort, the pack steps up with finely tuned, easy-to-adjust straps that cater to all sizes, notably petite figures. The breathable shoulder straps harbor front-facing pockets, offering easy-to-reach spaces. The hydration accessibility is enhanced further with an intuitive on-and-off lever on the drinking tube and a securing clip on the shoulder strap. Lastly, it's worth noting the product is supported by CamelBak's lifetime warranty, underscoring the company's faith in their product.
Pros
Exceptional 1.5-liter hydration capability,
Ultralight and durable construction,
Adjustable, breathable straps for all sizes,
Well-crafted storage space for essentials
Cons
Possible loosening of the harness strap,
The sealing procedure might be a bit challenging
Specs
Price: 💲💲💲 (fewer 💲 = cheaper)
Weight: 0.33 pounds (0.15 kg)
Size: 13 x 8.7 x 3.9 inches (33 x 22 x 10 cm)
Backpack included: Yes
Materials: Polyethylene with TPU exterior for bladder
Presenting the CamelBak Women's Charm Hydration Pack with an impressive 50 oz or 1.5-liter water bladder capacity. Designed with feminine contours, it's perfect for outdoorsy ladies who love their short, impromptu hikes. It's crafted such that it eliminates excessive bulk, maintaining a low profile for easier maneuverability.
The pack embraces savvy engineering with its lightweight design. Thanks to mesh panels integrated into the construct, the pack prioritizes breathability and comfort for users. The shoulder straps are primed to provide balanced, strain-free weight distribution, perfect for all-day usage.
Nifty features include a sizeable, ergonomic opening for the water bladder catering to quick, fuss-free refills. Some users cite instances of leakage, but often it's the matter of securely closing the opening properly, so nothing to worry. Enhanced safety measures are in place too, like the reflective details on the pack's exterior, ensuring visibility in poorly lit areas.
Maintaining hydration is a breeze with the strategically placed drinking tube. It's fully enabled with a cutting-edge valve that curtails leakage when not in use. Its secure fastening to the shoulder strap ensures the tube isn't flailing around, offering effortless sips on the go.
Pros
Lightweight for easy carrying,
Low-profile design for better mobility,
User-friendly water bladder refill,
Inclusive of manufacturer's warranty
Cons
Limited storage space for personal items,
Mild leakage problems occasionally reported
Specs
Price: 💲💲💲💲 (fewer 💲 = cheaper)
Capacity: 3 liters
Size: 3.1 x 9.8 x 16.1 inches (8 x 25 x 41 cm)
Backpack included: No
Materials: Plastic
Cleaning Kit: No
The CamelBak ArmorBak Hydration Pack features a 3 Liter water capacity attachment to a plate carrier or armor. The quick release buckles allow for easy snap on and off on any plate carrier. The dual zippers allow for quick refills and reservoir removal. The 6mm closed cell foam on the front and the back allow for some insulation to keep the water from getting hot. The buckles and fabric are infrared compliant and meets military specifications. This durable design also allows for the contents to be pressurized so you can use it to rinse equipment while outdoors. This is not a water bladder that can be used alone, and there is no storage space for personal items.
Pros
Perfect for attaching to armor or vest,
High quality and durable material,
Lightweight,
Meet military specifications
Cons
No storage capacity,
No straps included, needs to be attached to a carrier plate
Verdict
To summarize, we have gone through dozens of camelbaks for music festival and decided that 6 are worth your consideration. Out of these, the absolute Best Camelbak For Music Festival is CamelBak Classic Hydration Pack which we highly recommend as our overall best.
If money is not an issue, you can consider CamelBak Aurora Hydration Pack as this is our Premium Pick.
Otherwise, there's no shame in spending prudently, KBNI Hydration Backpack with 2L Water Bladder is the Budget Option.
Our other reviews you may find useful in your research:
What You Should Know Before Buying camelbaks for music festival
Price Range
Hydration bladders can have a big price range depending on the features they offer. While a simple budget hydration bladder may run you anywhere between $15-25, a full hydration pack with extra backpack storage can cost you well over $100 for something high-quality. Ultimately, the price you pay depends on the features you're looking for and how much you're willing to spend. For a high-quality, durable pack, the average cost for a good hydration bladder is somewhere around $40-50.
Comfort and fit
When it comes to hydration bladders, you want a pack that is comfortable and fits properly. This is especially true if you plan on using it for long-term activities like hunting, hiking, or camping. This means picking a fit that works best for you. Do you want the pack in a regular backpack, hanging in a sling on your back, or fanny pack style? You may also want to consider strap materials and size, as some materials are softer and more breathable compared to others. Find a pack that has comfortable straps and doesn't pull hard on your body when full. This will help you keep it on for extended periods of time.
Weight
Hydration bladders are a great help on long trips and hikes, however, they can be a struggle when they're too heavy. Once water is added, your hydration bladder becomes much heavier, so you don't want the pack itself to be heavy on its own. You want a pack that can carry a decent amount of water but is built with durable, lightweight materials so you don't tire quickly as you walk, climb, or cycle. If you aren't sure about your pack's weight, try the pack on in the store before purchasing and see how lightweight it feels on your back. The more lightweight, the better if you're trying to reduce the weight on your back!
Extra Storage
Some hydration bladders aren't just packs for your water. There are many hydration packs that also have extra storage to keep your other belongings in them! These hydration packs are often shaped like backpacks with a tank in the center, so you can put your belongings around the tank in other compartments before zipping the bag closed. Do keep in mind that the more storage you have on your pack, the heavier your pack will be, so this may be something to avoid if you want something lightweight for exercising or ordinary walks.
Questions and Answers About camelbaks for music festival
Can you freeze a Camelbak bladder?
Yes, you can definitely freeze a CamelBak bladder without issues. Some people like to freeze their CamelBak bladders empty to kill any remaining bacteria in the pack after a day of use. Others like to freeze their water in the pack so it stays colder longer as it melts throughout the day. However, you have to make sure you don't fill the bottle all the way when doing this. Because water expands when frozen, your pack could become damaged if frozen while entirely full of water. Never fill it past 80% capacity if you plan to freeze.
What are the key benefits of hydration bladders over water bottles?
While hydration bladders and water bottles are both great to keep you hydrated throughout the day, hydration bladders do have some advantages. The main advantage is that hydration bladders are able to be carried on your body like a backpack or vest, so you don't have to carry a bottle in your hand all day. They also have added storage compartments next to the reservoir so you can carry other belongings too!
Can you use a CamelBak in the winter?
Yes, you can certainly use a CamelBak in winter! Some CamelBaks are specifically designed to be used in the winter so that your water doesn't freeze throughout the day. If you're trying to transition your regular CamelBak to a winter-friendly CamelBak, you can apply your own insulation using some foam and tape so your water stays a comfortable temperature while you're out in the frigid weather.
How long does a CamelBak bladder last?
How long your CamelBak lasts is ultimately decided by how well you take care of it! On average, a decently cared-for CamelBak can last you between 3-5 years. However, there have been some records of CamelBaks lasting up to 10 years with excellent care! If you tend to be rough and tough on your CamelBak with extreme sports, you may have to replace it every 1-2 years according to your needs. As long as there are no leaks or punctures, you're good to go!
How do you get the plastic taste out of a CamelBak?
The first thing you should do upon getting your CamelBak is wash it. After all, you don't know who or what touched the pack before you purchased it! If washing it normally doesn't remove the plastic taste, you may want to soak the inside of your CamelBak in water with about a teaspoon of baking soda dissolved in it. After letting this mixture soak for about an hour, rinse out the pack. Your CamelBak should have no more plastic taste!