Christmas is slowly but surely knocking on our doors. You can run but you can't hide, it's time to scratch your head and think about what to get for your loved ones, including those who love to travel the world. It could be your sister, brother, mother or even best friend. No matter who it is, a travel-related gift would be the best, that's for sure!
Recently, I've done some research in order to find this perfect Christmas gift for my travel friends. It was not easy, but with such great choices available on the Internet, I bet everyone can find something that their loved ones will really like. I've collected some top picks and here is what I think would be the best as a Christmas gift for anyone who keeps on exploring the world like me and Cez.
IDEA 1: TINGGLY GIFT CARD
You may have never heard of Tinggly, but it's getting very popular among travelers. Tinggly is a gift of an adventure – anywhere in the world. The best part is that you can't go wrong with it because you don't have to choose the actual activity or location. The person you give Tinggly Gift Box will have a choice of what they want to do, when and where, and there are over 300 experiences in more than 100 countries to choose from. Then they need to go for it within 2 years.
IDEA 2: HOMEMADE VIDEO
Let's start from a very personal, yet affordable, present such as a homemade video. It may be time-consuming, but it will blow your travel friends mind away. You can gather all your friends and family members together and record a video of them sending your travel friends best wishes from all around the world. Cez did that few years ago for my birthday. He contacted fellow travel bloggers and our friends and asked them to contribute. It was the best birthday gift ever that I watch every birthday crying like a baby! You can do the same for your loved ones.
If you can't find a perfect camera to capture those beautiful moments, Pentax MX-1 may help.
IDEA 3: GOPRO4
If you feel like spending a bit more money, go for GoPro4 – an essential item for anyone who loves to take pictures and make movies on the road. This extraordinary camera is small, easy to carry (even during some hard-core extreme sport experiences) and it's waterproof up to 131 feet.
IDEA 4: PHONE / PASSPORT TRAVEL COVER
I would personally love to get such a classic travel gift. A travel phone case can look awesome! It could be easily sent to your friend by post or even given in person. It would always remind your loved one of you when taking phone pictures. If you don't like this idea, how about buying a travel passport cover?
IDEA 5: KINDLE
If your travel friend is going to hit the road soon, getting him or her a Kindle for Christmas couldn't be more perfect. Why? Being on the road for a long period of time can make everyone feel a bit bored – I'm talking here about hours spent on the bus, plane and train. Instead of having another uncomfortable and unnecessary nap, your friend can use his or her and read a decent travel book without carrying around heavy blocks of paper.
IDEA 6: TRAVEL LAPTOP
If your loved one works on the road and you want him or her to do it comfortably, why not buy an ultrabook. Every serious or frequent traveller who is trying to become location independent should go for a fast, lite and small travel laptop. Macbook Air seems to be a great pick in this case. It is not only amazingly fast but also power efficient.
IDEA 7: TRAVEL DIARY
I believe that a travel diary, journal or a little notebook is always a great idea as a Christmas present for someone who loves to travel and take some notes on the road. It's handy and useful to record those memories and adventures your friend may have and experience when traveling or even stick pictures collected from different places around the world.
IDEA 8: BACKPACK

A light and small backpack is always a great idea for a Christmas present. Osprey Farpoint backpacks not only looks comfortable but also performs well when it comes to usability. Designed to fit laptops with up to 17 inch screens, filled with multiple zippered compartments and it's super lite, what else would you ask for?
IDEA 9: FLIGHT TICKET
You can totally shock your loved ones by giving them flight ticket Christmas gift. You can send them to a nearby country or somewhere much further depending on your budget. These days flight tickets can be very affordable, starting from even $30 round trip.
IDEA 10: TRAVEL INSURANCE
Making sure your travel friends are safe when hitting the road is extremely important. Thus Travel Insurance can't be skipped. What we can recommend is a protection plan from WorldNomads – simple, flexible and very affordable.
IDEA 11: CAMERA LENS THERMOS
That's a perfect gift for all coffee and tea lovers whose passion is photography. The Thermo Lens Mug by Generic would be a perfect fit, don't you think?
IDEA 12: POWER BANK
A unique look power bank with a wide range of applications and outdoor activities like camping, mountain climbing, and picnics would be a nice Christmas gift for a traveler. It could be a life-saver for someone who travels and uses a lot of electronics on the road.
IDEA 13: GOOGLE STORAGE
If your laptop has never got broken, lost or stolen, you're one of the lucky people the rest of us are envious of. This Christmas you can gift someone the piece of mind that comes with the cloud storage. Their photos will be always safe online and available to them on any device.
IDEA 14: AIRBNB GIFT CARD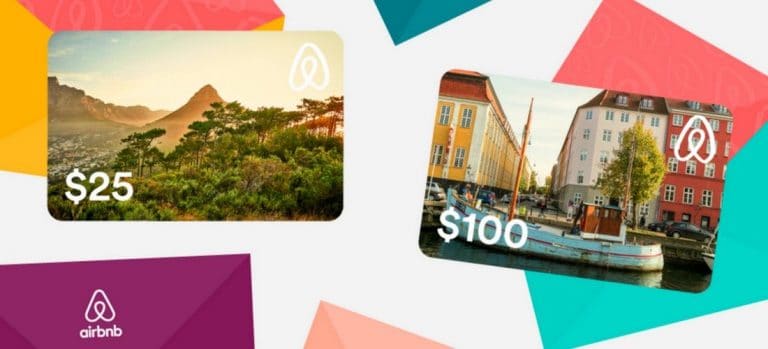 The Airbnb gift card can be sent by e-mail or post and it's super easy to be added to any Airbnb account. It never expires so your travel friend can take time when planning next adventures.
IDEA 15: PACKING CUBES
Packing cubes are could be a great gift for someone who hates packing and keeps his or her backpack messy and can't find anything afterwards.
Do you have any other Christmas gift ideas for travelers?