Today, Elena of Elana's Travelgram is going to share with us 12 most delicious and amazingly looking pastries you would not resist when visiting France. She describes herself as a 20-something Ukrainian girl who often gets lost in different corners of the world. She is currently living an expat life in France.
Do you know how France actually tastes like? Sweet. It's a heaven for all the foodies and sweet-toothed. With gorgeous boulangeries and patisseries nearly at every corner you simply can't miss trying the next sweet delights. Let's see what top 12 french sweets you simple can't afford to miss when in France:
#1 Chausson aux pommes.
These small buns made of puff pastry filled with rich-flavored apple mash inside may not look special, yet they taste magnificent! It's one of the most traditional French baking that was originally made in 1580 at a tiny city of Saint-Calais, Northern France. When the severe epidemic of plague killed nearly 2/3 of the city's population, it is told that one lady made a huge apple pie that reminded of a slipper (chausson) to feed all the starving who were forced to stay in town and it helped to prevent further spreading of the disease. In 1992 Saint Calais community established La confrérie du Chausson aux Pomme – a brotherhood of bakers and locals who organize a parade and a festive each first Sunday of September with lots of chaussons aux pommes and other traditional dishes made and served to everyone.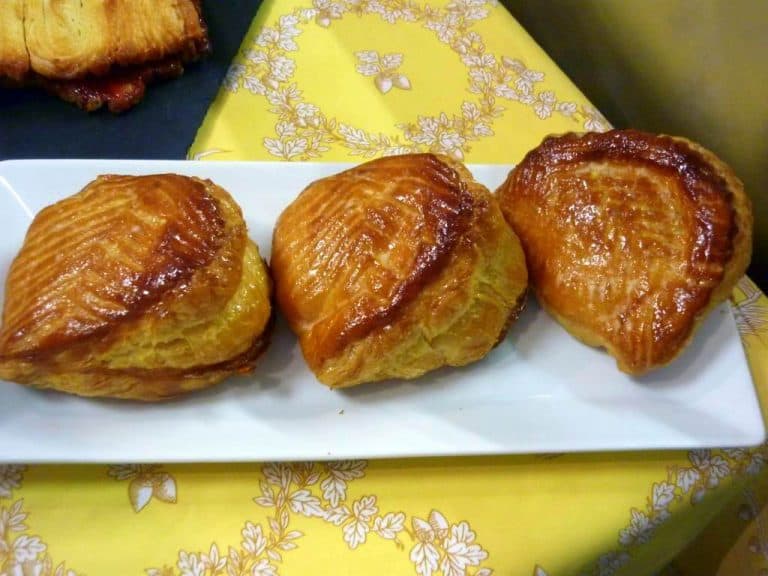 #2 Le Merveilleux.
The name of the desert "Marvel" totally corresponds to its taste. A floating meringue desert filled with floral cream and chocolate or vanilla light cream and generously sprinkled with chocolate feathers or crunchy cookie crumbs. They filling and decorations may differ from Boulangerie to Boulangeries.
#3 Saint-Honoré Cake.
Did you know there's a special saint who patronizes all bakers and pastry chefs? That's Saint Honorewhom you should thank for each magnificent desert you taste J. This cake's traditionally made with crème cheboust for filling and whipped cream for decoration. The best thing about this cake are these small balls dipped in caramelized brown sugar and filled with lots of cream.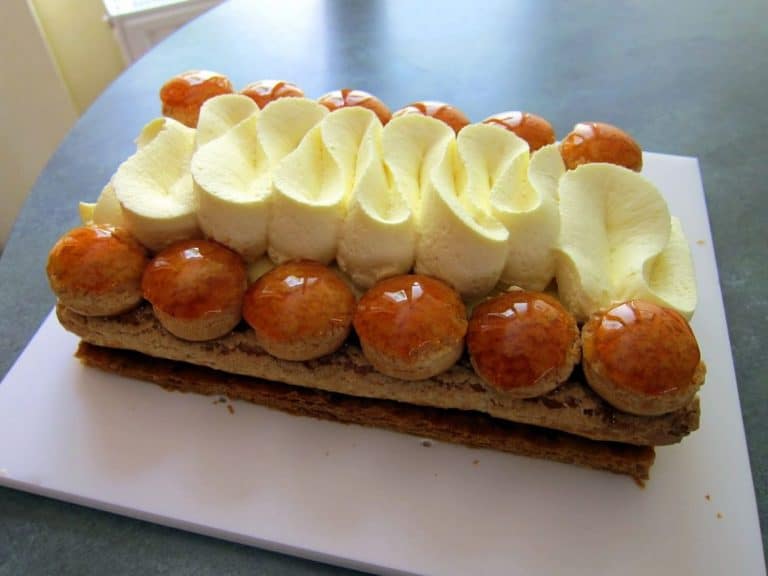 #4 Ice Cream.
Though, it's Italy who's well-known for its amazing gelato, the French crème glacée is none the worse! Starting from standard flavors like lemon, strawberry or mango, you can as well taste something as gourmet (or weird) as goat-cheese, pine, rosemary, carrot or even beet. Check out Terre Adelice in Vieux Lyon for best ice cream experience!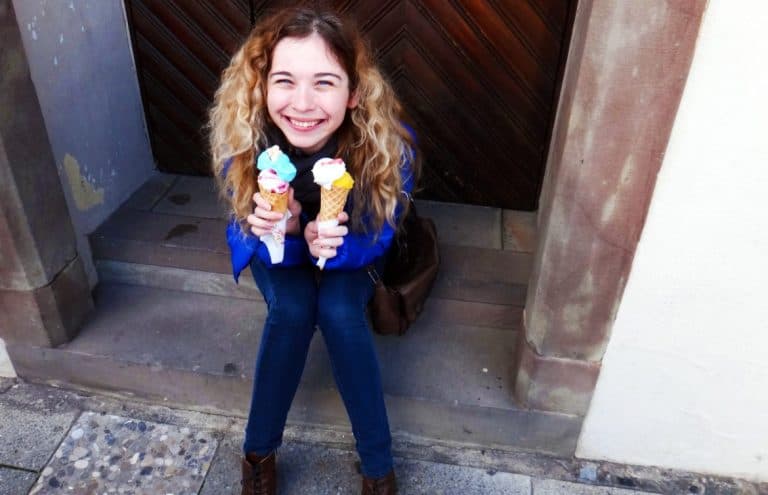 #5 Patted'ours.
This small bun made of crunchy puff pastry and liquid chocolate filling that is very similar to Nutella and is called bear's paw for its cute shape.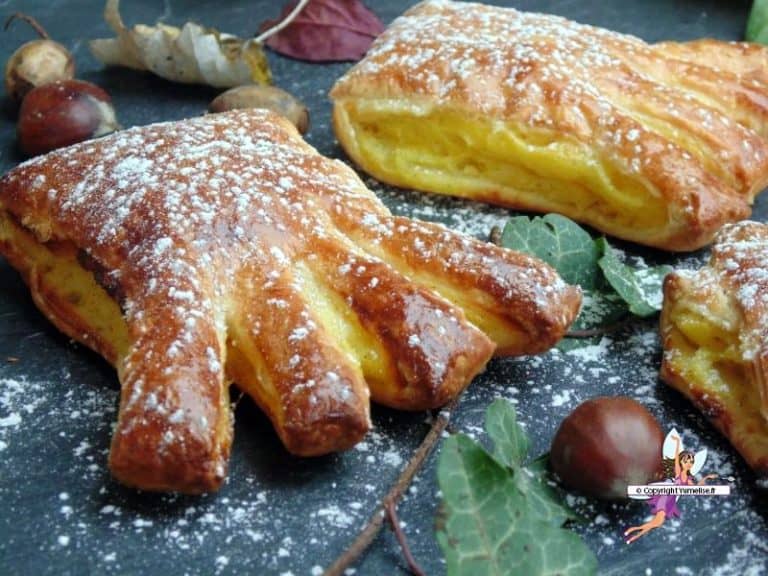 #6 Mango tart.
An amazing crunchy basket topped with caramelized or jelly covered mango pieces. In Paris, you should definitely grab few at at La Pâtisserie des Rêves.
#7 Marie Antoinette desert.
I fell in love with the visual appearance of this one at first and the taste has proven to be even better! It's made of two meringue macaron calves filled with light vanilla or rose cream, fresh raspberries and a few blueberries on top for decoration.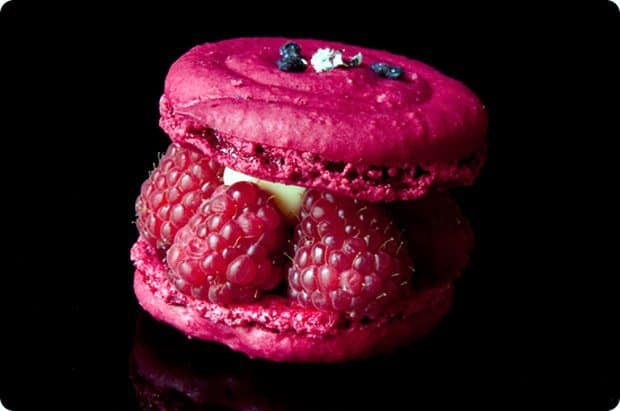 #8 Coussin de Lyon.
Lyon's local sweet specialty. A candy made of greenish marzipan filled with chocolate ganache and a few drops of curacao. For the first time this sweet was made in 1960 by a local chocolatier Mr. Voisin, who was inspired by the shape of a cushion used in the medieval ceremony for caring a 7 pound wax candle and a crown to the Fourvière hill.
#9 Paris-Brest.
An amazing cake sandwich filled with thick praline-flavored cream and covered with feather-like peanut slices. It was first made in 1910 as a commemoration of the famous bike race Paris-Brest-Paris held in 1891, round-shaped, so that it resembled a wheel.
#10 Tarte Framboise.
Another totally fantastic treat that is hard to describe in words. Fresh raspberries on a bedding of jelly-like vanilla cream in a crusty basket.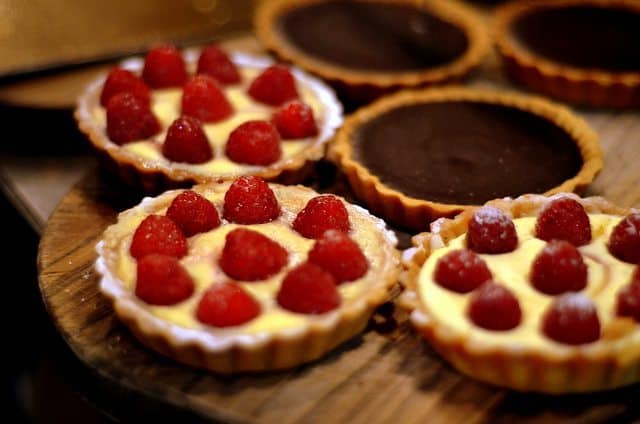 #11 Chouquette.
These are like tiny éclairs, traditionally made of yummy choux pastry without any filling and sprinkled with sugar pearls. Yet some patisseries offer chouquettes with mouse or custard fillings or additionally covered with chocolate.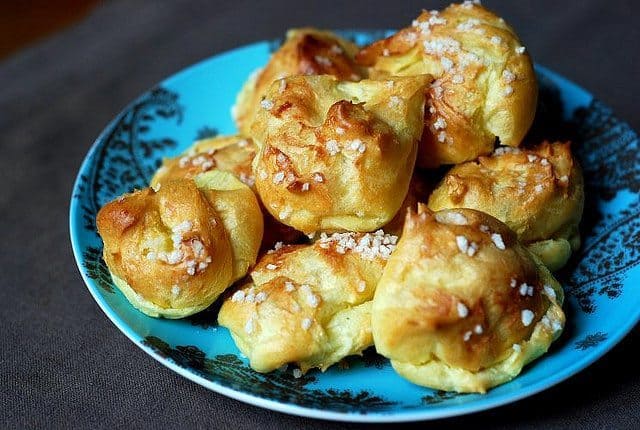 #12 Brioche Praline Rose.
A traditional Brioche is made with lot's eggs and butter that makes it dough taste so rich. This one's made special by adding nuts, caramelized in rose syrup. Total yum!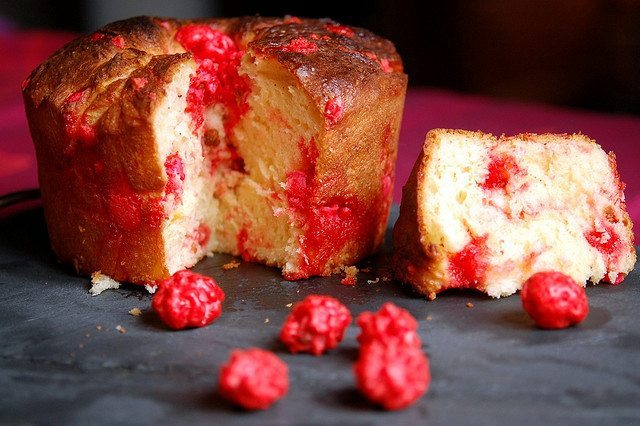 You can also check out the full list of 23 French pastry you should try before you die written by Elena and follow her adventures on Bloglovin'.
Which one of these delicious pastries would like like to dig in?