India is one of the most famous tourist destinations in the world, and millions of travel enthusiasts visit the country annually. There are many places and cities to visit, yet among all, if there is any city that distinguishes itself from others, it is Varanasi.
Varanasi is one of the oldest and continuously inhabited cities in India and the entire world. It has a special status and recognition, and it is one of the few cities in India mentioned in sacred Hindu texts and mythologies.
Known as the spiritual capital of India, the city boasts of its religious shrines, museums, and forts.
Varanasi is a must-visit place for anyone visiting India, and in this post, I will be sharing the best way to explore this ancient city of India as a traveler. With the world opening up after a 2 years battle in the harshest of the pandemic, let's hope things get better. Travelers are flocking in again and here's a sharing of an itinerary to get the best of With the world opening up after a 2 years battle in the harshest of the pandemic, let's hope things get better. Travelers are flocking in again and here's a sharing of a 1-week itinerary to get the best of Varanasi.
Overview of Varanasi
Mythology and Religion
Rig Veda (1500 BC) mentions Varanasi as Kashi (to shine), defining Varanasi as the city of lights.
According to Hindu mythology, the city was established by Lord Shiva, one of the principal deities in Hinduism. Also known as the second home of Lord Shiva, it hosts the Kashi Vishwanath Temple dedicated to Lord Shiva and one of 12 Jyotirlingas in India.
The city is renowned not only for Hinduism but also a sacred site in Buddhism. At Varanasi, Gautam Buddha gave his first sermon to his disciples and founded Buddhism around 528 BC.
Sarnath, a town within Varanasi, hosts stupas, temples and archaeological sites related to Buddhism.
Ganges River
Varanasi is renowned for many things, yet it is the Ganges River, and Lord Shiva, the prime pillars of Varanasi.
The numerous Ghats on the Ganges River and temples dedicated to Lord Shiva are the city's primary attractions.
Dying in Varanasi
Visiting Varanasi in life is a dream of millions of Indians and foreigners, yet those who die in the city are considered by some as "the luckiest".
In Hinduism, anyone cremated in Varanasi attains moksha and hence breaks the cycle of rebirth. Thus elderly across the whole India visit Varanasi in their final days. Thousands of priests and workers in Varanasi conduct the final rites of those who came to the city in their final days.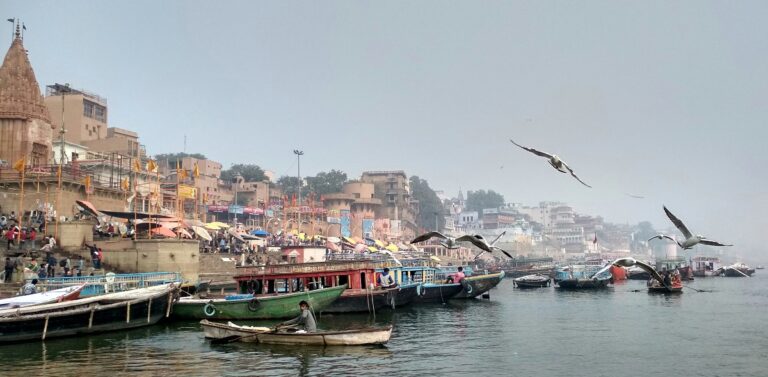 How to Get to Varanasi
Situated on the banks of Ganges River, Varanasi lies in the Indian state of Uttar Pradesh. It is 800 kilometres from the national capital of Delhi and 300 kilometres from the state capital Lucknow.
Arriving in Varanasi is easy as the city is well connected via all means of transport.
Lal Bahadur Shastri Airport (VNS), also known as Varanasi Airport, serves as the main airport connecting Varanasi to other major cities of India and abroad.
Varanasi Junction is the main railway station in the city and major railway station in northern India. Dedicated trains like Vande Bharat Express and Kashi Vishwanath Express, start and terminate at Varanasi.
Similarly, National Highway 2, Yumana Expressway, and Agra-Lucknow Expressway connect Varanasi to other big cities of India and Uttar Pradesh.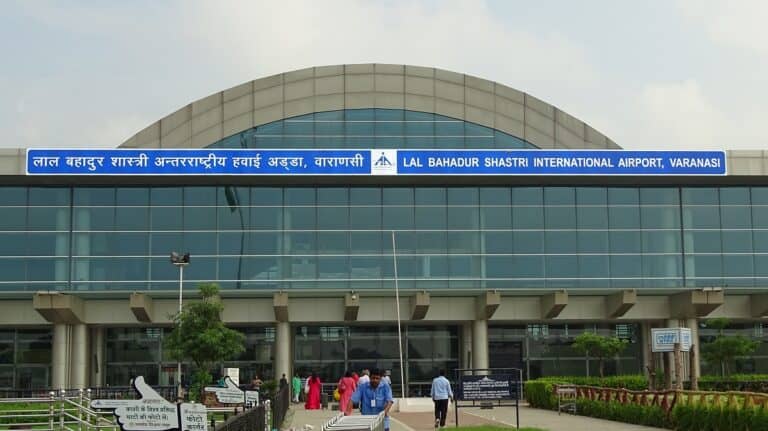 Places to Visit in Varanasi
Varanasi has a wide variety of tourist attractions, catering to the needs of every type of travelers.
As mentioned in the beginning, the city is known for its religious shrines and Ganges River. Apart from above, it is also renowned for forts and educational institutes.
The plethora of travel sites in Varanasi can be categorized into the following:
Buddhist Shrines in Varanasi
Hindu temples in Varanasi
Ganges River and Ghats of Varanasi
Places on the outskirts of Varanasi.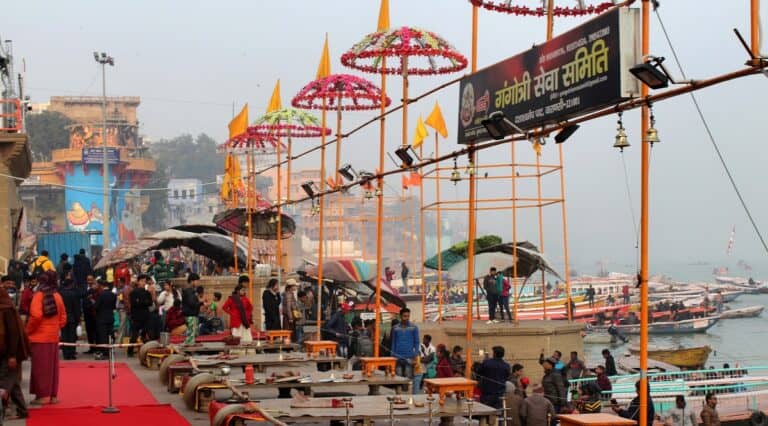 How Long to Stay to Explore Varanasi
It is always challenging to determine how many days are sufficient to explore any city, and in the case of Varanasi, it gets more complicated.
Many travelers visit the city and stay for months, and still, they can't explore it entirely while others stay for a day or two.
Anyone visiting Varanasi must understand that Varanasi is not a random tourist destination like other parts of India. Instead, it is the cultural capital of India and a stronghold of Hinduism and its principals. A few have devoted their entire life to Varanasi, understanding Hinduism and its bond with the city.
Varanasi is not a place to see, but a site to gain knowledge and that never comes easy or hasty.
Yet from a tourist perspective, four days is optimal to explore the city entirely. These four days can be divided into the following:
Day One: Arriving in the city and exploring the famous Buddhist Shrines in Sarnath
Day Two: Visiting the old city and famous Hindu Temples in the city.
Day Three: Visiting Ghats of Varanasi, Ganges River, and conversation with locals on Ghats.
Day Four: Exploring sites on the outskirts of Varanasi and departure.
4 Day Varanasi Travel Itinerary
Day One in Varanasi: Exploring Buddhist Shrines
While exploring Varanasi, it is advisable to dedicate the first day of the journey to Sarnath and its nearby areas.
Visited by millions of Buddhists annually, Varanasi is an important site in Buddhism.
It was here at Varanasi, Gautam Buddha gave his first sermon "The Setting in Motion of the Wheel of Dharma" and led the way for the spread of Buddhism.
The Ashok Chakra (a wheel represented with 24 spokes), used in the National Flag of India, also finds its roots in Varanasi. Ashok Chakra is the part of Lion Capital of Ashoka, excavated from Varanasi, and currently serves as the national emblem of India.
The majority of Buddhist sites in Varanasi lie in Sarnath and is a place of pilgrimage, both for Buddhists from India and abroad. A few of the sites are:
Pillars of Ashoka
Ashoka was the greatest king of ancient India, and he is known for conquering most of the Indian subcontinent.
Apart from the vast area, his reign was known for erecting pillars, also known as "Pillars of Ashoka." These pillars are some of the oldest stone sculptures found in India.
Measuring 12-15 meters in height and 50 tonnes in weight, today, 20 of these pillars still survive. During Ashoka's reign, these pillars were throughout north India. Most of these pillars were built by Buddhist monasteries, at sites associated with the life of Buddha.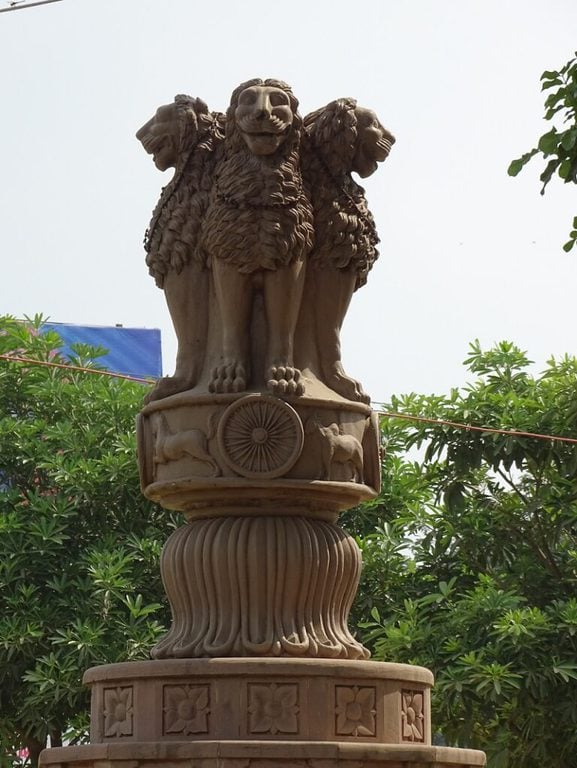 Dhamek Stupa and Chaukhandi Stupas
The Dhamek and Chaukhandi Stupa are a significant attraction in Sarnath.
Declared as the monument of national importance by the Archaeological Survey of India, these stupas are the oldest stupas found in India and the world.
In ancient times, they served as a place for meditation and preserving the remains of Buddhist monks or nuns. Built around 500 CE, they are cylindrical, measuring 44 meters in height and a diameter of 28 meters.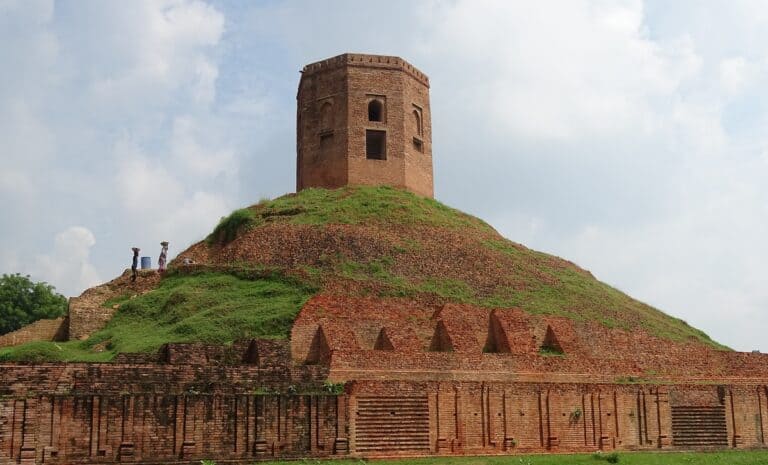 Sarnath Archaeological Museum
Probably the most important and a must-visit site in Sarnath, the museum has all the information related to Buddhism and Varanasi.
Managed by the Archaeological Survey of India, the Sarnath Museum lies adjacent to the Dhamek Stupa and one kilometre from Chaukhandi Stupa. The museum has old relies and manuscripts dating back to Buddha's and Ashoka's empire.
Sarnath Buddhist Temple
Situated adjacent to Dhamek Stupa, the temple is the most visited in Sarnath associated with Buddhism.
The temple compound has a Bodhi Tree, which is believed to be crafted from the Bodhi Tree at Bodh Gaya, where Buddha achieved enlightenment.
The temple compound has sculptures depicting the various stages in the life of Gautam Buddha and giving a sermon to his first five disciples.
Sarnath Buddhist temples are visited by thousands of pilgrims from the neighboring countries of India as well as Buddhists from India.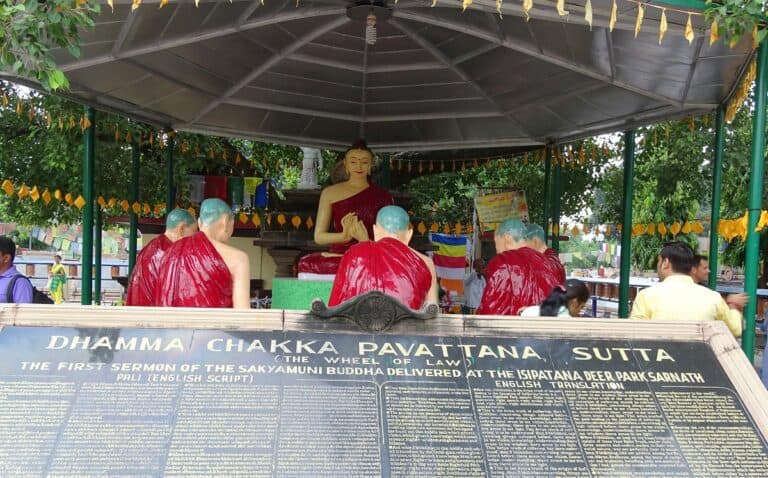 Other Buddhist Temples in Sarnath
Apart from the sites mentioned above, Sarnath has many more places associated with Buddhism.
In the last few decades, Missionaries have built many more temples for spreading Buddhism and the teaching of Buddha. The Wat Thai Temple, Vaishali Temple, Chinese Temple, and Sarnath Deer Park are a few places tourists can visit while exploring Sarnath.
Day Two: Exploring Hindu Temples and Understanding Hinduism
For day two, it is advisable to explore the Hindu temples in Varanasi. Hinduism and Varanasi are synonymous with each other, and one can feel it while exploring Varanasi.
It is said that the city has around 3300 Hindu temples, of which most are dedicated to Lord Shiva. A few of these temples are highly renowned and most visited. These temples are in the old city are close to each other; therefore, they can be easily visited in a day.
The famous temples in Varanasi include:
Kashi Vishwanath Temple
The Kashi Vishwanath temple is one of the 12 Jyotirlingas dedicated to Lord Shiva, and it is the most important temple in Varanasi. Mentioned in Skanda Purana, it is as old as the city and a significant pilgrimage for millions of Hindus.
Situated in the western bank of the Ganges River, Kashi Vishwanath Temple was destroyed and reconstructed several times in history. Today the temple is heavily guarded, and photography prohibited due to a long history of conflicts.
Any trip to Varanasi is incomplete without visiting the Kashi Vishwanath Temple. Due to its importance, sometimes it takes an entire day to get the darshan (glimpse) of primary diety.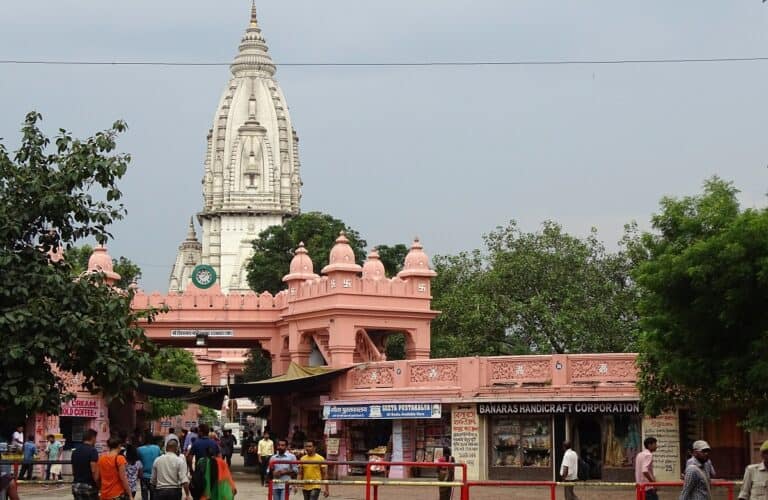 Sankat Mochan Temple
The second most visited temple in Varanasi after Kashi Vishwanath, the Sankat Mochan Temple is devoted to Lord Hanuman.
Situated on the Assi river banks, Goswami Tulsidas established the temple in the early 16th century. Sankat Mochan means "one who remediates problems," as Lord Hanuman protects his worshippers from any problems.
Astrologers also believe that worshiping Hanuman can neutralize the ill-effects of Mangal (Mars) and Sani (Saturn) as these two planets have an ill effect on human life.
Thousands of devotees visit Sankat Mochan Temple on Tuesday to offer prayer to Lord Hanuman.
Durga Mata Mandir
Dedicated to Goddess Durga, the Durga Mata Mandir is an important temple dedicated to a female goddess. Constructed in the 18th century, it is believed that the goddess idol was not made by humans but appeared on its own.
Bharat Mata Mandir
It is a unique temple in Varanasi, known for not dedicated to any god or goddesses or any religion. The Bharat Mata Mandir is dedicated to Bharat "India," and the temple compound hosts a massive map of India serving as the principal deity.
Tulsi Manas Mandir
Another famous temple in the city, the Tulsi Manas Mandir is known for its historical and cultural importance rather than religious affiliations.
It is dedicated to Hindu poet and saint Goswami Tulsidas, known for composing Ramcharitmanas ("Lake of the deeds of Rama"), an epic poem in the Awadhi language.
Other Famous Temples in Varanasi
Apart from the temples mentioned above, there are a few more temples one can visit in Varanasi.
These temples include Parshvanath Jain temple, New Kashi Vishwanath Temple (must see), Kaal Bhairav Mandir, and Mrityunjay Mahadev Mandir.
Day Three: Ganges River and The Ghats of Varanasi
After exploring the religious shrines in the city, it is time to visit the lifeline of Varanasi.
The Ganges River and Varanasi form a cohesive bond, i.e., the most sacred river of India flowing through the holiest city. The striking feature of the Ganges in Varanasi is the numerous ghats on its banks. These Ghats are riverfront steps leading to the River Ganges, and most of them are on the western bank of Ganges.
The Ghats of Varanasi are not the usual, and they are deeply rooted in the culture of the city, evolving over centuries. These ghats serve as a platform for religious ceremonies, cremation ground, and a place for intellectual conversations and religious debates.
Today, these ghats act as the soul of the city and visited by tourists throughout the day.
There are more than 100 ghats in Varanasi, named after Gods, Kings, and Queens and notable celebrities and scholars.
Some prominent Ghats of Varanasi are:
Dashashwamedh Ghat
The most spectacular Ghat among all, Dashashwamedh Ghat is renowned for hosting Ganges Arti performed by Hindu Priests. Every day in the evening, priests perform Arti, and there is a provision of special aarti on Tuesday and major Hindu festivals.
According to Hindu Mythology, Lord Brahma sacrificed ten horses during a yajna (Dash =Ten Ashwa = Horse, medha= Yajna), thus the name Dashashwamedh. The ghat lies adjacent to Kashi Vishwanath Temple, and one can visit the ghat while visiting the temple.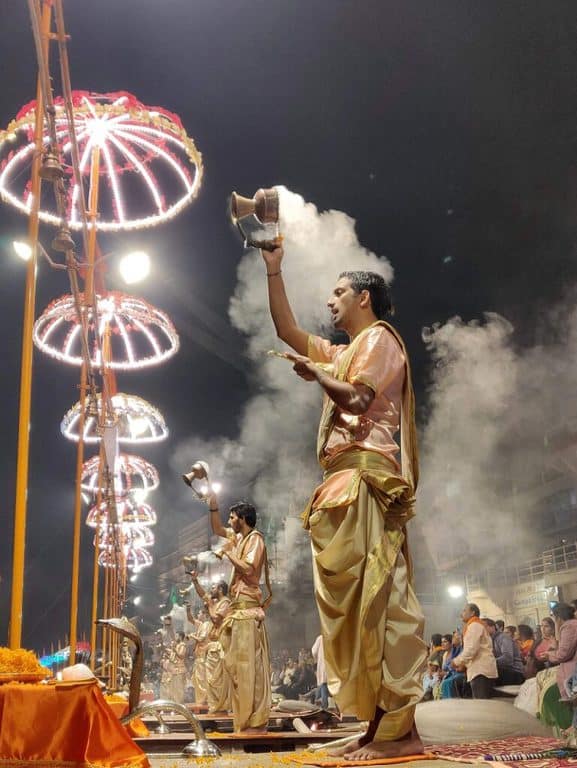 Manikarnika Ghat & Harish Chandra Ghat
These two ghats serve as the Hindu cremation ground, and only males are allowed.
At Manikarnika Ghat, Lord Shiva is prayed as Taraskeshvara, i.e., one who gives the Taraka mantra in the ears of the dead. The ghat derives its name from Mani (Lord Shiva's crest jewel) and Karnika (Goddess Parvati's earrings) that fell here when they were bathing.
Similarly, Harish Chandra Ghat is known for always speaking the truth. According to Markandeya Purana, to fulfill the promise made to Sage Vishwamitra, Harishchandra stepped down from being a king and went into slavery. That's when he started cremating deceased at Varanasi and taken the name Harishchandra Ghat.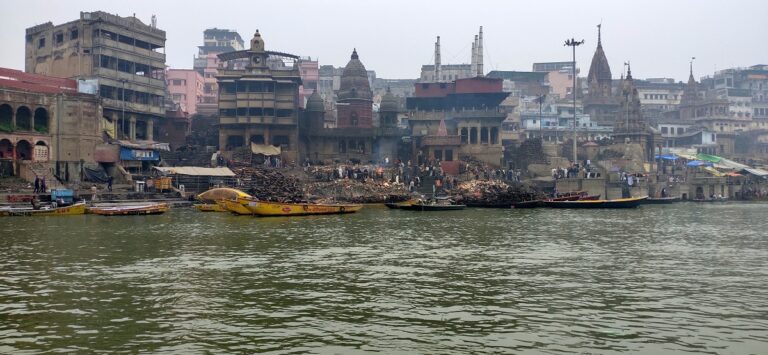 Assi Ghat
The Assi Ghat is the southernmost Ghat in Varanasi, situated on the confluence of the Ganges and Asi River. Many sacred books mention Assi Ghat, and initially, it was more than 500 meters in length, but over time, divided into smaller ghats.
The ghat has many cafes, restaurants, and a fare ground. Often visited in the morning or evening, Assi ghat is a place of spiritual conversations and research.
There are many small Dharamshalas (cheap homestays) and Ashrams adjacent to Assi ghat, and it is a famous spot for shooting Bollywood (Hindi) movies.
Day Four: Other Places to visit in Varanasi
In three days, one can visit the famous places in Varanasi like temples, Buddhist shrines, and ghats. Yet, Varanasi is not only known for above, but also for forts and educational institutes.
Benaras Hindu University
The Benaras Hindu University (BHU), a premier educational institute in India, lies in Varanasi. Established in 1916 by Madan Mohan Malaviya and Annie Besant, it is the largest residential university in Asia. The university spreads over 1,300 acres and is divided into 14 faculties of 140 departments and 30,000 students.
Visting BHU provides a glimpse of the Indian education system and how it evolved over the decades.
Moreover, the university campus hosts a new Kashi Vishwanath Temple built by the Birla family of India.
Ramnagar Fort
Another major attraction in the city is the Ramnagar Fort. Built-in 1750 by the Maharaja of Varanasi, the Ramnagar fort lies on the eastern bank of the Ganges River.
The royal family still occupies the fort's major portion, and a part is open for visitors. The Ramnagar fort has carved balconies, courtyards, and pavilions.
It lies 12 kilometres from the central city, and the fort showcases the medieval Indian architecture and its amalgamation with Persian architecture. There is also a small museum within fort known as Saraswati Bhawan providing detailed information about the History of Varanasi and its emperors.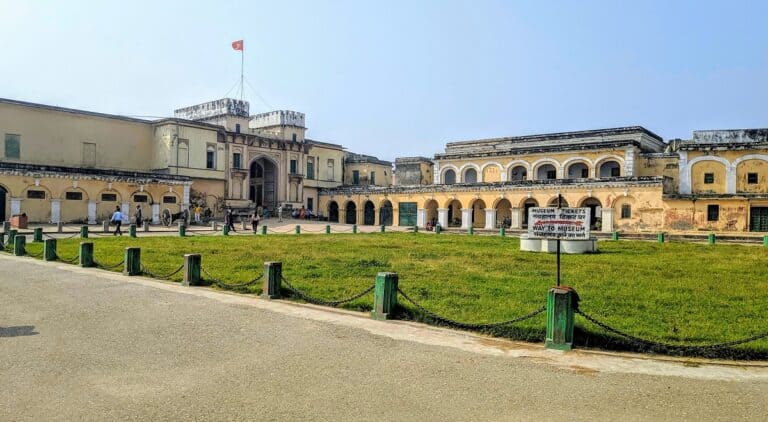 What to Eat in Varanasi
Indian cuisines are known all over the world, and Varanasi is no exception.
Here are some unique foods you should try in Varanasi:
Lassi
In Varanasi, one can find the food menu of entire India, and Lassi and Malaiyo are special here and worth a try.
Lassi can be found in the whole of India, but the Lassi in Varanasi is famous for its bluish color, thickness, and use of dry fruits.
Malaiyo
Malaiyo is also known as Makhan Malai, and it is indigenous to Varanasi.
Yogurt is used to prepare Lassi, while Malaiyo uses Milk cream and requires eight to ten hours of preparation.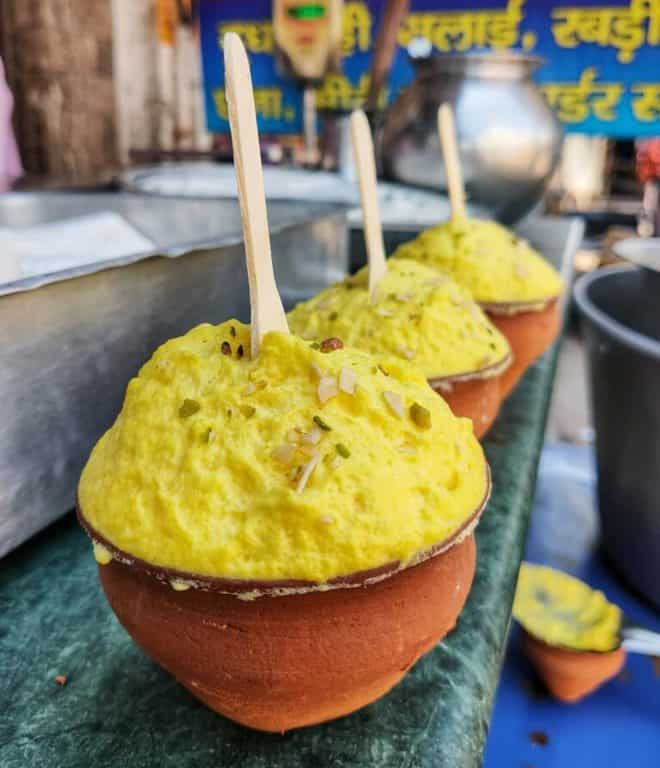 Litti Chokha
Another must-eat dish is "Litti Chokha," mostly prepared in eastern Uttar Pradesh and Bihar with wheat flour and filled with sattu.
The flour is mixed spices and baked over coal. Finally, Litti Chokha is coated with butter and eaten with yogurt, Baingan Bharta, or Aloo Bharta.
Where to Eat in Varanasi
The city has many food joints and restaurants, but it is the street food in Varanasi, which one must try.
Marwari Bhojnalya is a recommended shop for traditional food, and for street food (in Hygienic shops), Deena Chat and Kashi Chat Bhandar are the best options.
For trying Litti Chokha, the Baati Chokha Restaurant is the best place to visit.
While exploring Varanasi, travelers must be vigilant about the chaotic lanes and hygiene.
It is advisable not to start with the local street food and first try to accustom yourself to the environment and food. Moreover, Indians use abundant spices, which may or may not be to your liking.
Where to Stay in Varanasi
As Varanasi is one of the most visited tourist destinations in India (particularly in northern India), the city offers a variety of accommodation facilities.
The accommodation cost may vary from a few hundred rupees to thousands. Not only the city has cheap homestays but also three and four-star hotels.
Varanasi also has many Dharamsalas that offer cheap accommodations for a longer duration, and are usually reserved for a week or two. Dharamsalas are mostly concentrated around the Ghats, and big and fancy hotels are on the outskirts.
While visiting Varanasi, it is advisable to stay near the Ghats as most tourist attractions lie near the ghats. It is only the Buddhist Shrines in Sarnath, which requires an hour's drive from the central city.
You can check out accommodation options in different areas of Varanasi using the map below.
In a nutshell, a variety of accommodation is available in Varanasi, and the town provides options catering to every visitor's needs.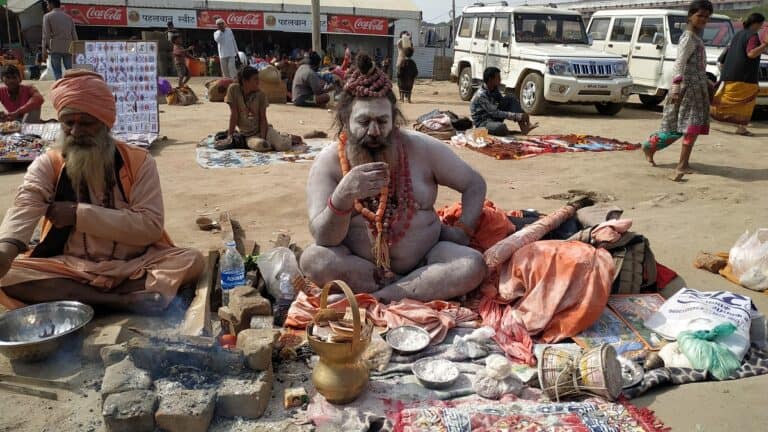 Why Visit Varanasi
Although there are so many places and cities to explore in India, Varanasi has its enchantment. Varanasi is not a place where tourism boomed in the last few decades; instead, it was visited by pilgrims for hundreds of years.
It represents a mini India accommodating people of all class, religion, race, and exhibits the famous "Unity in Diversity."
Though a significant Hindu town, it incorporated people of different faiths, and today it is one of the culturally diverse cities in India.
Moreover, one will hardly find a place where people come for dying, but it is Varanasi where this happens.
If you ever get a chance, visit this beautiful city and experience India's vibrant culture.