You can use a good pair of binoculars for many things- from stargazing to birding. Here, we outline the best binoculars you can use for beach viewing. We also considered some concerns like the amount of glare. Read on to find out the pair of binoculars that best suit you.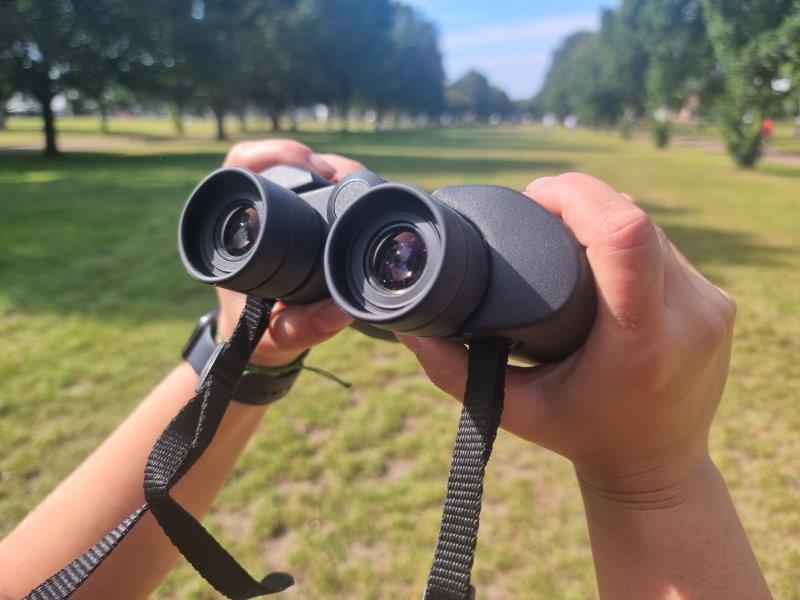 What are the Best Binoculars For Beach Viewing?
We have compiled for you the top 8 Best Binoculars For Beach Viewing in 2023. In this article we go through the products that we have used ourselves, checked what other users thought about them and we ranked them accordingly.
With years of experience with binoculars for beach viewing and having used several binoculars for beach viewing you can trust our review.
Moreover, you can scroll to the end of this review to see our mini buying guide as well as the answers to some of the frequently asked questions about binoculars for beach viewing.
Specs
Price: 💲💲💲💲 (fewer 💲 = cheaper)
Size: 5.5 x 2 x 4.8 inches (14 x 5.1 x 12.2 cm)
Objective Lens Diameter: 42 mm
Magnification: 10x
Eye Relief: 16 mm
Waterproof: Yes
Video: Yes
The Carson 3D Series 10×42 High Definition Waterproof Binoculars with ED Glass feature a 10x magnification and a 42 mm objective lens. The long 16mm eye relief makes them easy to use while wearing eyeglasses if needed. The phase corrected roof prisms provide crystal clear images with sharp color contrast. The optics have been nitrogen purged for waterproof capabilities that allow these binoculars to be used outdoors in a variety of climates. They also include a harness and a neck strap for convenience. They do not come with protective eye caps, and the carrying case is a bit flimsy. The textured exterior and ergonomic thumb grips make them easy to handle.
Pros
Edge to edge sharpness,
Includes both a neck strap and a harness,
Waterproof for use outdoors in various climates,
Good for use with eyeglasses
Cons
No eye caps provided,
Flimsy case
Specs
Price: 💲💲 (fewer 💲 = cheaper)
Size: 5.1 x 2 x 6.1 inches (13 x 5 x 15.5 cm)
Objective Lens Diameter: 42mm
Magnification: 8X
Eye Relief: 15mm
Waterproof: Yes
The waterproof Hontry 8X42 binoculars offer birdwatchers clear views in all weather conditions. The broad objective lens and multiple coated glass help let in maximum light to produce bright images.
With these binoculars, you get a wide field of view, allowing you to view more from far away. The plastic outer covering makes these sturdy enough to withstand damage.
Additionally, the twist-up eyecups provide much-needed eye relief to glasses-wearing users. Overall, for the price, these perform their function well.
Pros
They provide clear and bright imagery,
Work well in low light,
They have a wide field of view,
They come with a quality carrying case and a long strap
Cons
Stabilization isn't perfect,
Some might find it hard to adjust the focus
Specs
Price: 💲💲💲 (fewer 💲 = cheaper)
Size: 7 x 3 x 8 inches (17.8 x 7.6 x 20.3 cm)
Objective Lens Diameter: 42mm
Magnification: 8X
Eye Relief: 18mm
Waterproof: Yes
The Celestron Outlander X binoculars are an inexpensive choice for novice bird-watchers. The large objective lens provides a wide view and clear images to viewers. The visuals lack some brightness but not too much to be considered a deal-breaker.
The binoculars seem to have durable construction and are waterproof as well as fog proof as advertised. The binoculars are also tripod adaptable if you want to get more stable pictures.
The adjustments options can be somewhat tricky but allow for a custom viewing experience for its users.
Pros
It has an adjustable right eyepiece for custom visual focus,
The build quality is sturdy,
Provide clear images,
Easy to use for all ages
Cons
Images are a bit dull,
The right side eyepiece adjustment is a bit too sensitive
Specs
Price: 💲💲💲💲 (fewer 💲 = cheaper)
Size: 9.4 x 8.7 x 4.7 inches (24 x 22 x 11.9 cm)
Objective Lens Diameter: 50mm
Magnification: 7X
Eye Relief: 22mm
Waterproof: Yes
Stabilization: Yes
The military standard HOOWAY binoculars are a good choice for users expecting rain. These binoculars are not only waterproof and fog proof but also float when dropped in water, so you won't lose them even if you drop them in a lake. Additionally, the fully multi-coated optics and broad objective lens of the binoculars produce bright and crisp views. The binoculars come with a built-in illuminated rangefinder, which an expert would love but a novice navigator might find difficult. The robust rubber housing makes these binoculars durable for all kinds of activities. The binoculars include image stabilization, but it is also tripod compatible if you want to increase stabilization.
Pros
These deliver bright and clear images,
These can float in water,
Includes an illuminated compass and rangefinder,
The non-slip rubber covering provides a firm grip
Cons
Some might find the rangefinder challenging,
Some might find adjusting the focus tricky
Specs
Price: 💲 (fewer 💲 = cheaper)
Size: 8.9 x 8.7 x 4 inches (22.6 x 22.1 x 10.2 cm)
Objective Lens Diameter: 50mm
Magnification: 10x
Eye Relief: 13mm
Waterproof: Waterproof
Perfect for adventure enthusiasts, the 10×50 Powerful Binoculars for Adults are an excellent choice to catch all the fast-paced action, be it at sporting events or during a wildlife safari. Blessed with a capacious field of view, these binoculars effortlessly ensure that your subject, however swiftly it moves, stays within your viewing zone. On top of that, boasting a robust rubber exterior, these binoculars vow durability and a strong grip.
Moreover, these 10×50 binoculars are ideal for outdoor excursions as they come with a handy waterproof feature, providing resilience against unexpected showers or accidental splashes. Additionally, they feature multi-coated lenses, engineered to deliver brighter and clearer images to enhance your viewing experience.
However, those who regularly use glasses might encounter setbacks with this binocular due to its rather short eye relief. Also, they may necessitate frequent readjustments for focus, even at the same viewing distance, which could be a bit distracting during use.
Pros
Expansive field of view,
Resilient to water,
Features multi-coated lenses,
Built with a sturdy rubber exterior
Cons
Limited eye relief,
Frequent focus adjustment needed
Specs
Price: 💲💲 (fewer 💲 = cheaper)
Size: 5 x 4 x 2.8 inches (12.7 x 10.2 x 7.1 cm)
Objective Lens Diameter: 25mm
Magnification: 8x
Eye Relief: 12mm
Waterproof: Waterproof
The Bushnell H20 Waterproof Compact Roof Prism Binocular could be suitable for those who want a pair that can withstand the elements of nature. The binocular is waterproof and fog proof so you can bring it on all your adventures. Having multi-coated lenses, it has greater light-gathering capability. Thus, you will receive brighter images. You will also be glad that the focus dial is easy to manipulate. The rubber coating on the exterior will also protect the binocular from damage. Those wearing glasses can note that the eye relief on this pair of binoculars could be not suitable for them. Also, the eyepieces could be too narrow for some.
Pros
Lenses are multi-coated,
Waterproof and fog proof,
Focus dial is easy to manipulate,
Rubber coating provides a comfortable grip
Cons
Eye relief is not long,
Eyepieces could be too narrow for some
Specs
Price: 💲 (fewer 💲 = cheaper)
Objective Lens Diameter: 50mm
Magnification: 20x
Eye Relief: 26mm
Waterproof: Waterproof
Providing a expansive view of your surroundings, the 20×50 High Power Military Binoculars are a powerful accessory for anyone keen on beach exploration. Encased in a sturdy rubber shell, these binoculars are built to withstand outdoor adventures, weathering the elements beautifully. Their center-focus knob ensures quick, effortless adjustment for clear and sharp viewing, enhancing your beach viewing experience marvelously.
One less thing to worry about while exploring is the lens cap – it's seamlessly attached to the binoculars, so there's no chance of misplacing them while on the go. The relative lightness of these binoculars means they can be carried around for prolonged periods of time – perfect for those long, invigorating beach treks.
A point to consider though is that these binoculars aren't compatible to be paired with a tripod, mostly due to an absence of a screw-hole. Also, the strap could benefit from a more secure design but this is a minor setback given the overall quality and features of this product.
Pros
Quick and easy adjustment settings,
Durable, weather-resistant construction,
Attached lens cap reduces loss risk,
Exceptionally lightweight for lengthy travel
Cons
Strap doesn't secure binoculars optimally,
Lack of tripod compatibility
Specs
Price: 💲💲💲 (fewer 💲 = cheaper)
Size: 5.8 x 5 x 2.1 inches (14.6 x 12.6 x 5.3 cm)
Objective Lens Diameter: 42
Magnification: 10x
Venture into the world of exploration with the Gosky 10×42 Roof Prism Binoculars for Adults. They're ideal for a variety of outdoor pursuits, such as hiking, bird watching, or catching the nuanced plays of a thrilling sports match. One of the outstanding features that sets this model apart is its smartphone adapter. It's not everyday you find a pair of binoculars that offer the ability to capture and record the mesmerizingly clear and crisp images you see directly to your phone. This gives an advantage for bird watchers, allowing them to record their finds, make a digital diary, and share their passion with others.
When it comes to user-friendly features, the Gosky 10×42 binoculars don't shy away. The focus knob, for instance, is intuitive and simple to operate. This, combined with lightweight rubber lens caps, makes it an attractive pick for both newbies and seasoned users. Moreover, the Gosky team stands out with its approachable and responsive customer service, adding another layer of reliability to your purchase.
However, every product has room for improvement. This model, with its durable construction, tips a bit on the heavier side and may not be as compact as some adventure seekers might prefer. Additionally, the strap on the binocular case could be more secure to ensure the safety of the product during vigorous activities.
Pros
Comes with a Smartphone Adapter,
Lightweight rubber lens caps,
Easy-to-use focus knob,
Excellent customer service
Cons
Slightly bulky,
Case strap could be more secure
Verdict
To summarize, we have gone through dozens of binoculars for beach viewing and decided that 8 are worth your consideration. Out of these, the absolute Best Binoculars For Beach Viewing is Carson 3D Series 10×42 High Definition Waterproof Binoculars which we highly recommend as our overall best.
If money is not an issue, you can consider Carson 3D Series 10×42 High Definition Waterproof Binoculars as this is our Premium Pick.
Otherwise, there's no shame in spending prudently, 10×50 Powerfull Binoculars for Adults is the Budget Option.
Our other reviews you may find useful in your research:
What You Should Know Before Buying binoculars for beach viewing
Waterproofing
Waterproof binoculars often have O-rings to stop moisture from getting inside and damaging your binoculars. However, they can still be foggy. Depending on the design and materials used, some waterproof binoculars are generally more submersible than others, for a limited time and limited depth. If your binoculars comes into contact with water unexpectedly, make sure to dry it as soon as possible as it may get damaged.
Magnification
When it comes to binoculars, particularly for outdoor activities like fishing or hunting, a high magnification isn't always optimal. Too much zoom can diminish image quality. Your ideal magnification sweet spot should typically sit between 7X and 8X. This offers a solid balance of detail without sacrificing the breadth of view. High magnification can taper your field of vision. However, if observing distant objects is your top priority, a higher magnification could serve you better.
Objective Lens Diameter
When choosing a pair of binoculars for your beach adventure, pay attention to the objective lens' diameter. This size plays a vital role in the amount of light let in, impacting the image quality significantly, particularly in darker settings. The lens size is the number following the 'X' in the product's description. A great rule of thumb is to aim for a ratio of 5 to magnification for optimal viewing. Comparatively, a binocular labeled 8X40 would offer better image quality than an 8X25 due to its wider lens diameter.
Questions and Answers About binoculars for beach viewing
What is a wide angle binocular?
A wide-angle binocular enables you to see a wider view through your binocular. These types of binoculars are used widely in sporting events, birdwatching, and hunting. You will be able to track objects that are moving at a rapid pace due to the wide view of imagery you are provided.
What is the use of binoculars at the camping?
A camping trip is the perfect opportunity for you to stargaze. This is because you are generally away from city lights that can make stargazing much harder. With a good binocular, you are able to see craters on the moon, and even other planets too! You can also use it in the day for following your favorite bird.
Can you zoom in with binoculars?
Binoculars with adjustable magnification can zoom in or out unlike binoculars with fixed magnification. Depending on the model you get, binoculars can zoom in or out making the image seem 10-22 times larger than it actually is. To zoom in, simply adjust the lever on your zoom binoculars by increasing the magnification. Move the barrels or lever inwards to zoom in and outwards to zoom out.
What is the best optical zoom for binoculars?
The recommended optical zoom for your binoculars is a magnification of up to 10X. High magnification will often lower the quality of the images. The images will be blurry and less stable due to hand movements. High magnification also narrows the field of view and reduces the brightness of the images. It's preferable to use a tripod if you're using your binoculars for a magnified view.
What do the 3 numbers on binoculars mean?
The three binocular numbers refer to its magnification power and the size of the objective lens. The number may look like 10-30X25 or 10/30X25. The dash on the numbers means that the binoculars are zoom binoculars, while the slash means that the binocular has two sets of eyepieces. The numbers 10 and 30 indicate that the binoculars can magnify an image 10 to 30 times. 25, on the other hand, refers to the size of the objective lens, in this case, 25 mm.
What binoculars do Navy Seals use?
The Marine Corps uses the 7×50 M22 binocular as its primary field binocular. The 7×50 M22 binocular provides a balance between ease of stabilizing images and magnification capability. As we all know how the seas are anything but calm, it may be hard to use binoculars with higher magnification. The 50mm lens also help to provide better vision in low-lighting environments that navy seals need at night.