Thailand is becoming increasingly expensive as the years go on. Gone are the days of $2 huts, but there are still some great deals to be found. It may not be a $10/day budget, but it's still great value for money. One of our favourite destinations in Thailand is the island of Koh Phangan. Here are some of our secrets for traveling here on the cheap…while still having an amazing time!
Sleeping in Koh Phangan
There are loads of hotels, huts, apartments, hostels and guesthouses on Koh Phangan. You can choose to stay right on the water, or away from the water, you can stay as glamorous as you like or as cheap as you like. Sticking to the theme of budget travel, we opted for the comfortable huts at Lighthouse Bungalows on Leela Beach, for $15/night.
The English owner and her Thai husband have been running this place for a very long time. The staff are Burmese and Thai and will treat you like family. The huts have unobstructed views out into the sea, bathrooms inside, comfortable beds, big balconies perfect for enjoying morning coffee and hammocks for relaxing in.
The best part about staying at Lighthouse Bungalows? It's away from everything and everyone. It's located right out on the point and is surrounded by boulders – perfect for jumping off into the water! It's a 3 minute walk to Leela Beach and a 15 minute walk to Haad Rin Beach.
Eating in Koh Phangan
There are so many options for the budget traveller in Koh Phangan. Whether you feel like sushi, seafood, sandwiches, Thai food, burgers, pasta, noodle dishes, Greek food, curry or pizza, it's all available. If you're on an extra small budget, definitely go to the supermarkets in Thong Sala and the fresh vegetable and fruit markets to buy some produce. Fresh pineapples, bananas, mangoes, dragonfruit & mangosteens are delicious! Making a salad with a can of tuna on top, or hard-boiled eggs and having a picnic is a great idea! The night before, stop at one of the little shops or 7-11's and get some yogurt, a small box of cornflakes and a banana. Voila! Breakfast the following morning.
Apart from making food yourself, check out these cheap and delicious eats:
1. My Friend Restaurant. Our number one recommendation for eating on a budget, while enjoying authentic Thai cuisine. The owner here is so friendly! Come for food, or come for beers and people watching, it doesn't matter, but just make sure to come here! Try the jungle curry, green curry, spring rolls, shrimps and pad thai. Meals start at just 50THB ($1.70).
2. Seafood BBQ on Leela Beach. From time to time you'll see BBQ's being set up on the beach and we suggest you save up your baht to enjoy this meal. It's 300THB ($10), BUT it includes an all-you-can-eat buffet of fresh tuna, barracuda, white snapper, red snapper, prawns, shrimps, potato salad, green salad and baked potato! We literally had full fish on our plates and stuffed ourselves, the best $10 ever spent.
3. Lighthouse Bungalows Restaurant. The food portions here are massive and the flavours cooked up by the Burmese and Thai staff are delicious! The pad thai is 90THB ($3) and is very filling.
4. Mama Schnitzel. This 24/hour place is really popular! The chicken schnitzel meals are a bit pricey, but try their baguette sandwiches for only 60THB ($2) and large green salads with tuna for 120THB ($4).
5. Tea Stalls. If you want to try some Thai tea, check out the local tea stalls! They serve up milky, sweet teas with ice for 20THB ($0.68).
6. Pancakes. Of course these had to make the list. Crepes/pancakes of many flavours (from cheese to chocolate) can be found all over the place and cost between 30THB – 60THB ($1-$2), a great snack!
Activities in Koh Phangan
Koh Phangan is a jungley Eden with so much to do. Whether you're into relaxing or being adventurous, there's something to suit everyone's needs.
For Free:
1. Lay on one of the many gorgeous beaches and read a book, have a beer and throw around a frisbee.
2. Head to Chaloklum in the North of the island and check out the beautiful temples.
3. Fish off of the rocks with new Thai friends.
4. Visit one of the 5 beautiful waterfalls on the island.
5. Play beach volleyball at Cocohut on Leela Beach. All you need is a deposit on the volleyball and you're good to go!
6. Watch fire twirling on the beach in the evening.
For A Fee:
If you have some money left on your budget, be sure to…
1. Go Scuba-Diving. This isn't for those on a small budget, but is still a good deal. Dives are between 700THB – 1000TH ($23-$35) depending on whether or not you have your own equipment, and how many dives you will be doing. A day out will include a day on the boat and lunch.
2. Rent A Motorbike! In our opinion, this is a must for anyone coming here. Getting out and exploring the island on your own steam is something everyone should do. The cost of a motorbike for 24 hours is 150 – 250THB ($5 – $8.50) and a litre of petrol is 30THB – 40THB ($1- $1.35). You can cut the cost in half by sharing a bike with someone. Also, it's standard to give up your passport when renting a bike, so the owners have some collateral if you break the bike…be sure to wear a helmet.
3. Attend A Full Moon Party. If you didn't want to drink, this could be classed as "for free", however, if you're not on something at this party, you probably won't want to be there! Music, thousands of people, fire twirlers, neon body paint, black lights and everything else you can imagine happens at this epic, 24 hour beach party.
4. See A Muay Thai Boxing Match. You'll see trucks driving around announcing the latest boxing match. Get a ticket and check out this popular Thai sport. Tickets go for about 500THB ($17).
5. Go Snorkelling. This won't cost you too much. Head up to Mae Haad Beach and small island of Koh Mar, which is attached by sandbar. Rent some snorkel gear on the beach and enjoy the underwater life! It's typically about 90THB ($3) for the day. There are so many things to do on this exciting island. You could also try a Thai cooking class, yoga and kayaking!
Koh Phangan Budget for One Day
Room: $15 (for a double room, cheaper huts are available) Food: $4.40 (eating a cheap breakfast of yogurt and fruit and 2 meals out) Bottles of Water: $1.70 (for 5 bottles) Big Bottle of Beer: $1.70 (for one)
Total: $22.80
Add… Moped/Motorbike Rental: $5 (split the cost and share a bike with someone) Petrol: $1.35 Total: $6.35 Renting a motorbike would bring your budget to just over $25/day, especially if you share the cost of the rental. However, you won't rent a bike every day, so save up your baht from the days before and you'll be able to fit it into a $25/day budget!
[box type="info" style="rounded" border="full"]We try to never miss out on exciting excursions or must-do activities while traveling. In order to fit it into our budget, we just scrimp for a few days beforehand in order to save up. For example, we might eat extra cheap food, not have any beers or chocolate bars in order to do something that is really important to us (a particular tour, renting a motorbike or going snorkelling.) We suggest you don't miss out on anything you really want to do either!
Thailand is a great country to travel through and Koh Phangan is an exciting island jam-packed with things to do and see. It's relaxing, it's beautiful and the people here are friendly. Outside of the Full Moon Party, you'll have the island virtually to yourself. We ended up loving our time so much in Koh Phangan that we stayed here for a month! We were never bored and we highly recommend this tropical paradise.
For everything you need to know about traveling through this region on a budget, check out our Guide To Budget Backpacking In Thailand . Also, check out our quick transportation video of how to travel from Koh Phangan, Thailand to Kuala Lumpur, Malaysia.
Have you ever been to Koh Phangan? Were you able to travel for under $25/day? Leave a comment below!
About The Authors: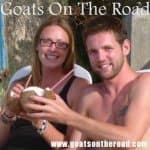 Nick & Dariece have left everything behind in search of cultural experiences, beautiful beaches and off the beaten path adventures. They call themselves Goats On The Road and their website for budget backpackers encourages others to pack their bags and leave the ordinary behind. Visit Goats On The Road and get excellent tips for the adventurous budget backpacker!