Flying to Kathmandu we were told that getting a taxi from the airport to Thamel used to cost around 500 Nepalese rupees (NPR), but since India blocked the fuel transports to Nepal, the prices get as high as 2000 NPR – that's nearly $19 for 6 km ride. We wanted to walk, as we usually do, but the girl we spoke to, who has been living in Kathmandu for the past 6 years, said it may be dangerous to do so at night (she said that there's an increasing number of people who are desperate for money).
Since late September 2015 Nepal is unable to import sufficient fuel to enable people to live normal lives and recover from a recent earthquake. It is due to "alleged" Indian blockade of petrol and gas transports to this land-locked country. The only other country from which Nepal can source petrol is China, but the 2015 earthquake, and continues landslides that followed, severed the roads that connect the two countries. China is doing its best to deliver on the promise to supply one third of Nepal's fuel demand, but as of January 2016, there's still a big gap between supply and demand, which created a fuel black-market with inflated prices paid by locals.
Don't be surprised or angry if you are asked to pay more than you have read on the internet. The prices went up for locals and they have to pass it onto their customers. If you are on a tight budget, an alternative to taxis would be hiring a motorbike. We rented one for 600 NPR a day ($5.5) and a black-market petrol costs around 300 NPR per litre ($2.75).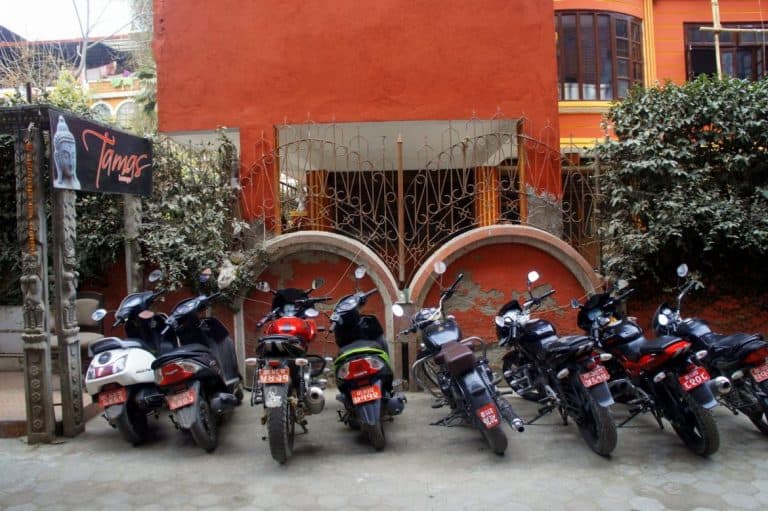 Now, locals working in nearly every industry have to pay higher prices, wait in line for days for the normal price, or go about their business without fuel. It's not only drivers that suffer from this, restaurants need gas to cook, hotels need it to warm the rooms, power stations do not have sufficient supply to power households around the clock. Nearly everyone is affected. Nepali people and economy, which were recently struck hard by the earthquake, are further denied the opportunity to stand back up. Even though it is harder and more expensive to travel to Nepal, it is the best possible moment to go and help support the amazing people of Nepal. You don't need to volunteer, you just need to go and support at least the travel industry as a consumer.
Please share this article to help Nepali people.