"Goodbye may seem forever. Farewell is like the end, but in my heart is the memory and there you will always be."

Walt Disney
Dear China…
Goodbyes are always the hardest parts of our lives. They might be even harder if you say goodbye to people you spent amazing 2 years with, the beautiful places you will never forget and the country that has changed your life forever.
I'm at Hong Kong International airport waiting for my flight back home. I was here a couple of times before to catch my flight to various Asian travel destinations such as Japan or to get back home for summer or Christmas. Today's different. Today I'm saying goodbye to China and I'm not coming back, at least not in the near future. This time I'm leaving for good. This is it and I can't believe I'm saying that. With tears in my eyes and smile upon my face I'm writing this goodbye letter to China.
I spent here 2 years, 2 amazing years full of adventures and memories – the good ones and the bad ones. This was my very first backpacking destination I fell in love at first sight. This is the country I was passionate about as a little girl. This is the place where I have learnt how to be a blogger, traveler, explorer, teacher, listener, dreamer, fighter and culinary adventurer. The place I sometimes hated so much and the place I adore and admire. The place whose scenery left me speechless and then turned me into a storyteller…
During these 2 years of my expat life, firstly living in Huayuan and Xiushan and afterwards in Dongguan, I have managed to travel to 15 out of 22 different provinces, I have eaten thousands of Baozi, learn around 300 different Chinese sounds and spoke to hundreds of locals who, in some ways, inspired me, made me smile, made me proud of myself, helped me out or left me speechless. I loved every second of it and I will miss these moments and people a lot.
Things I will never forget:
1. Long, exhausting and uncomfortable train rides.
Believe me or not, but long distance train rides with standing tickets were one of my favourite China things. I not only met amazing people who I could practice my poor Chinese language skills with, but also saved a lot of money on transport cost.
Me and Cez wanted to travel as much and as cheap as possible when in China. Getting a standing ticket was a great opportunity to get a train ride for about $5 (16 hour+ journey). Of course it was dreadful and uncomfortable (back pain guaranteed), but sometimes you need to make some sacrifices in the name of budget travel, right?
During these long distance train journeys we met truly special and unique locals. We spoke to them, we had some food with them, played chess, listened to music and laughed a lot. I'll cherish these moments forever.
2. Stunning landscapes.
China's landscape took my breath away too many times. I was blown away by the incredible floating Hallelujah mountains in Zhangjiajie where the Avatar movie was made, stunning Yangshuo river or Tibetan mountains.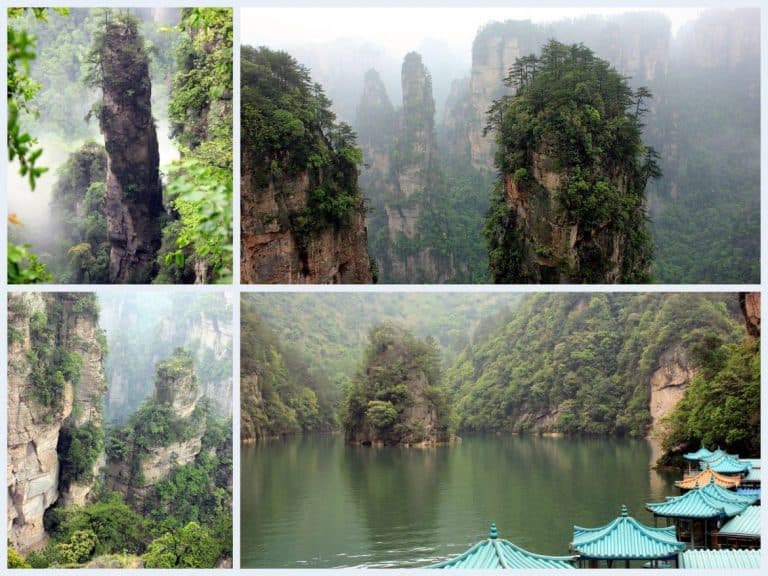 China, without a doubt, helped me discover my passion for trekking, hiking, climbing and cycling. I became more curious about local places where ordinary tourists never get to and I've learnt how to observe and interact with nature.
China gave me this opportunity to visit one of the biggest, busiest and most developed in terms of technology cities in the world. I was lost in cold Shanghai where I had a dinner on top of the Pearl Tower and felt posh in glamorous Hong Kong where I craved world's most famous Hong Kongnese dish called dim sum.
On my China journey, I explored an enormous number of local temples, parks, UNESCO spots, Buddha statues and hot spring spas.
The places I will never forget are these little hidden ones not listed in Lonely Planet books or travel guides. The small towns like Fenghuang, Huayuan or even Xiushan – charming and lovely, undiscovered by tourists with authentic cuisine and real warm smiles of locals.
3. Baozi!
I'm absolutely obsessed with Chinese dumplings called baozi. I love their smell, thick texture and rich filling. Maybe because I'm Polish and pierogi are our traditional dish, I don't know. There is nothing better than grabbing a fresh and soft veggie baozi in the morning from one of food vendors. A morning without baozi meant something bad or unlucky was going to happen, no joke!
During these two years I discovered my passion for food. I started cooking traditional Chinese dishes at home and experiment with different flavors by mixing different herbs and spices.
I'll never forget my and Cez's food binges on jiaozi, fried rice, you tiao, tropical fruits and some other (disgusting) dishes such as fried bees or grilled cockroaches.
4. My cute, adorable and always smiling students.
I came to China not only to sightsee but also to work as an English teacher. My aim was to get more teaching experience, find out whether teaching is what I really want to do for living in the future or not, improve the English speaking capabilities of Chinese students, inspire them, gain their interest and motivate them to speak English.
It's been a long journey with hundreds of high school and kindergarten students, but we made it. We studied hard every day. I enjoyed every minute of my class with my little monsters although they did make me angry and furious sometimes! I gained a lot of teaching experience in Huayuan Public High School as well as Dongguan Bowen Kindergarten.
I will miss my morning English classes, warm-up activities, my students' smiles and their funny gestures. We had a lot of fun, indeed!
5. Locals and their hospitality.
One of the things I've learnt when in China is that Smile speaks any language. It's not about the language, it's about your personality, hospitality and generosity. You don't need to speak the local language to show your respect to foreign culture and traditions, to make someone feel loved and adored.
When I first came to China, I didn't speak much Chinese, but the language barrier never existed for me. I always managed to express everything I wanted to and still make friends with locals. We smiled, we used our hands to explain what we meant, we looked silly and stupid, but who cared!
During these two years, I met amazing and generous people who I hope to keep in touch in the future. We met in different places and clicked right away without speaking the same language. We shared our travel passion together, talked about cultural differences between our countries and shared a couple of stories of our lives. Tibetans were, without a doubt, the most hospitable people I have ever met.
I have collected many amazing and unforgettable moments during these 2 years, not including all of the photos and souvenirs I'm taking home with me. Time flies and we should enjoy every moment of it. Some things come to an end, so the new ones can happen to us. I don't regret anything. China was truly inspiring to me and there is a special place in my heart for this country.
Farewell China. You will be truly missed!