Niagara Falls is one of Canada's most popular tourist destinations.
The falls have captivated travelers for centuries: Even before Europeans discovered the falls, native peoples would journey from far and wide to see the thundering water, give tribute to the gods, and receive healing from the environment.
The entire Niagara region is magnificent to behold, and it is easy to spend an entire summer traipsing around the gorgeous lakes, tantalizing wine country, and invigorating cities.
Unfortunately, few travelers to Niagara Falls are blessed with such time. Typically, visitors have a weekend or less to see the sights, and many leave without finding the best Niagara has to offer.
Thus, this exhaustive itinerary should help you find your way through Niagara Falls and the surrounding areas so you don't miss a single extraordinary experience.
Day 1: Niagara Falls
Niagara Falls, Ontario is the epicenter of the area's tourism, and it usually has the best Niagara Falls hotel deals. It's where the legendary falls are located, but also where the bulk of educational and exciting attractions reside.
The city isn't big, but there is plenty to do — and you will need your passport to journey from the Canadian side to the American side and back.
You should wake up early and expect to stay up late if you want to see it all.
9:00 A.M.: Journey Behind the Falls
Organized by Niagara Parks, this unguided tour takes you down 13 stories to a cave behind Horseshoe Falls, where you can get unbelievably close to the rushing water. You can take a radio to receive facts about the falls during your journey, or you can explore unaided. This is one of Niagara's most popular attractions, so it is smart to move through it when everyone else is still waking up.
10:00 A.M.: Niagara boat tour
The Maid of the Mist is perhaps the most famous boat tour in the area, but there are a handful of other boat tours that provide nearly the same experience — if not the same price tag or popularity. If you prefer the name recognition of Maid, you should book your tickets well in advance. Also, you will definitely get wet, so you shouldn't wear your nicest blouse on board.
10:40 A.M.: Skylon Tower
Skylon is a 560-foot-tall observation tower that provides unprecedented birds-eye views of the entire Niagara region. You have to purchase tickets to reach the observation deck, but if you buy food in their dining room, you can get similar spectacular views as well as a wholesome meal.
11:30 A.M.: IMAX Theater
Though you might have an IMAX in your own home town, it is worthwhile visiting this special theater in Niagara Falls. In addition to an hour-long film about the history of Niagara Falls, the theater contains an exhibit containing real artifacts seen in the movie, including various barrels used by daredevils going over the falls.
12:30 P.M.: Queen Victoria Park
A stunning strip of green alongside the Niagara River, this park is possibly the most popular viewing spot for Horseshoe Falls. Strolling through the park can be a relaxing break from rushing from here to there; you should take your time, enjoy the scenery, and let go of any unnecessary stress.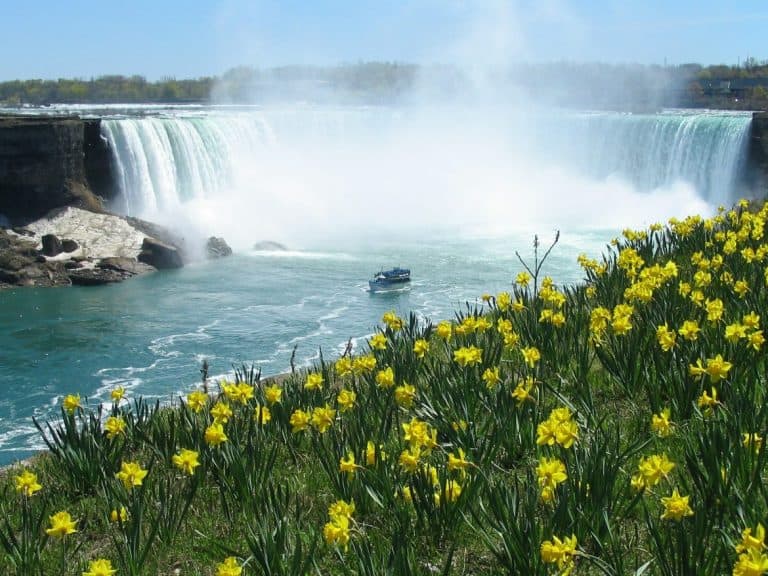 1:00 P.M.: Waterpark
If you visit during summer, you will probably want to escape the hottest part of the day. Niagara boasts a number of indoor waterparks, well-appointed with poolside dining options. If you have your kids in tow, this gives them some freedom to explore on their own, but even if you don't have little ones, you can go wet and wild for a while.
4:30 P.M.: Bird Kingdom
The largest free-flying aviary in the world, Bird Kingdom is a sanctuary for the most gorgeous feathered friends you'll ever see. The main aviary contains more than 400 birds, which you can feed and hold, but there are plenty of other exhibits to visit, as well. Plus, the center overlooks the Niagara Gorge, which is one of the highest rated natural birdwatching areas in Canada.
6:00 P.M.: Clifton Hill
About now you'll be getting hungry, so you should head to Niagara's tourism epicenter: Clifton Hill. There are dozens of restaurants, gaming zones, and other attractions to keep you busy for the rest of the night. After the sun sets, you should take a spin on the Niagara SkyWheel to earn another birds-eye look at the beautiful region, now lit up with colorful lights.
10:00 P.M.: Fireworks
Every weeknight and some weekends, Niagara Falls celebrates with a fantastic firework display over Horseshoe Falls. The colors are dazzling, especially reflected in the river and falls. The show is only about 15 minutes long, so you can rush to bed after them.
Day 2: Niagara Country
Niagara isn't just the falls — it's an entire region. After your first day full of activity, you should enjoy your last day of vacation at a leisurely pace away from the city. Just a half-hour away, you'll find calm vineyards, quaint towns, and comforting natural scenery. Here are your can't-miss activities for day two:
Hike the Bruce Trail
One of the longest trails in Canada, the Bruce stretches all the way across the Niagara Escarpment, providing rare glimpses of the natural environment. You shouldn't try to hike the whole thing — that would take months — but an hour or two on the Great Falls Loop will be revitalizing and fun.
Tour a vineyard
With a dry, temperate climate that doesn't freeze nearly as hard as surrounding regions, Niagara is perfect wine country. You can tour one or all of the region's wineries, but you should be sure to find one offering ice wine, a deliciously sweet wine native to Niagara.
Stroll through Niagara-on-the-Lake
Bursting with charm, Niagara-on-the-Lake is the less-touristy cousin of Niagara Falls. It offers some astounding scenery of Lake Ontario, and much of the architecture in the town center dates back a century or more. You can tour Old Fort Niagara, take a horse-and-carriage ride through the park, and stop into the picturesque shops around downtown.
See a stage performance
Niagara is renowned for its support of the performing arts. Every year, the region celebrates the Shaw Festival, playing more than a dozen shows throughout the summer and fall. It's a cultural phenomenon you want to enjoy.