You can now download this article as an app and get an offline map so you can go and see these places yourself.
Heading to Kathmandu soon and looking for top 3 best eating places? You're in the right place, but let me start from introducing Nepalese cuisine a bit to you.
Nepalese food is a mixture of Indian and Tibetan cuisine. Hence, many of the culinary highlights of Kathmandu are lentil soup and spicy chicken that comes with gravy, marinated pork cooked with chilies, fried rice dishes and two of the most common drinks: rice-based home brew and lassi. Maybe you've heard of lassi before? It's a local milkshake you have to try!
Moreover, you can find Nepalese and Western-style food anywhere in Kathmandu because a lot of restaurants serve continental breakfasts, pizzas and pasta dishes. Hence, if you don't like the local cuisine, do not panic, there is always a place where you can dig into burger and fries!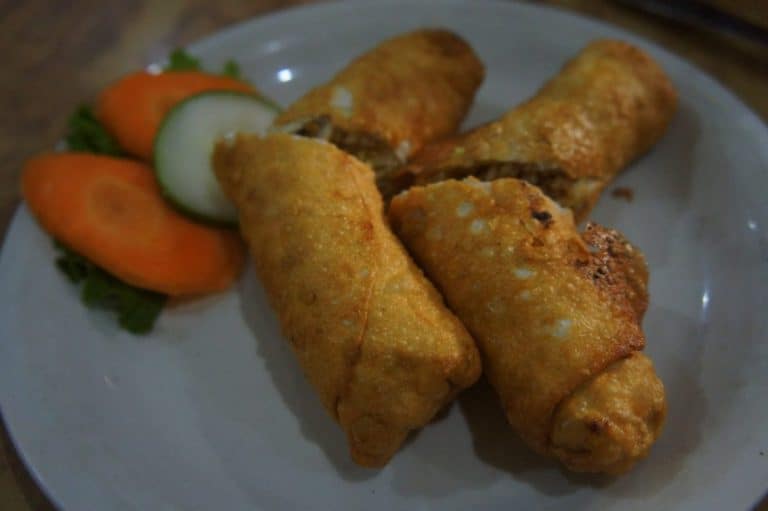 Most of the time, we tried to stick to local dishes in Kathmandu and each day we dined out at different places trying traditional Nepalese meals. We've got few favourite places and dishes to recommend. Let's see our top 3 best Kathmandu eating places you can't afford to miss!
#1 Delicious Thakali restaurant
Located on the first floor of Pariwar B&B hotel, Delicious Thakali was our favourite breakfast and lunch place because we always got what we wanted to try.
The owner was extremely friendly and made the food according to our preferences (no spicy for me and no onions for Cez) so we really enjoyed it and we tried such dishes as omelettes, chicken in gravy and fried chicken wings with plenty of salad.
Some meals we had inside the restaurant and some were delivered to our hotel room so getting food was very convenient for both of us.
As for prices, each meal was very affordable and costed from 100 to 250 Nepalese Rupee. Therefore, we ate more than we should!
Location: Ganeshman Street, Thamel Centre, South of Kathmandu GH, Thamel, Kathmandu 20062, Nepal
Minus: The place is very dark and miserable inside but that's quite typical for Nepalese restaurants
Rating: 5/5
#2 Gilingche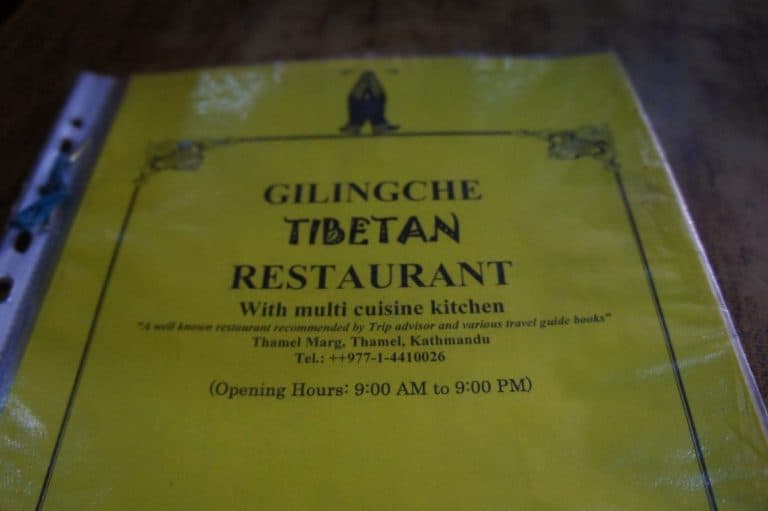 We ordered spring rolls, mashed potatoes and fried pieces of chicken – a bit too spicy but we found it very tasty and affordable.
Seems like there is no way this restaurant would survive in Europe!
Location: Thamel | Beside the Kubeyra Mahal Hotel, Kathmandu,Nepal
Minus: We waited for the food quite long + chicken pieces we were served were really tiny (avoid ordering them)
Rating: 3,5/5
#3 Prem Bakery & Coffee Shop
It is a great place to try local milky coffee, tea and dig into some homemade chocolate donuts. Therefore, don't miss it out. Although it is a very tiny place, it has a great hospitality. Maybe you can find interesting locals to have a chat with while sipping your freshly made coffee and digging into a doughnut?
Location: Thamel
Minus: There is no place to sit
Rating: 4,5/5
Due to the fact we really enjoyed the local food, we consider going back to Nepal in the near future and trying more dishes we didn't manage to try during our first visit. We know that Nepalese food has so much more to offer and we are curious about local snacks. Although this is not the healthiest cuisine in the world, it is still worth digging into.
We hope you will enjoy the food in Kathmandu and your visit will bring a lot of new ideas you can implement into your cooking once you are back home.
Do you have any other places in Kathmandu with amazing food to recommend?