In my previous note, I've mentioned how spectacular the Giant Buddha from Leshan is, pointing out that going is a must when traveling in China. However, Sichuan province has much more to offer when it comes to sightseeing, traveling, dining out and relaxing. When you start exploring China and you have already been to such marvellous places as Beijing, Xi'an, Shanghai, Zhangjiajie, Hong Kong, you think that nothing can amaze you here, that you have discovered all the beauty of China and going somewhere else is going to be just another ordinary trip. This is exactly what I thought :-). Xi'an and Beijing were stunning, Zhangjiajie took my breath away and Fenghuang…. Fenghuang was fairylike. Is anything else that could surprise me here? I thought there isn't. As it turned out, nothing could be further away from the truth. Somehow, I've realised that Chendu is not only about pandas and Sichuan province is not just the Giant Buddha. What is it all about then?
Why should we visit Sichuan province?
What I like the most about this province is that it shows China's modern (a few short years modern buildings and transport systems) and traditional face at the same time (ancient temples and buildings). There are plenty of ancient villages and lost-in-time teahouses around, then you can move on to the long forgotten monasteries made of wood, then you can climb the mountains to end up in alpine valleys and forested hills. If you can't get enough of it, you can head to west part of Sichuan to experience, as tourists call it, Tibet impression (Tibetan culture, grassland, Tibetan landscape and mountains). You can do almost everything here starting from hiking trails, swimming in lakes, go cycling and finishing at trekking.
When to go?
I would recommend you to visit Sichuan province between late March and May as it's not too humid, you can enjoy fabulous spring scenery and see peach blossoms. June, July, August and September are, in my option, the best months to enjoy Tibetan areas. At this time, you can meet other travelers around as many festivals are held there. Moreover, it's sunny. Some people recommend June, July, September and October to go camping at Sichuan lakes and enjoy the autumn forests. The school trip was in early April (3th-7th) and at this time the landscape was wonderful, full of flowering forests and flowers (see the gallery "Sichuan province- Highlights").
What to see?
No doubt, Chengdu's Giant Panda Breeding Research is no.1 highlight. That is one of the most popular tourist attractions in this area where you can see nearly 50 real pandas (get there in the morning, pandas are the most active). The admission is only RMB58. Once you get there, you won't want to leave the base :)! It's a great place to take your kids, but I guess adults might enjoy it even more :). Unfortunately, the school trip didn't visit it which I think is a real shame, but instead of pandas the teachers enjoyed monkeys :).
No. 2 highlight is Jiuzhaigou National Park. This place is truly amazing! Visiting this National Park is, sometimes, the main reason tourists fly over to Sichuan. Here you can find over 200 bird species, various plant and animal species such as golden monkeys and the giant pandas! The most beautiful are numerous orchids and rhododendrons. Moreover, the Jiuzhaigou National Park is known for its fabled blue and green lacks and outstanding waterfalls. At some point it's more beautiful that the Hallelujah Mountains in Zhangjiajie. The other great place, maybe not as spectacular as the Jiuzhaigou National Park, is People's Park where you can spot locals dancing, singing and selling some yummy food. The entrance is free and the locals are hospitable.
Sichuan province is also a great place for those whose passion is history and archaeology. There are numerous galleries, museums and temples from ancient China such as Jinsha Site Museum, Tomb of Wang Jian, etc. For me, visiting more than 1 museum is kinda boring and I always leave it until last moment when I visit all places I wanted to and still have some spare time.
Those who love trekking and hiking like me will simply fall in love with Ei Mei Mountains. It is very famous mountain in China where every year hundreds and thousands of tourists visit it for climbing. It's pretty challenging though. I would say it is even more challenging than Zhangjiajie. The scenery is amazing and locals are very nice. Fresh air, climbing higher and higher, tasting local food and interacting with other travelers- that's what I like!
Moreover, the Chinese people here are so diverse, easy going and extremely friendly.
What I have noticed is that Chinese girls and boys just love to practice their oral English and they are not afraid or even shy to approach you and start a conversation with "Hi my friend! Welcome to China!" :)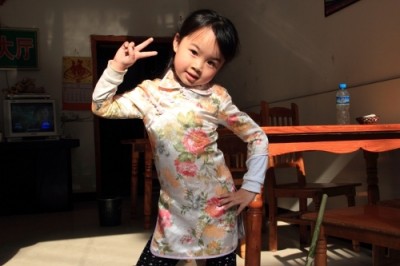 How about the food?
I would lie to you if I said that Sichuan food is so different and special here. It is very delicious though but I've not noticed the difference between, for example, Hunan province and Sichuan province food. Maybe, with a little exception- Hunan food is more spicy. I guess the reason is the teachers always order the same food: rice, beef, vegetable :). You can pick up some snacks while climbing the mountains such as cucumbers, pomegranates, noodles or pineapples. I always treat myself to a culinary delight :)
If you are in China and still can't decide where to go for a weekend, go for Chengdu and Leshan!

Thank you to these three guys thanks whose we could enjoy this great trip in another marvelous part of China :)!
Check out the "Sichuan province- Highlights" gallery!