As a slight departure from our regularly scheduled programming, I thought I'd take this opportunity to pen a few heartfelt, touching and potentially soppy words about my friendship with the one and only Cez Krol. Basically, it's his 32nd birthday today and I couldn't think of anything else I could possibly get him.
That and It also happens to be our 10-year friendship anniversary (I'm pretty sure he forgot about it!)
Isn't it difficult to buy birthday presents for men most of the time? And when a Marks & Spencers scarf and gloves set just won't cut it, what do you get the man who has everything? A man who is traveling the world whenever he wants with a wonderful girlfriend (Lydia) and a really awesome best mate (me). A man who managed to ditch his regular old job bean counting and, while steadily moving into the best decade of life, a man who is seriously living the dream.
A man without much use for material things. A man who wants to fill his passport with stamps (I'm still winning the stamps race by the way), rather than his home with stuff.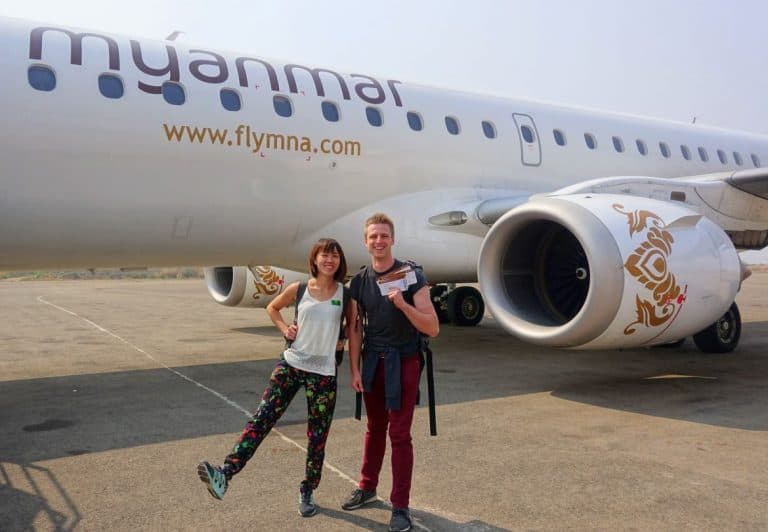 So, in that case, I decided to do a unique eTramping blog post about all the reasons why I am proud to call Cez my best friend. I'll get this out now because I never know when he's going to drive me up the wall again. Cez, you might want to get a box of tissues close to hand. Man-sized, obviously.
Beginnings
Life has a funny way of working out sometimes – have you ever noticed that? The person you are today is most certainly not the person you were 10 years ago. For me, that person was a lost, dear-in-the-headlights fresher who couldn't find her own campus back in Wolverhampton, the UK (Humanities) and wandered into Cez's territory (Finance and Banking – we both shudder to remember it).
Lucky for me there was a gentleman on hand to actually take me where I needed to be. (That's you, Cez). We hit it off immediately, sharing similar interests and passions, nattering all the way to my university door. That should have been the end of it, but we randomly bumped into each other a week later and the rest, as they say, is history.
Who could have possibly imagined that such a chance meeting at a university shuttle stop would have found us opening our own business together, traveling the world and celebrating our 10-year best friend anniversary? Here are just some of the reasons why we're still on speaking terms…
#1 Great Sense of Humour
Now, this is said with a whole lotta love, but the man is an absolute nutter. You only have to look at some of the faces he pulls in our travel photographs to know just how much Cez loves to fool about. And if you think he seems crazy 90% of the time, just wait until he's had a few cups of coffee. I've lost count of the times I've had to scrape him off the ceiling and it's a wonder that anyone ever takes the two of us seriously.
One of his most wonderful qualities is being able to make his friends belly laugh until their sides ache. Even when you're heavily down in the dumps and the world is falling in on your head, Cez has the ability to pick you back up with a flashumorumour that will soon have you grinning from ear to ear and wondering what was ever really wrong in the first place. If you're ever lucky enough to find a friend like that – never let them go.
#2 Loyalty, Integrity, and Trust
I honestly don't know what I would have done without Cez in my years traveling the globe. The observant amongst you will notice that I'm a slim, blond, white girl from Poland – attributes which, in certain places around the world, can get unwanted attention. It is rather helpful that he's a giant, but Cez is always there to stand by me when I most need him. He's the best bodyguard a gal could have.
Aside from that, he's loyal to a fault and would do anything for any one of his friends. This is a man who would stop a bullet for you if need be. He's a confidant, a voice of reason, a listening ear and a strong shoulder through thick and thin. And if he ever says he will do something for you – he makes it happen – no matter what. A rare quality indeed.
#3 Knowledge
Cez is something of a bookworm and a binge watcher of YouTube. For the most part (I think) he's not reading or watching anything dodgy, although he has been seen with an embarrassing book or a show from time to time. He loves his documentaries and always keeps up to date with current affairs and the news. As a result, he's my walking encyclopedia, and for that, I am truly thankful.
There's also a strong possibility Cez could be entered into the Guinness Book of Records for reading the most amount of self-help books of all time. Maybe this is why he's always so happy?
#4 A Rational Thinker
One of the many reasons we work as a team is because we lead with the head and not with the heart. We often call each other "robots" because of our machine-like ability to get something done when planning for the future or even when looking back on our past. If one of us were to ever get carried away, the other would catch their feet long before they got too high into the clouds.
Which makes this article a bit of a juxtaposition really. Cez is probably going to tell me to reign it in and to stop being such a sap. He does have a soft side though, honest!
#5 A Consummate Gentleman
It seems in this day and age the elusive species of "gentleman" is a dying breed. Gone are the days of a man laying his cloak on the floor for you to walk over a puddle. Chivalry might just be dead – but certainly not on Cez's watch.
I don't think I've ever met anyone in my life as courteous as this man. He'll offer his seat to anyone on public transport, he'll open doors and allow everyone to walk in before he does. He'll carry the heaviest loads so you don't have to. Yes, they might seem like trivialities, but believe me, in today's world, they are much needed. My heartfelt thanks must also go to Mr. and Mrs. Krol – you brought this one up right!
#6 Taking Risks
Truth be told, I can be a little timid when it comes to trying new things or, say, moving our business in a different direction. It sometimes takes an extra little nudge (or maybe a massive shove in the back) to really go for something. Cez has a remarkable fearlessness in this regard that would impress anybody.
Where I err on the side of caution, Cez is throwing it to the wind. To Cez, failure is simply an education. Without him, we would not grow or learn, and we'd be stuck treading water or spinning like hamsters in a wheel. I'm really happy we're not hamsters, Cez – and we have you to thank for that.
#7 Adventure Time!
When you're one half of a travel blog, having a business partner who is up for anything is a serious advantage. Bungee jumping? Check! Skydiving? Check! Visiting North Korea? Check! Remodeling his apartment like a pro? Check! Cez is every bit as fearless when it comes to new adventures as he is when it comes to tilling the good ship eTramping.
Actually, that's a bare faced lie. Cez nearly chickened out of the bungee jump, was shaking like a leaf at skydiving and is terrified of heights. He's so confident when approaching the ledge, but when he's actually there he nearly wets himself.
The funny thing is, in spite of that inner terror and fear, he won't back down and still throws himself off – and I find that nothing short of remarkable.
#8 A Lifetime of Support
It might sound like an advert for a health insurance company, but Cez is every bit as good. No matter what happens, wherever we are, whatever shenanigans we get up to, whenever the proverbial poop hits the fan, Cez rolls up his sleeves and sorts it all out. Even in my darkest hours, Cez has my back.
And believe me, we've gone through some trying times. You don't travel the world for 7 years and counting without coming unstuck on more than one occasion. But through it all, Cez has been my rock, a guiding light when my torch batteries don't work, providing steadfast, unconditional friendship love. Even when I was very close to death when visiting China, he showed up in a hospital to make me laugh and make sure everything was gonna be ok (I did the same for him 2 years later, also in China that turned out to be a very unfortunate travel destination for us). Cez is the very definition of a trooper.
#9 The Simple Things
I admire Cez for his minimalistic approach to life. As I mentioned before he'd rather collect passport stamps than physical stuff. Cez doesn't need stuff. The man only ever travels with a maximum of 5kg in his backpack for goodness sake – all the while I'm screaming that I need to take the entire contents of my sock drawer.
Give Cez a laptop, a strong cup of coffee and a fast wifi connection and he's a happy man. It's those simple pleasures that keep him smiling – and I really envy that. He's a breath of fresh air in a world preoccupied with possessions, a world obsessed with hoarding as much junk as you can possibly fit into your own coffin. You can't take all that stuff with you, but what you can take is memories, and in the past 10 years alone, Cez and I certainly have made our fair share of those.
#10 Brutal Honesty
Cez is the kind of man who calls a spade a spade, and sometimes this makes me want to tear my hair out. There are no punches pulled when it comes to Cez's brutal honesty – he will always tell it exactly like it is regardless of the potential nuclear fallout.
This can often land him in hot water and might rub certain people up the wrong way, but I'm of the opinion that real friends don't sugar coat the harsh truths we all have to face from time to time. Cez has this uncanny ability to give it to you straight, blunt and to the point, and without that, I might have made some very suspect life choices down the years. Or at least gone out in a really unflattering outfit.
The Next Chapter
In the face of all our ups, downs, trials, tribulations and challenges, as a team, we have come through, ready to take on whatever life throws at us next. I'm so lucky to have found a friend like Cez who shares similar hopes and dreams. We have been pulling in the same direction since we met all those years ago when I couldn't figure out a simple two-route bus system.
It was, without a doubt, the most fortuitous mistake I ever made. A brain fart that has taken my life on an unprecedented journey with one of the most amazing, thoughtful, kind, hilarious and downright mental human beings anyone could ever hope to know. I am truly blessed to have found such a friend to travel with down life's highway.
So, this is my little gift to you, Cez. I hope you have the happiest of birthdays and I will see you in Taiwan very soon for our next adventure. Here's to the next 10 years, and thank you for being you.
What do you think, dear readers? Do you think Cez is a good best friend?! Let us know your thoughts!