It's Easter Time!
There's a story quite funny
About a toy bunny
And the wonderful things she can do
Every bright Easter morning
Without warning
She colors eggs, red, green, or blue.
First of all, we would like to send the warmest and kindest Easter wishes to all of our friends, family, followers and fellow travel bloggers, from Dongguan in China.
Have a happy, peaceful, and fun Easter filled with marshmallows, chocolate, and jelly beans.
May you be blessed with God's warm love and trust in his living grace this Easter!
Have fun Easter egg hunting and hanging out with family.
Egg painting with nail polish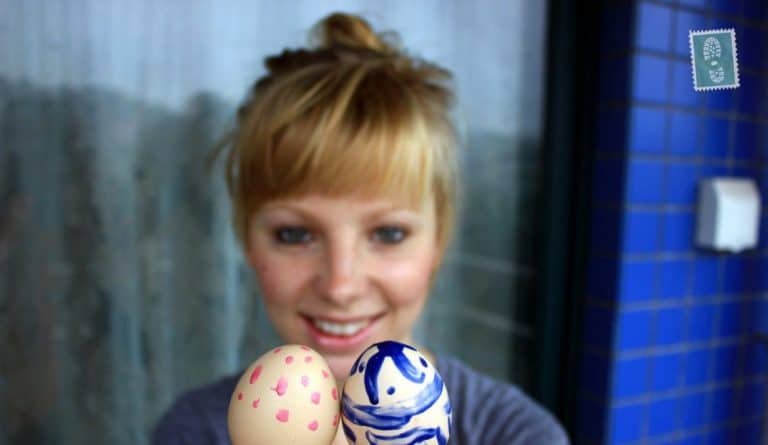 This year our Easter is a bit different. The reason being we are in China where Chinese don't celebrate it at all. They barely know what it is all about. There are no chocolate Easter bunnies or eggs in the shops, so let's face it… our Easter sucks! But, we tried our best to make these few days as special as possible. We woke up in the morning and painted some eggs with … my nail polish :).
It was stinky, sticky and adherent but the eggs turned out to look good. Just look at them!
We made a nice egg omelette for dinner :-):-).
Picking up strawberries
We spent an amazing afternoon with our students at the local farm picking up some strawberries. Yes, strawberries! It's strawberry season right now!
All kids were accompanied with their parents and some family members.
The weather was lovely unlike snowy Europe so we enjoyed it a lot. Everyone seemed to be in great moods. We imagined strawberries were eggs so we did some "egg hunting" hahaha. That was just so hilarious.
Easter dinner
In the evening we treated ourselves with a nice Chinese dinner ordering our favourite food: baozi (Chinese dumplings), some tofu, fish, pork and a lot of fruits.
Maybe this year's Easter wasn't the most domestic and traditional, but we made some effort to feel like home and make this day as special as possible. We already have some great ideas for Easter Monday!
We hope you are having a wonderful time with your loved ones and wish you once again of the best!
To fellow travelers : Where in the world are you celebrating Easter this year?