Learning Spanish is a clever choice. Not only is it the second most spoken language after Mandarin, but it is the official language of 21 countries and spoken by over 330 million people. Adopting Spanish as a second language is great for improving your employment and travel opportunities. It also helps expanding your cultural knowledge and worldview. Trust us, anyone can easily start learning Spanish from home and there is no better way to master the language than immersing in a Spanish speaking country. That said, here are five reasons why Spain is a top destination for learning Spanish through immersion.
1. Festivals
Spain is a melting pot of festivities. From hurling tomatoes to chasing bulls, in Spain you can practice your language skills with fellow party-goers all year round. If tomato throwing sounds like your thing, head to Buñol in Valencia for 'La Tomatina' in August for a day of fighting with mountains of squishy red fruit. However, if you'd rather stay clean and dry, La Fallas festival in Valencia might be more up your street.
For four days in March, the city thrives with enormous paper-mache figurines, performances, firework shows and bonfires that crackle through the night. As well as the traditional festivals, Spain is renowned for hosting music festivals throughout the summer, including the electronic music festival Sonar. Consequently, attending one of the many festivals in Spain is a great way to practice your Spanish skills as you shake and shimmy the night away.
2. Food
Living in Spain will prove that Spanish food is much more than tapas and olives. With a diverse range of cuisines across the country, each region of Spain has its own unique dishes. In the Southern regions, you will find Moorish influences, with the Arabian palate introducing robust herbs and spices like cumin, cinnamon, mint, nutmeg and cilantro. While in Northwestern Spain you will find rich stews made with beans and vegetables.
Being the highest consumers of fish in Europe alongside Portugal, you can be sure that you will have the chance to taste a wide selection of delicious fish during your stay.
When studying Spanish in Spain, sampling some of the local cuisine will inevitably help you to immerse in the local culture. What's more, ordering your favourite tapas dish in perfect Spanish will inevitably come with great satisfaction.
3. People
One of the best things about learning Spanish in Spain is being surrounded by native speakers. By mixing with locals on a daily basis, you will pick up the traits and gestures that are essential for learning Spanish quickly. Respectively, choosing to stay with a local host family in Spain is a great way to develop a deeper understanding of the culture.
You can find a Spanish host through online language communities which enable you to find hosts based on similar interests and lifestyles. Not only is choosing a homestay an affordable accommodation option, but it is a great way of making friends and integrating with the local people. On top of that, living with a host means they can provide you with their inside knowledge of the best local places to eat, drink and dance.
4.Art and History
With a rich and complex past, Spain is a cultural hotspot for art and history. By choosing to learn Spanish in Spain, you will gain a deeper understanding of the culture surrounding the language. There are many remnants of Spain's history dotted around the country. From prehistoric monuments to Roman ruins, cathedrals, castles, modernist monuments and Gaudi's unique architecture and artwork, including the La Sagrada Familia in Barcelona.
Consequently, wherever you decide to study Spanish in Spain, you will undoubtedly find plenty of cultural activities to supplement your language learning.
5. Climate
In general, the coastal regions of the South and East provide excellent weather all year round due to the Mediterranean climate.
Wherever you decide to study in Spain, you can be sure that the weather will be pleasant enough to enjoy the beautiful scenery and beaches that the country has to offer. What's more, if you head to Spain during the summer, you can make learning vocabulary more enjoyable by studying from the warmth of your balcony or at the nearest beach.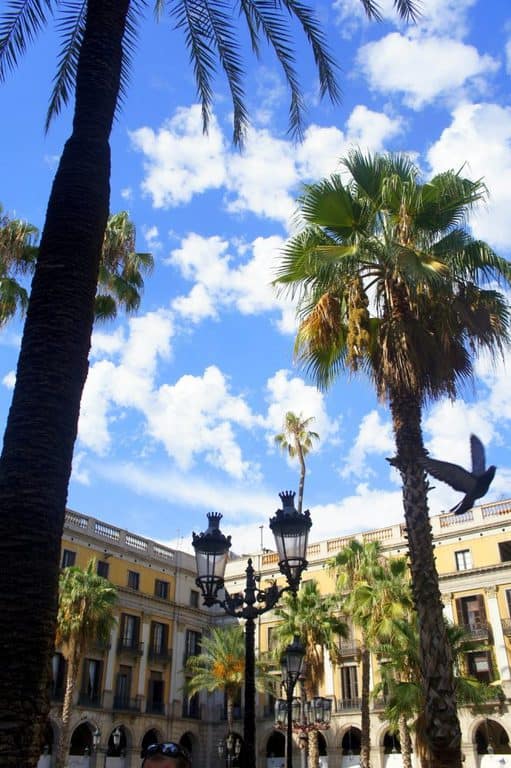 With plenty of sunshine, delicious food, history and friendly locals, learning Spanish in Spain is always a good choice.
There are many options for learning Spanish in Spain, with an abundance of language schools dotted around the country. Many locals will be happy to welcome you into their home as a language student. Whether you are learning Spanish for the first time or looking for a fast-track to fluency, learning Spanish in Spain will inevitably be an enriching and memorable adventure.